Moon Honey's Self-Portrait Beneath Woman's Mask Out Now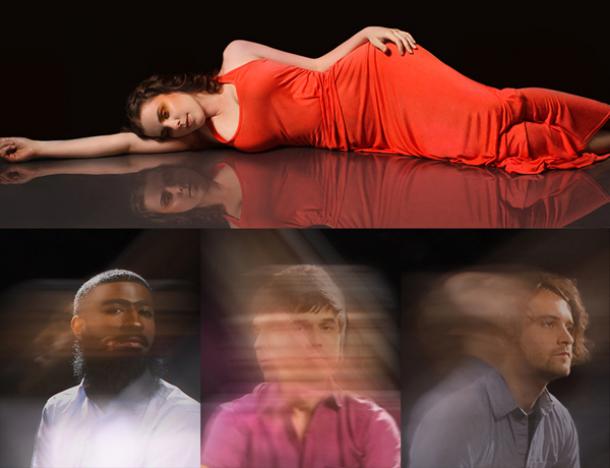 In the case of psychedelic freakrock group Moon Honey, depth is the name of the game. Whether it's in the heightened lyrics—"When Edvard was sixteen, he beamed through the flap of a mask" references painter Edvard Munch as a teenager—or the restless path of the songs, Moon Honey is utilizing the psychedelic adjective to good purpose, giving us something in the veins of both Dirty Projectors and Deerhoof but with a side of Yes and Joni Mitchell.
--
Download "Self-Portrait Beneath Woman's Mask" on IMPOSE now!
Tour Dates:
nov 21 - Austin, TX - Red 7
nov 22 - Laredo, TX - The Derby
nov 23 - San Antonio, TX - The 1011
nov 24 - El Paso, TX - LowBrow Palace
nov 25 - Santa Fe, NM - The Underground
nov 26 - Albuquerque, NM - Sister Bar
nov 27 - Tucson, AZ - Plush
nov 29 - San Diego, CA - TBA
nov 30 - Los Angeles, CA - Origami Vinyl in-store
dec 01 - Los Angeles, CA - Bootleg Theatre
dec 02 - San Jose, CA - Cafe Stritchs
dec 03 - Oakland, CA - The Night Light
dec 04 - San Francisco, CA - Hemlock Tavern
dec 05 - Chico, CA - Cafe Coda
dec 06 - Portland, OR - Kelly's Olympian
dec 08 - Seattle, WA - Lo-Fi
dec 09 - Boise, ID - The Crux
dec 10 - Salt Lake City, UT - Shred Shed + Late Bar Show
dec 11 - Denver, CO - Seventh Circle Music Collective
dec 12 - Lawrence, KS - Jackpot Music Hall
dec 13 - Springfield, MO - Outland Ballroom
dec 14 - Fayetteville, AR - JR's Lightbulb Clubs
dec 15 - Hot Springs, AR - Low Key Arts
dec 16 - Dallas,TX - Three Links
dec 18 - Houston,TX - TBA
dec 19 - Lafayette, LA - Blue Moon
dec 20 - New Orleans, LA - Gasa Gasa