MOON TAXI ANNOUNCE SUMMER TOUR!
Submitted by mike on Fri, 06/11/2010 - 04:44
Nashville road warriors Moon Taxi have been steadily picking up steam across the country, building a loyal following of music fans dedicated to the band's relentless energy, inspired songwriting, and instrumental prowess. Having opened for the likes of Gov't Mule, Umphrey's Mcgee, Matisyahu, and DJ Logic, the five-piece are hitting the road for an extensive summer headlining tour.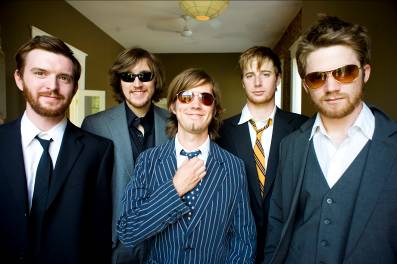 Formed three years ago in Nashville, TN, Moon Taxi hit the ground running and hasn't slowed down, beginning by pounding the Southeast club circuit and soon selling out venues in their hometown. Honing their skills on the road and developing a unique sound that joins together a multitude of rock sub-genres into an explosion of red hot rock n' roll, the band has found its home on the live stage. Vocalist and guitarist Trevor Terndrup commands his position as a frontman-to-watch with his high-flying vocals and magnetic personality that combine with his band mate's technical skill and complex sonic structures to create a joyous force of nature. Drummer Tyler Ritter anchors the group with propulsive and evolving beats while bassist Tommy Putnam delivers lines that groove between soul and rock, laying a textured foundation that's both unyielding and unrestricted. Some of the most explosive moments are sparked by Wes Bailey on keys and guitarist Spencer Thomson, whose dizzying solos are met with instant gratification from their audience.  The band's tenacity on stage and on the road has led to securing coveted slots at festivals such as 10,000 Lakes Festival, Moe's Summer Camp and Birmingham's City Stages and is captured on the vibrant and explosive live album, Live Ride, released in 2009. Be sure to catch Moon Taxi at these intimate gigs before they catapult into the rock n' roll stratosphere.
Don't miss your chance to catch MOON TAXI live this summer:
6/10/10                       Ithaca, NY @ Castaway's
6/11/10                       Freeport, ME @ Music Bar
6/12/10                       Newton, NJ @ Hobo Bar
6/13/10                       Brooklyn, NY @ Southpaw
6/16/10                       Frostburg, MD @ Dante's
6/17/10                       Annapolis, MD @ The Whiskey
6/18/10                       Cleveland, OH @ Beachland Tavern
6/19/10                       Columbus, OH @ Basement
6/20/10                      Indianapolis, IN @ Birdy's
6/22/10                       Toledo, OH @ Frankie's
6/23/10                       S. Haven, MI @ Foundry
6/24/10                      Three Rivers, MI @ Riviera Theatre
6/25/10                       Kalamazoo, MI @ The Strutt
6/26/10                       Dayton, OH @ Canal Street
6/27/10                       Lexington, KY @ Cosmic Charlie's
6/30/10                      Cincinnati, OH @ Southgate House
7/1/10                        Chicago, IL @ House of Blues, Porch State
7/2/10                        Minneapolis, MN @ 400 Bar
7/7/10                         Boulder, CO @ Rock N Soul Cafe
7/9/10                         Denver, CO @ Moe's
7/14/10                       Reno, NV @ Crystal Bay
7/15/10                       San Francisco, CA @ The Union Room @ Biscuits and Blues
7/17/10                       San Diego, CA @ House of Blues
7/24/10                      Nashville, TN @ Exit/In
7/29/10                       Dallas, TX @ The Loft
7/30/10                      Oklahoma City, OK @ The Conservatory
7/31/10                       Denton, TX @ Boiler Room
8/8/10                        Logan, OH @ Rootwire Music Festival
8/13/10                       Alexandria, LA @ Spirit's, Foods and Friends
8/28/10                       Turin, NY @ Snow Ridge Ski Resort
Moon Taxi is Trevor Terndrup (Vocals, Guitar), Spencer Thomson (Guitar), Tommy Putnam (Bass), Wes Bailey (Keys) and Tyler Ritter (Drums)