Morning Teleportation on Letterman Wed | 5/4/11
Submitted by mike on Wed, 05/04/2011 - 00:53
Morning Teleportation will bring their roller coaster of tumultuous rock 'n' roll and deep-space pickin' 'n' grinnin to The Late Show With David Letterman on Wednesday, May 4th, marking the band's network television debut. The band will perform the title track off of their debut album, "Expanding Anyway" which was recently released on Glacial Pace Recordings and was produced by label owner Isaac Brock along with Clay Jones.
The album has received rave reviews from the NY Times to SPIN. "Yelping and shouting like a genuine mental case, frontman Tiger Merritt rides a joyously chaotic wave on [the band's] debut," writes Jon Young in SPIN's album review, featured in their April issue. "Morning Teleportation possess their own wacky identity, lurching from avant-garde mischief to pop operatics to folk sweetness." Curious fans can head on over to SPIN.com for an exclusive full album listen by clicking here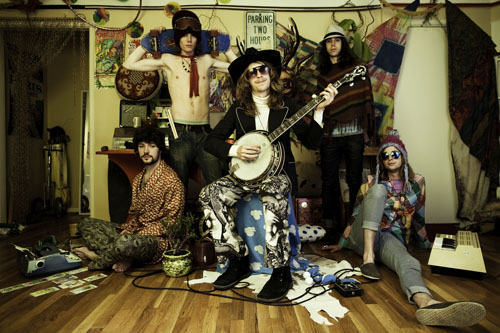 This week also marks the band's debut at MTVU as part of their new artists show "The Freshmen." The show spotlights emerging artists on air and online, with the chance for one of the videos to get an automatic add into rotation on the channel the following week. Fans can vote for Morning Teleportation's video for "Expanding Anyway" by clicking all this week. Voting will end on Friday May 6th at 2:00pm EST.
The video for "Expanding Anyway" is a modern psychedilc experience created by Phantasmic, a small and unique visual duo consisting of Tripp and Jenna Watt. Phantasmic hand-crafted every aspect of the project which began with an original list of over 170 different ideas that resulted in 31 final scenes, ranging from watercolor paintings to Crayola marker creatures, acting in tights to choreographed dance numbers.  You can check out the Making Of Video as well the director's cut of the final video.

Morning Teleportation takes their critically acclaimed live show back out on the road on May 18th and will continue to tour throughout the summer. NPR recently selected the band as a must-see in their SXSW preview noting, "It's got this great burst of energy in the vocals, real cacophonous psychedelia." While Jon Pareles of the New York Times wrote about the band's live show last year saying, "Morning Teleportation, from Portland, Ore., crammed ideas into songs that leaped impatiently, and gleefully, from style to style." Pareles also recently reviewed the band's debut album noting, "Euphoria and transformation run through Morning Teleportation's debut album, "Expanding Anyway" (Glacial Pace), which puts neat, strategic structure behind its giddy psychedelic cheer."
-
Following are the latest confirmed dates for Morning Teleportation...stay tuned for additional dates:
May 18 - Los Angeles, CA - Royce Hall (UCLA) - supporting Thao with The Get Down Stay Down
May 19 - Visalia, CA - The Cellar Door
May 20 - Sacramento, CA - Blue Lamp
May 21 - Fresno, CA - Fulton 55
May 25 - Los Angeles, CA - The Satellite - with Jaill
May 26 - San Francisco, CA - Brick and Mortar Music Hall - with Jaill
May 27 - Reno, NV - Tonic Lounge
May 28 - Salt Lake City, UT - The Woodshed
May 31 - Omaha, NE - The Waiting Room Lounge - supporting The Thermals
Jun 1 - Columbia, MO - Mojo's - supporting The Thermals
Jun 2 - Cincinnati, OH - MOTR Pub
Jun 4 - Northampton, MA - Iron Horse
Jun 5 - Hunter, NY - Mountain Jam
Jul 2 - Quincy, CA - High Sierra Music Festival
Jul 3 - Quincy, CA - High Sierra Music Festival
Jul 24 - Omaha, NE - The Waiting Room Lounge - with Colourmusic
Jul 26 - Minneapolis, MN - 7th St. Entry - with Colourmusic
Jul 27 - Des Moines, IA - Vaudeville Mews - with Colourmusic
Jul 28 - Iowa City, IA - The Mill - with Colourmusic
Jul 29 - Chicago, IL - Subterranean - with Colourmusic
Jul 30 - St. Louis, MO - Off Broadway - with Colourmusic
July 31 - Lawrence, KS - Jackpot - with Colourmusic
Aug 3 - Morrison, CO - Red Rocks Amphitheatre - supporting The Flaming Lips and Primus