The Motet perform "The Best of Halloween"
We are very excited to announce that on January 22nd and 23rd The Motet will be performing "The Best of Halloween" at CERVANTES' MASTERPIECE BALLROOM'S Grand Re-Opening 7th Anniversary Party. For these shows we will be featuring the fantastic vocalist JEN DURKIN (Deep Bannana Blackout, Mickey Hart Band, Bernie Worell Band) and the slamming east coast horn duo of Sam Kininger and Ryan Zoidis (Soulive, Lettuce), aka "THE SHADY HORNS".  Get ready for these guys to blow the roof off the joint!  We are also extremely excited about the virtuosic guitarist DAN LEBOWITZ (ALO, magicgravy) coming in from San Francisco to join us for these two epic nights of great music!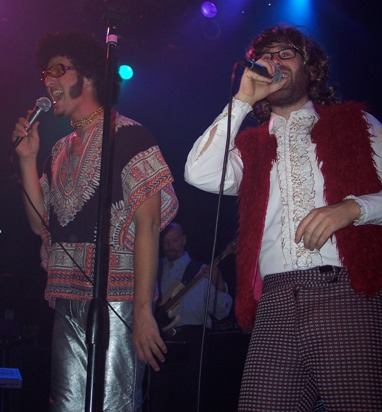 And as this is somewhat of a reunion gig for us, don't be surprised to see our old friend and guitarist Ryan Jalbert (Brett Dennen Band) up there rocking out. Also, flying in direct from Portland Oregon will be vocalist exraordinaire Jans Ingber. And, per usual, we will have Motet regulars: Garrett Sayers on bass, Joey Porter on keys, Dave Watts on drums, Scott Messersmith on percussion, Gabe Mervine on trumpet, Kim Dawson on vocals, Matt Pitts on bari, and perhaps a few others yet to be named...
Yes folks! You heard it right, this will be a 13 member band including a four piece horn section, three vocalists, two guitars, and percussion. The concept, of course, will be for us to perform music by the artists of our past Halloween shows: Talking Heads, Tower of Power, Jamiroquai, Prince, Stevie Wonder, Michael Jackson, Sly and the Family Stone, and Herbie Hancock. This is going to be a once in a lifetime band, so please get your tickets soon.
Now as a added bonus, MAGICGRAVY, the ever exciting trio of Dave, Dan, and Garrett will be opening both nights! Be ready for some mad-improv-soul-jazz insanity to warm your body up...
This will also be the grand re-opening of Cervantes. They are putting a lot energy into upgrading the P.A., the stage, the restrooms and overall appearance. So, please come support one of the best live music venues in America!!