The Mynabirds Announce Spring Tour, Album in Stores Now
Submitted by mike on Wed, 04/28/2010 - 23:01
With this week's release of her debut album as The Mynabirds, Laura Burhenn has officially turned the page from her role as one half of Georgie James.  Following The Mynabirds' acclaimed first single "Numbers Don't Lie," Laura is giving another taste of What We Lose In The Fire We Gain In The Flood (Saddle Creek) with the bouncy, kiss-off anthem "Let The Record Go."  Download the track HERE and if you haven't heard "Numbers" yet you can check it out HERE.  For the next week you can also stream the full album HERE on Saddle Creek's website.  Catch Laura and her band live when they kick off their spring tour on April 30th, which includes dates opening for Josh Ritter.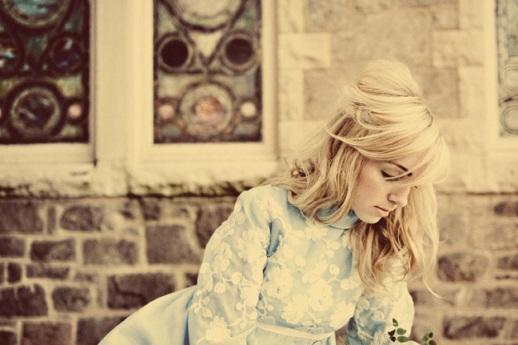 What We Lose draws from the gospel, old soul, and rock n roll that Burhenn was raised on, and many of the lyrics are inspired by a Zen-like view of the themes of loss and recovery.  With a surprisingly husky voice, considering her small stature, Burhenn adorns her words with a rich and emotive tone.  In the studio, singer-songwriter/producer Richard Swift helped carry out Burhenn's vision, resulting in an album packed with both subtle detail and immediate charm.
The album also includes some notable guest artists.  Tom Hnatow (These United States) played pedal steel, Nate Walcott (Bright Eyes) arranged the horns on the album and backing vocals were provided by Orenda Fink (Azure Ray) and engineer/producer AJ Mogis (Monsters of Folk, Cursive, Tilly and The Wall).
Listen to The Mynabirds' "Let the Record Go"
{play}images/mp3/themynabirds_lettherecordgo.mp3{/play}
The Mynabirds – Spring Tour 2010:
* = with Josh Ritter
4/30: Des Moines, IA, Vaudeville Mews
5/1: Omaha, NE, Slowdown
5/7: Minneapolis, MN, Cedar Cultural Center
6/1: Cleveland, OH, Beachland Tavern
6/2: Washington, DC, Black Cat
6/3: Brooklyn, NY, The Bell House
6/6: Chicago, IL, Do Division Festival
6/7: Chicago, IL, Empty Bottle
6/8: Iowa City, IA, The Mill
6/11: Birmingham, AL, WorkPlay Theatre *
6/12: Baton Rouge, LA, Manship Theatre *
6/14: Austin, TX, Antone's *
6/15: Dallas, TX, Granada *