The National Jazz Museum Events | February 16 - 21
Submitted by Eigo on Tue, 02/17/2009 - 00:39
As a young man in Los Angeles, Drummer Forrest "Chico" Hamilton was entranced by Count Basie's band, especially his drummer Jo Jones, and the band's featured soloists, tenormen Lester Young and Herschel Evans. Join us for this week's  Jazz for Curious Listeners dedicated to Evans, the soulful titan of the Texas tenor. Chico Hamilton, still going strong as he approaches 90, is leading his famous band at Friday's Harlem in the HImilayas. We conclude the week on Sunday when the JAZZ MUSEUM IN HARLEM ALL-STAR BIG BAND joins the celebration of African-American Heritage Day at the Museum of Natural History.

Tuesday, February 17, 2009

Jazz for Curious Listeners
Herschel Evans
with Loren Schoenberg
7:00 – 8:30pm         
Location: NJMIH Visitors Center
(104 E. 126th Street, Suite 2C)
FREE | Reservations: 212-348-8300 or register online
Join us for an evening celebrating one of the lesser known giants of jazz, the earliest "Texas tenors," Herschel Evans, whose soulful sound was a perfect contrast to that of the cool-toned Lester Young in the Count Basie Orchestra. Evans started out playing in territory bands, including Troy Floyd (1929-1931) with whom he made his recording debut, and Benny Moten (1933-1935). In 1936, Evans had stints with Lionel Hampton and in Los Angeles and then joined Count Basie just in time to enjoy the band's success and participate on many recordings; his most famous solo was on a ballad feature "Blue and Sentimental" from 1938. Sadly, Herschel Evans died of a heart ailment before his 30th birthday.
He may be gone, but certainly not forgotten, as you'll discover!
Friday, February 20, 2009

Harlem in the Himalayas
Chico Hamilton
7:00pm
Location: Rubin Museum of Art
(150 West 17th Street)
$18 in advance | $20 at door |
Box Office: 212.620.5000 ext. 344
Chico Hamilton, drums
Cary DeNigris, guitar
Paul Ramsey, bass
Evan Schwam, flute, tenor & soprano saxophones
Eddie Barbash, flute, soprano & alto saxophones
Jeremy Carlstedt, percussion 

Legendary jazz drummer and bandleader Chico Hamilton, born September 21, 1921 in Los Angeles, had a fast track musical education in a band with his schoolmates Charles Mingus, Illinois Jacquet, Ernie Royal, Dexter Gordon, Buddy Collette and Jack Kelso. Engagements with Lionel Hampton, Slim & Slam, T-Bone Walker, Lester Young, Count Basie, Duke Ellington, Charlie Barnett, Billy Eckstine, Nat King Cole, Sammy Davis Jr., Billie Holiday, Gerry Mulligan and six years with Lena Horne established this young West Coast prodigy as a jazz drummer on the rise, before he struck out on his own as a bandleader in 1955.
Chico's impact upon jazz includes the introduction of two unique and distinct sounds: first in 1955 with his Original Quintet which combined the sounds of his drums, the bass of Carson Smith, the guitar of Jim Hall, the cello of Fred Katz, and the flute of Buddy Collette; and the second in 1962 with his own drums, the bass of Albert Stinson, the guitar of Gabor Szabo, the tenor sax of Charles Lloyd, and the trombone of George Bohanon.
In 1997, Chico received the New School University Jazz & Contemporary Music Programs Beacons in Jazz Award in recognition for his "significant contribution to the evolution of Jazz". In 2002, Chico was awarded the WLIU-FM Radio Lifetime Achievement Award. At the IAJE in NYC January 2004, Hamilton was awarded a NEA Jazz Master Fellowship, presented to him by Roy Haynes. In December 2006, Congress confirmed the President's nomination of Chico to the Presidents Council on the Arts. And in 2007, Chico received a Living Legacy Jazz Award as part of The Kennedy Centers Jazz in Our Time Festival, as well as receiving a Doctor of Fine Arts from The New School.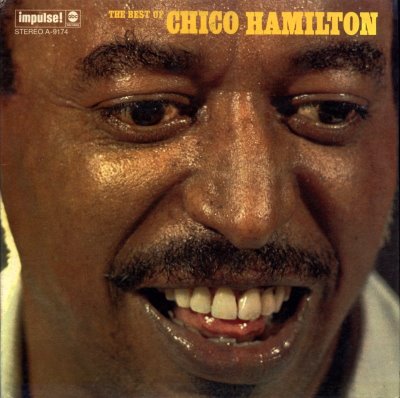 Still swingin' at the age of 86, Chico Hamilton has a resume that includes scores for film, original compositions, commercial jingles, 50 + albums as a leader, and countless international tours. Come witness a living legend in collaboration with his young ensemble members, heard on Hamilton's most recent recordings, "Chico Hamilton Trio!," "The Alternative Dimensions of El Chico," and "It's About Time!"
Friday, February 21, 2009

Special Event
African-American Heritage Day
1:00 – 5:00pm
Location: American Museum of Natural History
(Central Park West @ 79th Street | get directions
Free with Museum admission
The National Jazz Museum All Star Big Band will be performing as part of
HARLEM SERENADE: A MOMENT IN TIME
This event is co-produced by Community Works and the New Heritage Theatre Group.
           
"A" Train to the Harlem Renaissance
 
Performance • 1:00-2:45 pm, Kaufmann Theater, first floor
 
Artistic Director and host James Stovall narrates an afternoon of musical performances by the All-Star Orchestra of the National Jazz Museum in Harlem.
 
The Jazz Orchestra will be joined by members of the Silver Belles – 2nd Generation, a group of exceptional senior female dancers inspired by the original Silver Belles, who appeared in the choruses of the prestigious Cotton Club and Apollo Theater during Harlem's heyday. Also joining them will be the Jitterbug Kids, a group of young dancers who recapture Harlem's Swing era. The performances will be woven together with classic film clips from Harlem's Golden Era.