Nero Set to Appear at Lollapalooza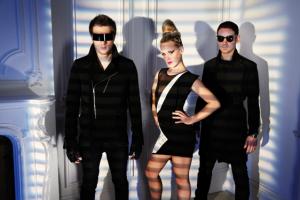 London's premiere dubstep duo Nero, which is British-born producers, remixers, DJs, and artists Dan Stephens and Joe Ray, are taking their renowned DJ set to festivals across the expanse of the US this summer. Nero recently appeared at Coachella, Sasquatch, and the Electric Daisy Carnival NYC festivals and are also set to DJ several shows on this summer's IDentity Festival, as well as at Lollapalooza in Chicago and a perform live at Hard Summer Los Angeles in August. Please see below for all of Nero's upcoming tour dates.
Nero's live performance sees the duo performing along with singer Alana Watson. While the pair have been DJing in the US for a few years now, last December they premiered their live show for a series of sold-out dates including Los Angeles' Music Box and New York City's Webster Hall. It is a visual led performance, which sees them performing from a custom built booth consisting of ghetto blasters, retro TVs, old amps and an arcade machine centre piece.
Nero has been touring all year in support of their debut album Welcome Reality, which was released by Cherrytree/Interscope Records in December to rave reviews from Spin, The New York Times, The Los Angeles Times, Entertainment Weekly, and Billboard. With its thunderous bass, hail of house rhythms, lightning flashes of rave synths, and showers of guitar, the album "pulls dubstep toward the arena-pop spotlight without leaving its shadows behind," as the New York Times put it in its review, while Billboard noted that Nero "comes off like a dubstep-powered pop band."
Released in the U.K. in August 2011,
Welcome Reality
debuted at No. 1 and rapidly earned gold status, fueled by its singles "Innocence," Guilt," "Promises" (which also stormed straight to the top of the UK charts) and "Me and You," which was the most played record on
Radio 1
for three weeks in a row and is the first U.S. single from the album. The official video for the song has racked up more than 14 million plays on YouTube. Watch it here:
http://www.youtube.com/watch?v=llDikI2hTtk
NERO'S upcoming festival dates are as follows:
| | | |
| --- | --- | --- |
| 07/19 | Cincinnati, OH | Riverbend Music Center/Identity |
| 07/20 | Detroit, MI | Phoenix Theater/Identity |
| 07/21 | Toronto, ON | Molson Canadian Amphitheatre/Identity |
| 08/03 | Chicago, IL | Grant Park/Lollapalooza |
| 08/04 | Los Angeles, CA | State Historic Park/Hard Summer |
| 08/10 | Dallas, TX | Gexa Energy Pavilion/Identity |
| 08/11 | Woodlands TX | Cynthia Woods Mitchell Pavilion/Identity |