New 'Low Country Roots Rock' Album from Sol Driven Train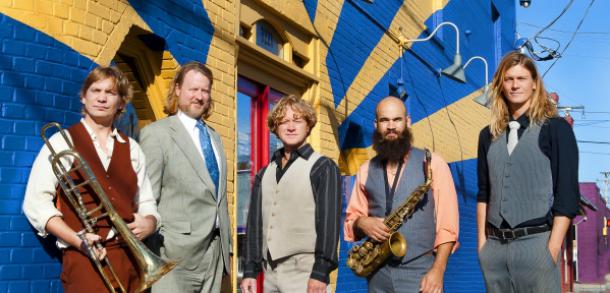 On February 5th, 2013, "Low Country Roots Rock" band Sol Driven Train will release Underdog. The album is a 10-song collection that captures the energy of this Charleston, SC band's dynamic live show while serving as a culmination of their years together on the road. The result is Sol Driven Train's most concise and song-oriented album to date. Averaging 150 live dates per year, Sol Driven Train will support the release of Underdog with a heavy 2013 tour schedule.
Underdog is laced with consistent themes of "striving for balance within ourselves and our relationships at home," says co-frontman and guitarist Joel Timmons. "The pursuit of our collective musical dreams and the need to cultivate healthy relationships and lifestyles at home are at the heart of many of the songs on Underdog. Struggle, spiritual growth, love and longing are all intertwined and have influenced the writing on this new album. We're proud of the result of these challenges and we hope to inspire the underdog within every listener."
Funded fully through fan support by Kickstarter and recorded at Charleston Sound, Underdog features Joel Timmons (guitar/ vocals), Ward Buckheister (trombone/ guitar/ vocals), Russell Clarke (saxophones/ vocals), Rusty Cole (bass/ vocals), Wes Powers (drums), and a cast of Charleston guest musicians including American Idol 2012 finalist Elise Testone. The album explores the diverse components of sounds found in American roots music from the gritty guitar rock licks of the opening title track, to the blues-tinged swing of "Changed Mind" and "I Do Declare", and to the lighthearted observational lyrics laden with big brass hooks of "Guest List", "Fuego! Fuego!" and "Lady from Chiang Mai."
Sol Driven Train's live performances set them apart by combining upbeat melodies, Afro-Caribbean rhythms and a smokin' horn section with a jubilant stage presence. Featuring rotating lead vocalists and multi-instrumentalists, Sol Driven Train enjoy a unique musical identity already recognized by Charleston City Paper ("Rock Band of the Year" 2011 / "Jam Band of the Year" 2012) and others.
For more information on Sol Driven Train including upcoming tour dates, please visit www.soldriventrain.com