New Mimi Auction is Over. Thanks to everyone who participated!
The Mimi Fishman Foundation is pleased to announce a new online charity auction.  This time around auction proceeds will be donated to a friend – Col. Bruce Hampton (ret.), as well as the Delta Gamma Center for Children With Visual Impairments.
Whether it is with Aquarium Rescue Unit, Fiji Mariners, or the Code Talkers, many "jamband" fans are familiar with Col Bruce Hampton's wonderful work over the years.  Col. Bruce collaborated with Phish and others to start the H.O.R.D.E. tour in the early 90's.  He has also acted in movies like "Sling Blade" and Mike Gordon's "Outside Out".
In the spring of 2006, Bruce had angioplasty on several coronary arteries.  His doctors say the operation was 'text book' and a complete success.  This surgery coupled with the medications and lifestyle changes dictated by his doctors have forced him off the road for the first time in forty-four years.  Bruce's health is improving and his prognosis is excellent, however the costs of the hospital stay, clinic visits, and prescriptions are very high.
Bruce's friends have been collecting donations to help with his expenses, however more our needed to meet the need.  If the donations would exceed the need any access will be forwarded directly to Musicares, an organization that provides a safety net of critical assistance to musicians in times of need.
The friendship between Bruce and Mimi goes back many years.  On March 30, 1996, the Aquarium Rescue Unit headline a show billed as "The Mimi Fishman Birthday Party".  The show, organized by Mimi, was a benefit to the American Glaucoma Society.   Mimi's philanthropic dedication was sparked by her love of music and her life dealing with the debilitating disease of glaucoma.
It was no surprise that Col. Bruce was one of the first to sign on to play at "The Tribute to Mimi" show on October 5, 2001.  The show honored Mimi after her passing earlier that year and featured Col. Bruce and the Code Talkers as well as Merle Saunders.
"I remember Mimi coming to most of the East Coast H.O.R.D.E. shows.  She was a great spirit.  She would bring so much energy it would fill the room.  And she would dance all night", says Col. Bruce remembering Mimi.
It was also no surprise that Mimi's son, former Phish drummer Jon Fishman, has stepped to the plate to in the Foundation's desire to help.  Jon recently donated many items from his past to the Foundation to help raise money for charities important to Mimi.  Many of these items were included in one of the Foundation's auctions earlier this year.  What remains will be included in this auction for Col. Bruce, including various pieces of Fishman's drum kits used on Phish tours as well as studio recordings – some dating back to the mid to late 80's.  In addition Fishman has signed all the items he donated.
"When I first approached Jon (Fishman) about organizing the auction for Col Bruce, he replied instantly with a "yes".  We both knew this is exactly what Mimi would have wanted us to do.  She was always reaching out to help both friends and strangers – and that is the tradition the Foundation wants to continue to carry", said Shulman, the Foundation's Executive Director.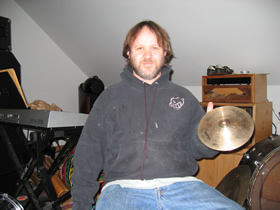 This auction also continues the relationship between the Foundation and the Delta Gamma Center.  Mimi Fishman had glaucoma and was a huge believer of helping out organizations that provided assistance to the visually impaired, especially charities those that focus on children. The Delta Gamma Center is committed to helping infants and young children who are blind or visually impaired reach their full potential by providing individualized education, therapy, and support services to them and their families.
Ex Phish Director of Security, John Langenstein, has also donated Phish memorabilia out of his collection sure to be of interest to Phish fans.