New MISSION SOUTH EP Out Today as Free Download!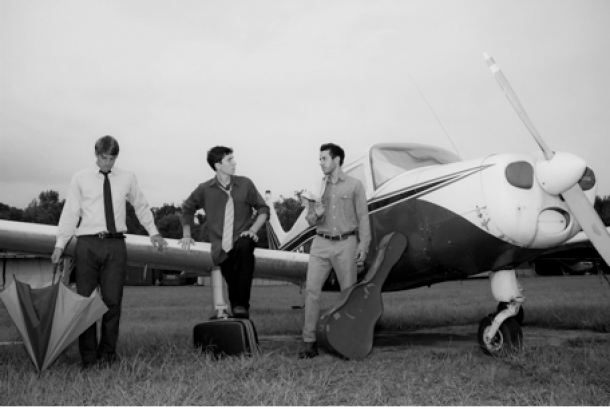 The roots/rock trio from D.C. Mission South releases their sophomore EP, Migration Vol. 2 today, April 9, 2013 as an entirely free download at www.music.missionsouth.com. The full EP is now streaming on AOL Music (http://aol.it/12EkwKr) and MSN Music (http://on-msn.com/QnbIPC). Migration Vol. 2 is the second installment in Mission South's acclaimed 3-part Migration EP series. With a sound that ARTISTdirect compares to The Black Keys and Ben Harper, Mission South goes beyond their blues-rock roots by adding a mixture of pop, folk, and modern tones while maintaining their defining soulful edge.
Mission South is currently on a Spring Tour in support of their EP release, with dates spanning from Vermont to New Orleans to Colorado and everywhere in between.  For full tour dates, see below or visit: www.missionsouth.com.
In the new EP, Mission South crafts six individual tracks that can firmly stand alone as impressive works, but when put together create an unparalleled cohesiveness - a metaphor for the band itself. Much of this focus on unity comes from the band's history. Members Dan Miller (guitar/vocals), John Beck (bass/vocals) and Max Harwood (drums) grew up together on the same street, attended grade school together and began playing music and writing songs together as early as middle school. Another reason for Mission South's strong sense of camaraderie stems from the fact that during their high school and college years, the three often competed together in large scale eating competitions. Bassist John Beck still holds the records for most nachos consumed (in pounds) in one hour, for the 18 and under division.
While most bands call it quits when they head off to separate colleges, Mission South continued playing together whenever they possibly could, even with members attending college in New Orleans, Virginia, and Vermont. When the band realized the distance was hindering the band's progress as a live act, they began traveling for weekends of non-stop shows in their college towns, growing the Mission South fan base with every stint and in one short year, packing frat houses, selling out shows, and creating an impressive draw along the East Coast.
Capitalizing on the momentum, the band hit the studio in the Spring of 2012 to record "Migration, Vol. 1" which quickly topped DC's Independent Music Download charts and later earned them a runner-up position on the DC Deli Magazine's Poll for 'Best Emerging Artist of 2012.'
After graduating in May 2012, Mission South returned to D.C. with a newly invigorated focus and drive to transform their childhood dream into a professional endeavor. In less than a year since taking on the band full-time, Mission South has already shared the stage with Keller Williams, Holy Ghost Tent Revival, and Virginia Coalition and performed at iconic venues such as the 9:30 Club in D.C., The Howlin' Wolf in New Orleans, and will hit The Fox Theatre in Denver and play Crawfest in New Orleans with headliner The Funky Meters this Spring as part of a 50-date national tour in support of the new EP.
Mission South has released Migration, Vol. 2 today, April 9th, 2013. Please head to www.MissionSouth.com for more updates.
Spring Tour Dates:
Apr 9 -- Burlington, VT -- Nectar's
Apr 10 -- New Haven, CT -- Stella Blues
Apr 11 -- New York, NY -- Sullivan Hall
Apr 12 -- Annapolis, MD -- Red Red Wine Bar
Apr 13 -- Washington, D.C. -- Bayou (Album Release Show)
Apr 17 -- Raleigh, NC -- Deep South Bar
Apr 18 -- Atlanta, GA -- Smith's Olde Bar 
Apr 19 -- Bay St. Louis, MS -- Mockingbird Café
Apr 20 -- New Orleans, LA -- CRAWFEST @ Tulane University w/ The Funky Meters
Apr 22 -- Jackson, MS -- Sneaky Beans
Apr 23 -- Austin, TX -- Hole in the Wall
Apr 24 -- Dallas, TX -- Opening Bell
Apr 26 -- Boulder, CO -- The Fox Theatre
May 1 -- Chicago, IL -- Beat Kitchen
May 2 -- Cleveland, OH -- TBA
May 3 -- Ithaca, NY -- The Haunt