New Rubblebucket Mp3: "Michelle" (Beatles Cover)
Submitted by mike on Tue, 11/09/2010 - 00:30
Fresh off the release of the Triangular Daisies EP (Sin Duda Records), Rubblebucket is giving away the second track from the EP, "Michelle." The track is the band's left-field take on The Beatles' Rubber Soul classic, which finds the band turning McCartney's somber ballad into a spacey, orchestral groove. Download the track HERE. The band is currently on their "Triangular Tour," which so far has taken the band from San Francisco to Maine and will end in Live Oak, FL for the Bear Creek Music Festival. After wrapping up this tour, the band will begin recording their next full-length with Eric Broucek (!!!, Holy Ghost!, Hercules and Love Affair) at DFA Studios in New York City, which should be released in early 2011.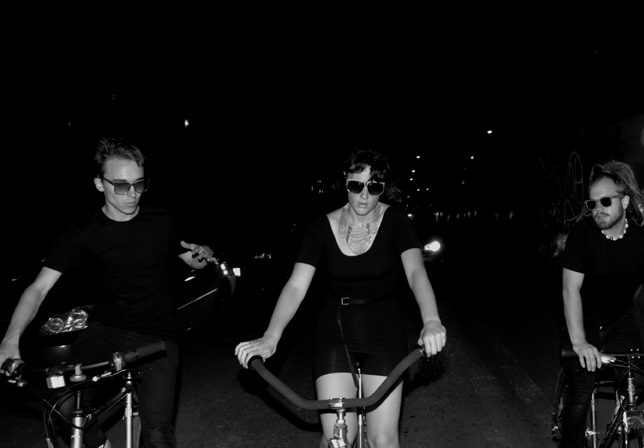 Since the band formed in 2007, pinning down their sound has remained a difficult task.  At times, the band sounds like Brooklyn's answer to Fela Kuti, with frenetic afrobeat rhythms rubbing elbows with infectious indie-pop hooks and catchy synths. Frontwoman/saxophonist Kalmia Traver explains, "We're children of this noisy age, with access to so much music from across time and space. We soak up all the sounds. What comes out can be unpredictable, but it will be uniquely ours."  Uniquely their own, indeed.
Regardless of where you place the band on the spectrum, the Triangular Daisies EP is a dramatic step forward for the band.  Opening with the title track, "Triangular Daisies" (listen HERE), the band pairs down the fiery grooves found on sophomore album Rubblebucketto craft a psychedelic indie-pop gem, complete with plaintive horns and infectious whistling. The EP also features the band's undeniably contagious single "Came Out of a Lady," (watch the video HERE) the recording of which was featured in the first episode of The Masters of Their Day project at Kaufman Astoria Studios. The Triangular Daisies EPends on a high note with the hypnotic live track "L'homme," recorded during their set at Higher Ground this past May.
Rubblebucket started — like most great bands — at an art show in a defunct milk bottling plant in Burlington, VT.  Kalmia Traver met Alex Toth and soon formed Rubblebucket, building an eight-piece band from scratch with Toth as bandleader and trumpeter, and Traver taking on lead vocals and sax.  The band released their debut album, Rose's Dream, as The Rubblebucket Orchestra in 2008.  The following year proved to be a big one for the band, with Rubblebucket releasing their self-titled sophomore album. SPIN hailed the band as a "must-hear artist from the 2009 CMJs," and the band won that year's Boston Music Award for Live Act of the Year. The band then relocated to Brooklyn, and has since been hard at work recording the follow-up to Rubblebucket, which is slated for release in early 2011.
--
Rubblebucket Triangular Tour:
11/08: Baltimore, MD @ The 8x10
11/09: Carrboro, NY @ Cat's Cradle
11/10: Asheville, NC @ Stella Blue
11/11: Charleston, SC @ Pour House
11/13: Live Oak, FL @ Bear Creek Music Festival