New York Guitar Festival Announces 2014 Series of Concerts
Submitted by LiveLoud on Wed, 11/20/2013 - 14:09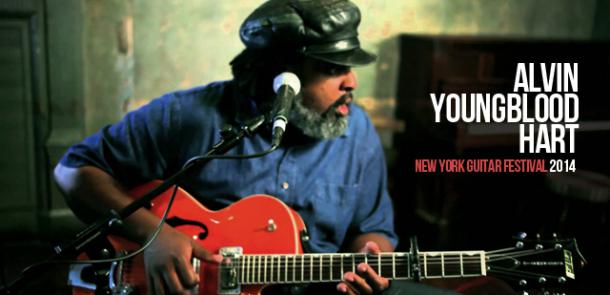 Featuring a greater number of free concerts than ever before, the one-of-a-kind New York Guitar Festival illumines the mid-winter season with a cavalcade of performances, from January 10th—30th, that embrace the instrument's multi-faceted personae in rock, jazz, blues, Baroque, contemporary classical, and, perhaps, a bit of bluegrass.
The 2014 Festival boasts 30+ pioneering guitarists, including Maestro Pepe Romero of the internationally celebrated Romero Family, who, among their multiple accomplishments, invented the guitar quartet as a genre. Romero performs solo on the Festival's Opening Night. Classical guitarists William Kanengiser and Badi Assad co-curate this season's Marathon, at Kaufman Music Center's Merkin Concert Hall, which will be presented free of charge for the first time in the Festival's history. 
Other events include the debut duo performance between Fred Frith and Wilco's Nels Cline; eight new film scores by Kaki King, Marc Ribot, Alvin Youngblood Hart, and more will accompany vintage silent cinema; and Alt-Guitar Summit curator Joel Harrison hosts three evenings of boundary-erasing collaborations, culminating in a multi-guitar homage to the late, great drummer Paul Motian. 
"Guitar is the international language," muses Founder & Artistic Director David Spelman, in summing up the Festival's cross-genre, multi-generational appeal. Looking forward to Pepe Romero's all-Bach recital, Spelman continues, "Bach is the most profound and joyful music I know, and Pepe is one of those rare musicians whose performances of Bach transcend the guitar. He creates a seemingly infinite world of expression on six strings—exploring the full range of beauty of the instrument's tonality and yet expanding it further, into a spiritual realm."
Merkin Concert Hall, where the Festival was born fifteen years ago, plays an expanded role this year as NYGF's primary venue. Spelman "couldn't be more delighted that our signature event—the Marathon—will be hosted at Merkin, and how thrilling it is that we can present the Marathon for free in such an intimate space so highly regarded for its commitment to adventurous programming."
The 2014 New York Guitar Festival will also unfurl at Brookfield Place's Winter Garden, SubCulture, and other venues yet to be announced.
Founded in 1999, the Festival aims to broaden public appreciation of the guitar through fostering emerging talent, fusing unlikely yet irresistible partnerships, and commissioning new works. 
CONCERT SCHEDULE
OPENING NIGHT: Free Concert 
Pepe Romero plays J.S. Bach
Prelude in c minor, BWV 999 (transcribed by Celedonio Romero) 
Two Bourrées  (transcribed by Celedonio Romero) 
Gavotte en Rondeau, from Lute Suite No. 4 in E Major, BWV 1006a (transcribed by Celedonio Romero) 
Gavottes 1 and 2 from Cello Suite No. 6 in D Major, BWV 1012 (transcribed by Celedonio Romero) 
Cello Suite No. 3 in C Major, BWV 1009 (transcribed by Pepe Romero) 
          Prélude, Allemande, Courante, Sarabande, Bourrée I-II, Gigue 
Violin Partita No. 2 in d minor, BWV 1004 (transcribed by Pepe Romero) 
          Allemanda, Corrente, Sarabanda, Giga, Ciaccona
Pepe Romero's distinguished career, both as a solo performer and charter member of the "Royal Family of the Guitar," encompasses some 60 albums, multiple White House invitations, Carnegie Hall concerts, and world premieres by Rodrigo and Moreno Torroba, in addition to receiving a Knighthood by King Juan Carlos I of Spain. This Festival appearance marks Romero's first ever all-Bach recital in NYC. Touring the world in celebration of his 70th year, Romero will give his only NYC concert this season at the NYGF.
January 10, 8 PM, Brookfield Place Winter Garden, 220 Vesey Street
Presented in association with Arts Brookfield
For more information: (212) 417-2414, www.brookfieldplaceny.com/arts-events
ALT-GUITAR SUMMIT
Guest curator Joel Harrison returns with a posse of cutting-edge jazz/new music improvisers who emphasize unusual approaches to the guitar. Fourteen supremely creative musicians will demonstrate in myriad ways just how many mysterious and enthralling sounds a guitar can make. The featured set this year will be a first-time ever meeting between Fred Frith, a founding father of modern guitar improvisation, and avant-garde doyen Nels Cline of the alt-rock band Wilco.
January 17, 8 PM, SubCulture
An evening of trios that explore evolving concepts of rhythm:
Jazz/funk electronica with Will Bernard and the Pleasure Drones.
Miles Okazaki with James Hurt (percussion) and Sergio Krakowski, pandeiro (Brazilian frame drum). Liberty Ellman, master of contrapuntal rhythms, with Matt Brewer, bass, and Damion Reid, drums.
David Gilmore with Gene Lake (drums), Brad Jones (bass).
January 18, two shows: 7:30PM and 10PM, SubCulture
"Feel the Noise!"
Dave Tronzo with Stomu Takeishi, electric bass, and Ben Perowsky, percussion.
Fred Frith meets Nels Cline
January 19, 8 PM, SubCulture
"The Music of Paul Motian"
When drummer, bandleader, and composer Paul Motian died at age 80 in the autumn of 2011, it was, for jazz critic Steve Futterman writing in The New Yorker, "like waking to find that your favorite neighborhood bookstore—the one that stocked the edgy stuff that no one else would touch—had closed overnight." Motian's music lives on in duo performances led by Steve Cardenas, Ben Monder (both Motian band alums) Gilad Hekselman, Brandon Ross, Vic Juris, Mary Halvorsen, the Nels Cline & Julian Lage Duo, Joel Harrison.
SubCulture
45 Bleecker Street, New York, NY 10012
For tickets and information: (212) 533-5470, www.subculturenewyork.com
ALT-GUITAR SUMMIT MASTERCLASSES:
January 18: An afternoon with Nels Cline:  Nels Cline will demonstrate how he achieves his unique sound world where all conceivable musical roads converge. This is Cline's first such class in New York City. All levels invited. Full information on tickets and location to be announced on the NYGF website, www.newyorkguitarfestival.org
January 19: Five guitarists discuss new approaches to jazz guitar through the lens of Paul Motian's music. Ben Monder, Steve Cardenas (both Motian alumni), Vic Juris, Liberty Ellman, and Joel Harrison will talk about comping, ensemble playing, linear improvisation, band-leading, electronics, philosophy, and more, using Paul Motian's singular opus as a starting point. All levels invited. Full information on tickets and location to be announced on the New York Guitar Festival website,  Full information on tickets and location to be announced on the NYGF website, www.newyorkguitarfestival.org
Ben Monder "continually takes us into uncharted realms," say Guitar Player Magazine. He is a guitarist's guitarist and has performed with Maria Schneider, Lee Konitz, Tim Berne, and more. Steve Cardenas has graced CDs by Steve Swallow, Charlie Haden, and Joey Baron, and is consistently one of the most in-demand guitarists in NYC.  Vic Juris is equally adept at nylon string and electric, and his lyrical virtuosity has led him towards alliances with Dave Liebman, Larry Coryell, and countless East Coast groups. He has written two modern guitar books. West Coast native Liberty Ellman has developed a unique voice based on a strong jazz/rock/funk background and alliances with Henry Threadgill, Greg Osby, and Vijay Iyer. Joel Harrison has released 15 CDs as a leader since 1994 debut (with Cline) 3+3=7, including arrangements of Paul Motian's music for string quartet and two guitars.
GUITAR MARATHON: LAS AMERICAS
Co-curated by William Kanengiser and Badi Assad
FREE for the first time in Festival's history, this six-hour Marathon celebrates the classical guitar in North and South America, contrasting rich traditions with bold experimentation.
About the curators: A founding member of the Los Angeles Guitar Quartet, Kanengiser displays his multi-varied musical interests in solo performances ranging from Mozart to Bartok, and his recordings showcase his love of Jazz, Middle Eastern, and Caribbean styles. Assad hails from a well-known musical family of guitarists-composers; a guitarist as well as a singer and percussionist, she fuses pop-jazz with worldbeat in a sensuously Brazilian, lacily feminine sensibility.
January 20, MLK day
2-5 PM: Las Americas, part I:  North America
7-10 PM:  Las Americas, part II:  South America
Merkin Concert Hall at Kaufman Music Center
129 West 67th Street (between Broadway and Amsterdam)
For more information: (212) 501-3330, www.kaufmanmusiccenter.org
Las Americas, part I:  North America
William Kanengiser has invited four brilliant guest artists to help celebrate the guitar of North America.  David Mozqueda, a young virtuoso from Gaudalaja, Mexico, will present masterworks by Ponce and Olivas, as well as arrangements of popular Mexican folksongs. Colin Davin, prizewinner in the GFA competition and modern-music specialist, will present compelling works by Joan Tower, and with flutist Daniel James, a new piece by Alaska-based composer Conrad Wilson.  Connie Shue, an emerging artist specializing in women composers, will play works by Canadian composer Dale Kavanaugh, Brazilian Clarice Assad (Badi's niece), and John Anthony Lennon. The phenomenal Naumburg Award-winner Jorge Cabellero will play the first of his two sets in the Marathon, presenting some of the most important American guitar compositions by Elliot Carter and John Major, as well as the stunning Sonata No. 1 by Cuban master Léo Brouwer.  William Kanengiser will close out the afternoon by presenting an eclectic mix of Mexican, Cuban, and American works, ranging from folkloric to contemporary to jazz-inspired.  
Las Americas, part II:  South America
For the second half of the Marathon, Badi Assad has crafted an evening of propulsive rhythm and evocative melody from South America. The award-winning Brazil Guitar Duo will open with selections by Villa-Lobos, Piazzolla, Gismonti, and more. Samba master Romero Lubambo will bring his technical fireworks and serious Brazilian groove to a set of popular pieces by Jobim, Garoto, and others. Jorge Caballero then returns to the stage to present some of the most important South American compositions for guitar, including works by Barrios, Antonio Lauro, and the seminal Sonata by Ginastera. Making their NY debut, the incredible Duo Siquiera/Lima will present fiery duets by Brazilian, Argentine, and Ecuadorian composers.  The grand finale of the Marathon will be the inimitable Badi Assad herself.
SILENT FILMS/LIVE GUITARS
The NYGF presents world premiere scores to eight classic silent films of international cinema from the 1920s and 30s. Featured will be works that explore urban life in Berlin, Shanghai, Tokyo, and New York, by such cinematic pioneers as Yasujirô Ozu, Walter Ruttmann, Josef von Sternberg, and Wu Yonggang. In addition to the feature films, each night opens with a comic short written and directed by Roscoe "Fatty" Arbuckle. The movies themselves have long been overshadowed by the tragedies that prematurely ended Arbuckle's career, yet Chaplin and Buster Keaton revered him, and Arbuckle's influence on later generations of comedians extends from Jackie Gleason to Chris Farley and beyond.
January 21, 7:30 PM, Merkin Concert Hall
Marc Ribot: Josef von Sternberg's The Docks of New York, 1928, 75 min.
Chris Eldridge: "Fatty" Arbuckle's Coney Island, 1917, 24 min.
"Marc Ribot did such a fabulous job with Chaplin's classic The Kid at the 2010 Festival," NYGF Founder David Spelman remembers, "bringing out not just the humor, but the deep humanity of the film, that I knew we wanted to have him back, but this time with a film that might summon up an even wider emotional palette." This season, Ribot returns with a new score for von Sternberg's passionate drama The Docks of New York, which tells the New York waterfront story of a boiler room stoker's romance with a suicidal dance-hall girl. Ribot has frequently collaborated with Tom Waits and John Zorn; his most recent band is the trio Ceramic Dog.
For sheer contrast, bathing beauties and Keystone Kops abound in Fatty Arbuckle's 1917 short comedy Coney Island, screened with a suitably raucous new score by Chris Eldridge of the progressive bluegrass band Punch Brothers.
January 23, 7:30 PM, Merkin Concert Hall
Badi Assad: Wu Yonggang's The Goddess, 1934, 85 min.
Kaki King: "Fatty" Arbuckle's The Garage, 1920, 25 min.
The extraordinary Brazilian guitarist/singer Badi Assad premieres her score for one of the best-known films of China's cinematic golden age: Wu Yonggang's 1934 debut The Goddess, the story of a prostitute working the seamy streets of Shanghai to afford an education for her young son.
With six albums as well as collaborations with Eddie Vedder, Foo Fighters, and The Mountain Goats to her credit, Kaki King brings her spare, understated style to Arbuckle's 1920 short comedy The Garage.
January 28, 7:30 PM, Merkin Concert Hall
Luther Dickinson: Walter Ruttman's Berlin: Symphony of a Great City, 1927, 65 min.
Alvin Youngblood Hart: "Fatty" Arbuckle's Out West, 1918, 25 min.
Formerly lead guitarist with The Black Crowes and current front-man for North Mississippi Allstars, Memphis-born Luther Dickinson deploys his aggressively Southern sensibility to Walter Ruttman's documentary portrait of a Berlin long gone by. A painter and a chamber musician before becoming a filmmaker, Ruttman cast an impressionistic eye over a single day-into-night of life observed in the German capital.
Grammy-winning country-blues guitarist/singer Alvin Youngblood Hart applies his signature rootsy style to "Fatty" Arbuckle's 1918 spoof on westerns, Out West. Arbuckle co-stars with Buster Keaton against the backdrop of Mad Dog Gulch, "the toughest town in the movies."
January 30, 7:30 PM, Merkin Concert Hall
Toubab Krewe: Yasujirô Ozu's I Was Born, but…, 1932, 100 min.
Joseph Arthur: "Fatty" Arbuckle's Oh Doctor!, 1917, 23 min.
The West African-inspired Asheville, North Carolina-based ensemble Toubab Krewe plays Malian-accented world-pop that's imbued with laconic, Southeastern minimalism. Their cross-cultural flair will take a turn to the East as the band premieres an original score to Japanese director Yasujirô Ozu's boisterous comedy I Was Born, but…. Two young brothers, outsiders in a new town, skip school to dodge a bully and fret over their father's lowly social standing as an office clerk.
Grammy-nominated singer-songwriter Joseph Arthur tunes his jangly, pop guitar to "Fatty" Arbuckle's 1917 comedy Oh Doctor! with Arbuckle taking the lead as Dr. Holepoke. Once again, Buster Keaton contributes a share in slapstick mayhem.
Merkin Concert Hall at Kaufman Music Center
129 West 67th Street (between Broadway and Amsterdam)
Tickets and Information: (212) 501-3330, www.kaufmanmusiccenter.org
Subscription: $20 per ticket for 2 or more tickets
Single tickets $25
Students: $15 
More info and more events to be announced on the New York Guitar Festival website, http://www.newyorkguitarfestival.org.