Nicki Bluhm and The Gramblers Announce Appearances @ SXSW, Hangout, Bonnaroo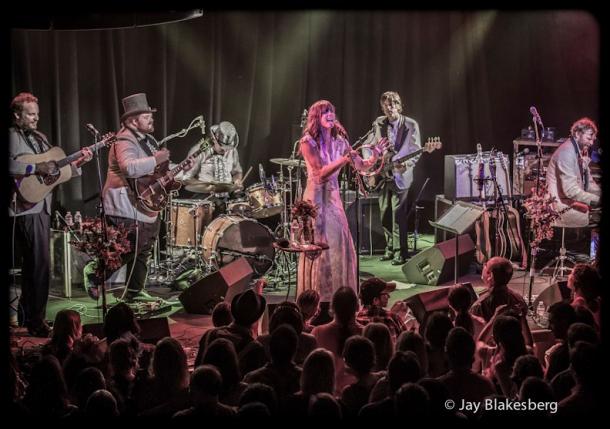 Nicki Bluhm and The Gramblers announce that they will continue their 2013 North American tour with performances at Bonnaroo, Newport Folk Festival and Mountain Jam in Hunter, NY, Hangout in Gulf Shores, AL and Strawberry Music Festival in Yosemite, CA this summer.  The band is also pleased to announce their South By Southwest schedule as this year is their inaugural appearance at the legendary festival in Austin, TX.
Earlier this year, NB&TGs released two new original songs "Little Too Late" and "Ravenous" which they have been performing in their live shows as well
NICKI BLUHM AND THE GRAMBLERS AT SXSW
3/13     Newport Folk / Paste Official Showcase        The Black Heart @ 1:00AM
3/14     SX San Jose                                                                 San Jose Hotel @ 2:00PM
3/14     Pandora/Americana Music Association                      Antones @ 5:40PM
3/15  After The Gold Rush/Another Planet Ent. /Noise Pop Red Eyed Fly @ 2:30PM
3/16 Levon Helm Tribute/Monterey International Official    Auditorium Shores @TBD
Don't Miss Nicki Bluhm and the Gramblers on tour!
SPRING TOUR 2013
3/6/13              Don Quixote's Music Hall                 Santa Cruz, CA #
3/8/13              Bimbo's 365 Club                               San Francisco, CA #
3/9/13              Crystal Bay Club Casino                    Crystal Bay, NV #
3/13-16/13       SXSW                                                 Austin, TX
3/18/13            Dan's Sliverleaf                                   Denton, TX !
3/19/13            Stickyz                                                            Little Rock, AR !
3/20/13            High Watt                                           Nashville, TN !
3/21/13            Smith's Olde Bar                                Atlanta, GA !
3/22/13            Visulite Theatre                                  Charlotte, NC !
3/23/13            The Southern                                      Charlottesville, VA !
3/24/13            The Hamilton                                      Washington, DC !
3/26/13            World Café Live                                  Philadelphia, PA !
3/27/13            Bowery Ballroom                               New York, NY !
3/28/13            Brighton Music Hall                           Boston, MA !
3/29/13            Higher Ground Showcase Lounge       Burlington, VT           
3/30/13            Sugarloaf Ski Resort                            Sugarloaf, ME
4/1/13              Divan Orange                                      Montreal, QUE CANADA
4/2/13              The Drake Hotel                                 Toronto, ONT CANADA
4/3/13              Magic Stick Lounge                            Detroit, MI $
4/4/13              Founders Brewing Co.                        Grand Rapids, MI $
4/5/13              Lincoln Hall                                        Chicago, IL $
4/6/13              Shank Hall                                           Milwaukee, WI $
4/7/13              Turf Club                                            Minneapolis, MN $   
4/8/13              The Waiting Room                              Omaha, NE $
4/10/13            L2 Arts & Culture Center                   Denver, CO
4/12/13            Alyeska Resort                                   Girdwood, AK
4/13/13            Alyeska Resort                                   Girdwood, AK
5/2/13              Mystic Theatre                                   Petaluma, CA #
5/3/13             Soho                                                    Santa Barbara, CA %
5/4/13              SLO Brew                                           San Luis Obispo, CA %
5/5/13              Henry Miller Library                          Big Sur, CA
5/17-19/13       Hangout                                              Gulf Shore, AL
5/24-26/13       Strawberry Music Festival                 Yosemite, CA
6/6-9/13           Mountain Jam                                     Hunter, NY
6/13-16/13       Bonnaroo                                            Manchester, TN
7/26–28/13      Newport Folk Festival                        Newport, RI
# w/ The Easy Leaves
! w/ You Me and Apollo
$ w/ Rayland Baxter
% w/ Dave Mulligan Band