Nicki Bluhm & The Gramblers Breaking Out This Spring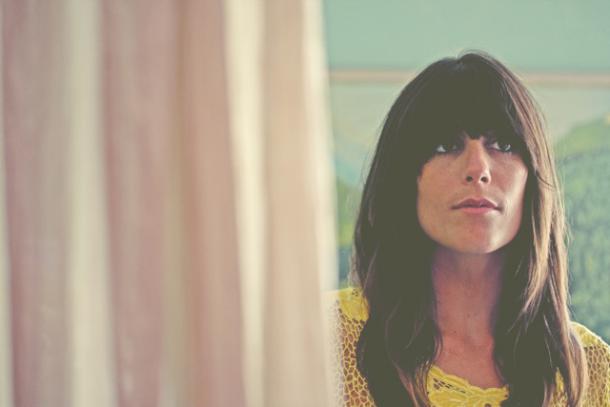 Fresh off the success of the latest "Van Sessions" cover of Hall and Oates "I Can't Go For That" – with 1.1 million views on YouTube and growing – and a sold out show at LA's famed Hotel Café, Nicki Bluhm and The Gramblers are set to hit the road and spend the rest of the year on a North American Tour.  The band will headline a month long residency at Rickshaw Stop in San Francisco this June and participate in a bevy of festivals including Grace Potter's Grand Point North in Vermont, The Festy in Virginia and Jam Cruise 11.
Nicki Bluhm and The Gramblers were founded in San Francisco in 2008 by Nicki, her husband Tim Bluhm (The Mother Hips) and childhood friend Deren Ney. They were soon joined by bassist Steve Adams (ALO), Dave Mulligan on rhythm guitar and drummer Mike Curry and released their debut album 'Toby's Song' in 2008 and follow up, 'Driftwood' in 2011. The band has been winning fans and critics the old fashioned way: with hard work, great songs and relentless touring.  The Sacramento Press cheers "It's Americana pop rock, with a little country and a lot of California soul… I wanna listen to this album with the windows rolled down, driving along a two-lane country highway to anywhere."
"I Can't Go For That" was the seventeenth song the band recorded as part of their "Van Sessions"  -- a series of videos Nicki and the band recorded while on tour. More than anything, the "Van Sessions" were conceived as an easy and fun way for the band to entertain themselves and fans paying tribute to their favorite music.
Never did they expect the DIY series to spread like wildfire and bring the band to the forefront of viral music on the internet.  The "Van Sessions" now have nearly 2.5 Million views on YouTube.
Don't Miss Nicki Bluhm and The Gramblers on Tour!
5/16 Los Angeles, California – Troubadour *
5/17 San Francisco, California – The Independent *
5/18 Petaluma, California – Mystic Theatre *
5/19 Crystal Bay, Nevada – Crystal Bay Club *
5/20 Arcata, California – Humbrews *
5/22 Portland, Oregon – Aladdin *
5/23-24 Seattle, Washington – Triple Door *
5/25 Sandpoint, Idaho – Panida Theatre *
5/26 Bellingham, Washington – Shakedown
5/27-28 Port Angeles, Washington – Juan de Fuca Festival
5/30 Applegate, Oregon – Applegate Lodge
5/31 Mount Shasta, California – Seed of Life Cafe
6/1 Sacramento, California - Marilyn's on K
6/2 Groveland, California - Paddle to the Sea
6/4 Petaluma, California - Lagunitas Brewery
6/5 San Francisco, California - Rickshaw Stop
6/9 St. Helena, California - Long Meadow Ranch
6/10 Lafayette, California - Town Hall Theatre
6/12 San Francisco, California - Rickshaw Stop
6/14 San Diego, California - Anthology
6/15 Los Angeles, California - Bootleg
6/16 Santa Barbara, California - Live Oak Festival
6/18 Santa Cruz, California - Don Quixote's
6/19 San Francisco, California - Rickshaw Stop
6/22 Hood River, Oregon - Cebu Lounge
6/23 Bend, Oregon - 4 Peaks Music Festival
6/24 Eugene, Oregon - Cozmic
6/25 Portland, Oregon - Mississippi Studios
7/3 Birmingham, Alabama – Workplay
7/4 Atlanta, Georgia – Market at the W Hotel
7/18 Telluride, Colorado – Telluride Mountain Village
7/19 Carbondale, Colorado – PAC3
7/20 Denver, Colorado – Daniel's Hall @ Swallow Hill
7/24 McCall, Idaho - Salmon River Brewery
7/25 Missoula, Montana - Top Hat
7/26 Big Sky, Montana – Music in the Mountains
7/27 Kemmerer, Wyoming – Oyster Ridge Festival
7/28 Pocatello, Idaho – 1st National Bar
7/29 Teton Village, Wyoming – Village Commons
8/1 Ketchum, Idaho – Whiskey Jacques
8/2 Park City, Utah – Newpark Town Center
8/4 Petaluma, California – Petaluma Music Festival
8/18 Grass Valley, California – Grass Valley Performing Arts Center
8/30 Denver, Colorado – Denver Botanic Gardens #
9/1 Fort Collins, Colorado – New Belgium's Tour de Fat
9/15 Burlington, Vermont – Grand Point North $
9/16 Boston, Massachusetts – Middle East
9/17 Northampton, Massachusetts – Iron Horse
9/19 New York City, New York – Mercury Lounge
9/22 Washington D.C. - IOTA
10/6 Roseland, Virginia – The Festy %
10/12 Chicago, Illinois – Schubas
1/7-12/13 Ft. Lauderdale, Florida – Jam Cruise 11 ^
* with The Bodeans
# with Bruce Hornsby
$ with Grace Potter & The Nocturnals, The Avett Brothers, Dr. Dog and more
% with Infamous Stringdusters
^ with JJ Grey & Mofro, Galactic, funky Meters, Big Gigantic and more