Nightmares For A Week Announce Tour Dates
Submitted by mike on Thu, 01/06/2011 - 00:49
It all started out with a couple cases of beer, a back porch, and a few old friends. In the hot, muggy summer of 2008, longtime friends and former band mates Sean-Paul Pillsworth and Bill Manley decided it was time to pick up their dusty guitars and start writing music together again. It wasn't long until they recruited ex-Astronauts drummer Steve Markota, and the resulting chemistry was undeniable.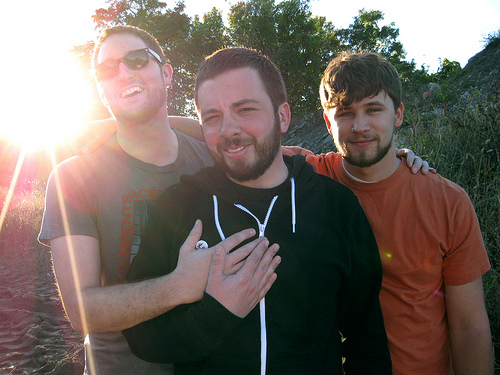 The trio played a packed hometown show, and in months they were traveling far from their native Kingston, NY, playing nearly every weekend. They kept getting called back, each time with bigger and more enthusiastic performances to match the crowds. A year went by so fast. They released their debut EP, A Flood Tomorrow, produced by studio pro John Naclerio (My Chemical Romance, Senses Fail, Polar Bear Club) at Nada Studios in New Windsor, NY. After releasing the CD on friend-run imprint Music for End Times, Naclerio signed the band to his own Broken English record label for digital distribution.
In June of 2010 the band reentered Nada Studios as free agents to record their full-length debut. In addition to a brand new album, the band also came out of the studio with a brand new label, Brooklyn-based Academy Fight Song. Their full-length entitled "Don't Die" is out now. Nightmares for a Week will be touring the country in support of the new album, full US tour dates coming soon.
--
Nightmares For A Week Live!
Jan 14 California Brew Haus Rochester, New York
Jan 15 The Tuscan Cafe Warwick, New York
Jan 21 Cravings Goshen, New York
Jan 22 Deer Park Community Center Deer Park, New York w/ Koji
Jan 28 King Killer Studios Brooklyn, New York
Feb 5 Bacchus New Paltz, New York
Feb 11 Valentine's Albany, New York w/ Iron Chic
Feb 25 The Basement Kingston, New York w/ After the Fall
Feb 26 Valentine's Albany, New York
Mar 1 The Saint Asbury Park, New Jersey
Mar 20 Trash Bar Brooklyn, New York
+ Full US Tour Dates Coming Soon!