Noise of the Earth Tour to kick off at Cascadia Music Festival
Submitted by crista67 on Mon, 06/17/2013 - 19:36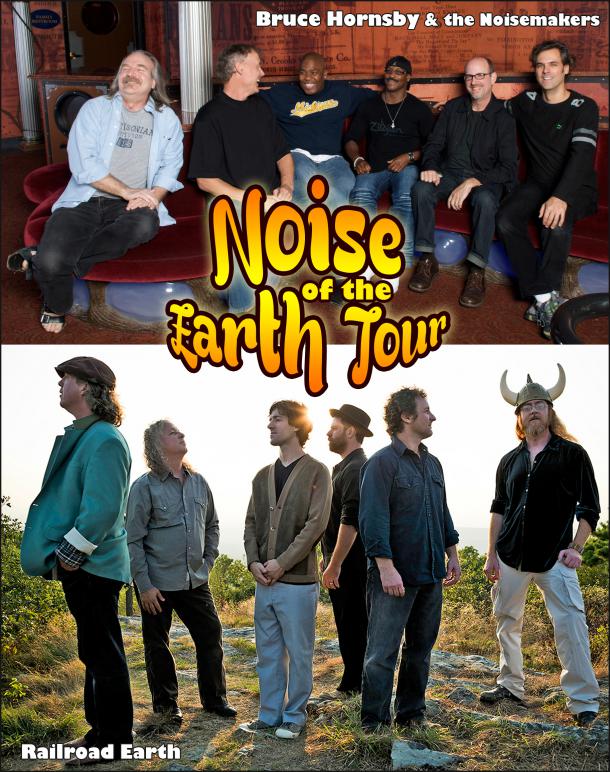 Bruce Hornsby & the Noisemakers are heading out with Railroad Earth this summer for a string of dates along both coasts, hitting several festivals along the way.  The Noise of the Earth Tour will kick off in Eugene, Oregon with a July 5th performance at the Cascadia Music Festival and continues on through August 10th in Atlanta's Botanical Gardens. It will be the tour's only Oregon stop.
The inaugural Cascadia Music Festival gets underway at 3:00 PM (gates open at noon) with music from the Shook Twins, Jelly Bread and Tony Furtado, followed by Bruce Hornsby at 8:00 and Railroad Earth bringing it home with a 10:00 to midnight set. Although it will be the first time these two amazing groups have shared a stage, festival organizers are hoping and planning for some creative collaboration.
Emerald Meadows, Lane County's newest event venue, is located just minutes south of downtown Eugene off I-5.  As one festival-goer familiar with the site describes it, "As someone who's been to more than 20 festivals all over the country, I don't know that I've seen a more beautiful spot. It's got almost the perfect checklist of attributes to hold a public event. Then when you add the beautiful physical attributes, it's beyond perfect. You have Mount Pisgah rising to the east, the Coast Fork of the Willamette River a few dozen feet to the south. It's surrounded by woods and wildflowers. It's really a magical place in the summertime to be able to be there — the whole community and all of your friends and listening to the music that brings people together in Eugene."
Organizers are sensitive to the challenge of holding a major event in an environmentally sensitive area; the partners behind Sea Level Productions have been producing music festivals in a wilderness park in Pagosa Springs, Colorado since 1996, where they have been recognized as responsible stewards of that site. A percentage of proceeds from the event go to Lane County Parks, with 1.5% directly earmarked for environmental restoration and mitigation projects.
In addition to the incredible live music on the big stage, the festival will have food and craft vendors (with an emphasis on locally made and/or grown goods), local and regional beer and wine and terrific RV and tent camping at the site. Children 12 are admitted free. For more information or to order tickets, visit the web site at www.cascadiamusicfestival.com or call 541-461-3900.