Every time I write about these boys, I somehow slip into my hill country roots and all sorts of mountainisms start coming out of my mouth. I guess it's because I get caught up in the theater of the band and the fact that they don't take anything seriously—except their music. You can't believe a word written on their websites—especially the bios of each current member and former member. (I ought to know because my son used to drum for them when the band first started.) In fact, their names are so far removed and far-fetched from the North Dakota residents that they are that any local would know these folks are pulling more than your leg. They are currently Cactus Kristofferson and his brother Copenhagen, J "Skull" McCready, Phillip DeSnaatch, and Gunter Banger. A couple of the former members' names really tip into rudeness.
The band is called the Legionnaires. They aren't named for anything noble like the French Foreign Legion or even the DC Comics Legionnaires from the Legion of Super Heroes. They are named for the disease that gets into lungs and brings on a high fever. The Legionnaires honestly will produce a kind of delirium and has created an uncommon loyalty among fans.
They also are making quite a name for themselves across the country because of their funny but very adult lyrics. When the band is mentioned, people say, "You know, those guys in the dirty country band." Live burns from their shows have found their way into the hands of prominent bands like the Animal Liberation Orchestra (AOL). They also have gathered a crew of guest musicians who are eager to sit in with the group, becoming honorary Legionnaires.
The band is the brainchild of Pat Linerts, who used to be the front man for a Fargo band called Bad Mojo that was one of the first regional bands to play the 10,000 Lakes Festival in Detroit Lakes, MN, back in 2003. Shortly after that major gig, the band broke up, and Linerts spent a lot of time writing songs just for the heck of it. These were parodies of the country music he grew up on, but none of those songs were strictly parodies of any one particular country song like Cletus T. Judd did with the songs of country icons like George Strait and Faith Hill. Linerts just used the standard country structure to hang his tales of love, loss, and hope that had titles like "You've Got Worms" and "Rotten Rhonda" (about the guy who only dug up—literally - his girlfriend Rhonda when he got lonely).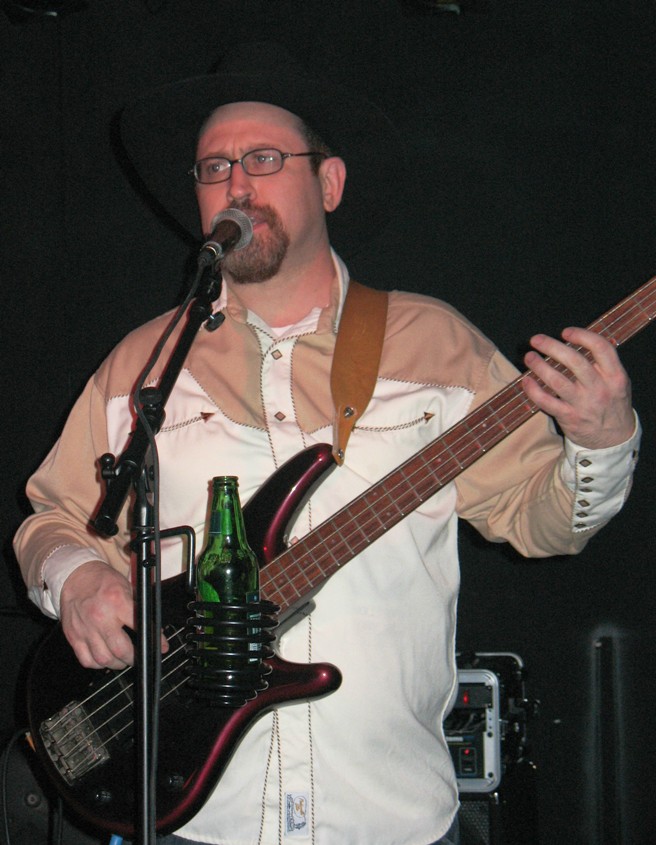 As Linerts made the rounds of the local club scene, talking to other bands, he shared some of these songs and soon found key players to form a new band, mushrooming into a six-piece extravaganza that spilled over the stage when guest musicians joined them. Those early songs he wrote became Legionnaires' favorites and began to draw fans. Though the band claims it started in the basement bar of a Fargo strip club, I do know for a fact that the boys played the Moose Lodge and the VFW in Moorhead and quickly skyrocketed to the Cabooze stage in Minneapolis and repeated appearances at the annual Log Jam Music Festival in Minnesota. They have played with many regional bands like the White Iron Band, Down Lo, WBPN, Trampled by Turtles, Javier Trejo, the Afro-Cuban funk/dance band New Primitives, and the Big Wu. They have also opened for The Radiators, Shooter Jennings, and Banyan—and Linerts sat in with Banyan.
The main attraction at first was their raunchy lyrics. But the songs themselves were not just vehicles to say an X rated word or to write about something perverse. They just were experiments in songwriting that often stretched the limits of even bad taste. Over time, Linerts has used his new songwriting ability to pen some good songs that aren't so adult. However, even the most adult show now has some good straight-up ole country or peace-and-love reggae that doesn't have a hint of XXX.
In fact, it's been said that if Linerts would just replace the lyrics of one of his Legionnaires's standards to "Wash my truck, it's Christmas," instead of "Suck my b***s, its Christmas," they could get radio play. And his "Feets Don't Fail Me Now," a song about being held held captive by a wild woman, has some of the best four part harmony I've heard in a long time! But, Linerts can write a good song that doesn't have anything too weird attached to it. "The Ballad of Jose" is a song in the vein of "Poncho and Lefty" about a weed dealer pursued by the federales. "Take Me to the Other Side" is Linerts' own take on reggae, and it rocks.
But no one can deny the showmanship and musicianship of the players. The band has expanded and contracted over the years, but always maintains a lineup with chops. Linerts, of course, handles the lead vocals and plays a killer electric guitar. Josh Reinhardt (Günter Banger)adds lead guitar flourishes. The other members, all under aliases as J. "Skull" McCready (bass and sometimes guitar), Copenhagen Kristofferson (drums), and Philip DeSnaatch (keys) complete the sound with very tight vocal backup harmonies. The keys player adds a whole new level to what would have been just a plain country band. Under Linerts' influence, the band has become a country/jam entity that is poised to sweep across the country—if they could get loose from their day jobs long enough.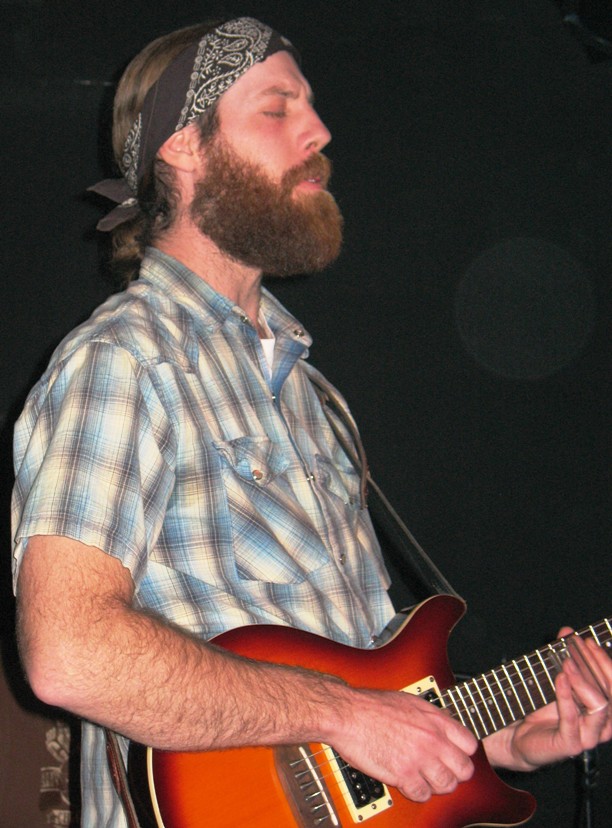 Long Time Comin', the Legionnaires' first studio album was mastered last year at Wonderland Studios in St. Paul, MN. The twelve tracks include songs with the original band members and new ones with the current lineup. Half of the material is straight, serious stuff. Linerts still is constantly writing new materials. The band is currently in the studio (this time one in Fargo), working on a new CD that will be out later this summer or the early fall.
Last year's CD tour had them playing while artist Norman Wisdom painted. Wisdom created the energetic cover for Long Time Comin'. He has done interpretive painting for other events such as the 2002 Winter Olympics in Utah, the opening of the Baliagio Hotel in Vegas, and the premier of Cirque du Soliel's "O" and "Alegria" shows also in Vegas. He has also painted with other bands, including Ivan Neville, Beck, Rob Wasserman, Richie Havens, and Steven Perkins (Jane's Addiction), as well as classical orchestras, jazz bands, dance troupes, and poetry readings. And he is sometimes flown to Morocco to paint murals for a prince.
Whether it's the raunchy lyrics or the great vocal and instrumental talent of the band, everyone wants to get infected with the fever of the Legionnaires.