Old & In The Way -The Complete Boarding House Tape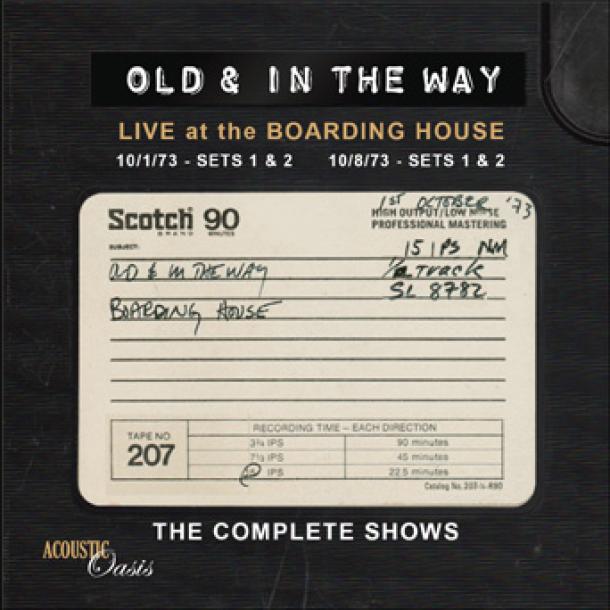 Award-winning mandolinist and music producer David Grisman announced today the HD release of Old & In The Way – The Complete Boarding House Tapes. The 4-set compilation comes exactly 40 years after the band played two shows at The Boarding House in San Francisco – the first on October 1, 1973 and second on October 8, 1973, from which the original LP was produced. This is the first release of complete shows by this stellar bluegrass ensemble and includes 55 tracks, 14 of which have never been issued in any format before today.
Old & in the Way had a huge impact on bluegrass music through the recordings, which were made by Ousley Stanley III at The Boarding House.  The group included two of Bill Monroe's former Blue Grass Boys: guitarist Peter Rowan and fiddle virtuoso Vassar Clements, along with the late Jerry Garcia of the Grateful Dead picking banjo, his bass playing sidekick the late John Kahn, and of course, David "Dawg" Grisman on mandolin.
Now forty years later, both shows are being released as High Definition (24 bit, 96 khz) downloads on Grisman's AcousticOasis.com.
"Although we didn't realize what an impact this music would have at the time, we had a lot of fun playing the bluegrass music we loved and these tapes reveal that in a big way,"  Grisman said.
Grisman, mandolin revolutionary, composer, band leader (David Grisman Quintet & Sextet, David Grisman Bluegrass Experience and FolkJazz Trio) and progenitor of Dawg Music has been producing high-quality acoustic recordings for 50 years. His work has been released on Folkways, Rounder, Sugar Hill, Warner Brothers and his own Acoustic Disc label, founded in 1990.
For the past three years AcousticOasis.com has been Grisman's pet project with many "Deluxe" releases in High Definition. In addition to this newest release, acoustic fans will find many previously unreleased gems from his extensive archives.
Old and In The Way - The Complete Boarding House Tapes are available for download here: http://acousticoasis.com/rooms/vault2live/boarding-house/boarding-house.html
Old & In The Way at the Boarding House - 10/1/73
Vassar Clements - fiddle & vocals; Jerry Garcia - banjo & vocals; David Grisman - mandolin & vocals; John Kahn -bass; Peter Rowan - guitar & vocals)
Produced by David Grisman
Recorded Live to 2-track analog by Owsley Stanley III
High Definition Mastering in Dawg Studios by David Grisman
Set 1
01 - On and On
02 - I'm On My Way Back to the Old Home
03 - Catfish John*
04 - Lonesome Fiddle Blues
05 - Land of the Navajo* 
06 - Down Where the River Bends* 
07 - I Ain't Broke But I'm Badly Bent
08 - Lost
09 - Kissimee Kid
10 - Lonesome L.A. Cowboy
11 - Pig in a Pen
12 - Wild Horses
13 - Midnight Moonlight      total time:  49:25
Set 2
01 - Muleskinner Blues
02 - Goin' to the Races
03 - Old and in the Way*
04 - Old and in the Way Breakdown*
05 - Panama Red
06 - Hard Hearted
07 - That High Lonesome Sound
08 - The Hobo Song
09 - Drifting Too Far From the Shore*
10 - Angel Band
11 - Wicked Path of Sin
12 - Home Is Where the Heart Is*
13 - Uncle Pen
14 - Orange Blossom Special
15 - Blue Mule*  total time:  52:55
       *previously unissued in any format