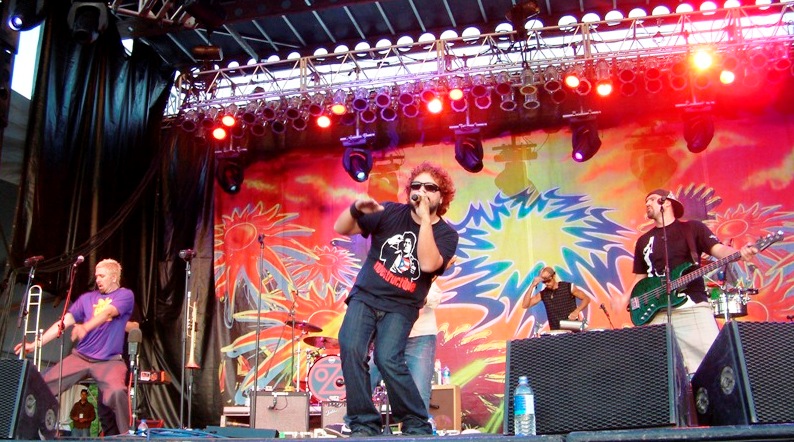 If there is a better party band than Ozomatli out there, then I would love to hear them. I wasn't invited to the party at the Hard Rock Hotel in Las Vegas on May 30th, so I had to crash it. I openly admit to not paying for a big name concert in about 5 years. I got spoiled being a photographer/writer and getting into the shows I wanted to see with press passes. But this past weekend I had to break my streak and actually pulled $25 dollars out of my wallet to see one of my favorite bands ever. The last time I did such a deed was for the Deftones in 2002, before my portfolio allowed me those precious photo passes and free entry. But Ozomatli is worth it. And I even showed up to the concert late, unfortunately. But I don't get the opportunity to dance to their lively tunes up close and personal very often. And dance I did. From the moment we found a spot next to the shimmering swimming pool, my date and I did not stop grooving to the music until Ozomatli left the stage.
Ozomatli has a perfect blend of Latin and world rhythms, hip-hop, reggae, and rock 'n roll. Their music gets under your skin and almost forces you to dance. It is nearly impossible to resist. And in that live element, the urge is even greater. Which is not surprising considering their name comes from the Aztec symbol for the God of dance, music, and fire. Their first show was 12 years ago, playing for picketers during a strike, and it shows during their live performance. The experience of playing together for so long allows them to explode on stage with raw energy while still keeping the music tight and cohesive. And that explosive energy rubs off onto the crowd as well. And the interesting blend of music they play has a "grab bag" effect on you, wondering what kind of song will they pull out of their hat next...will it be funk? Will it be Cumbia? Will it be hip hop? But once the song starts, it won't make a difference, because it makes you want to dance no matter what.
The show had the vibe of a backyard pool party, with everyone getting along and dancing like good friends reuniting for a Friday night house party. Nobody was in the pool, which made me wonder if it was even allowed. And after all that dancing I felt like a dip in the pool would have been quite a refreshing ending to the warm Las Vegas night. But it was not the end of the night for me and my date; we had just been pumped up by the tunes of Ozomatli and were ready for a full night of partying and enjoying ourselves. And what an amazing start it was, even if the band didn't march their way into the audience for a drum circle to end their show (as they did the other times I saw them perform live).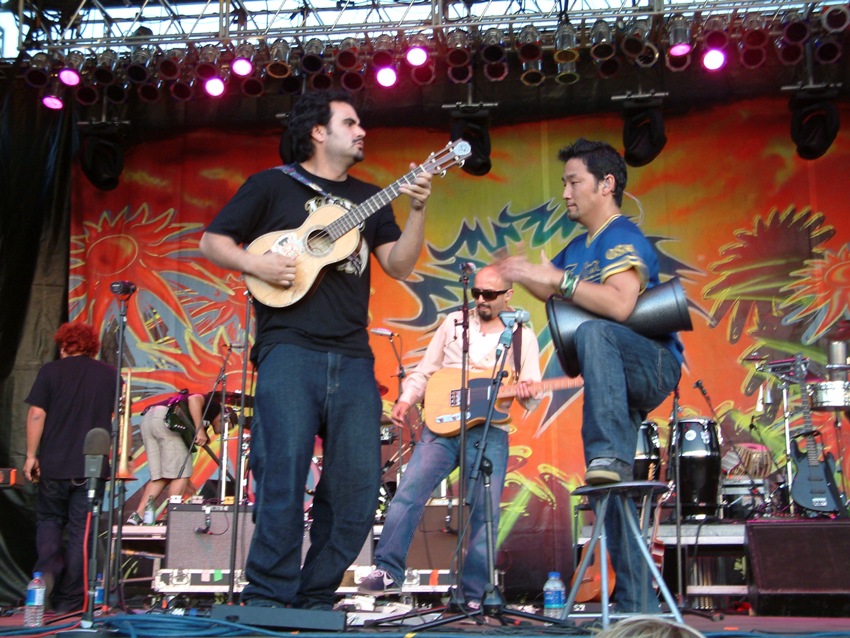 Paying for an Ozomatli show is most definitely worth the ticket price. Take it from me, because I don't say that very often. They have an extremely positive message, with lyrics concerning social justice and tackling society's difficult issues, plus they play amazing music. You can pick up any one of their four albums (Ozomatli (1998) Almo Sounds, Embrace the Chaos (2001) Interscope, Street Signs (2004) Concord Records/Real World Records, Don't Mess with the Dragon (2007) Concord Records) to hear for yourself. My personal favorite is their self titled debut, with great songs like "Cumbia De Los Muertos," "Como Ves," "La Misma Canción," and "Super Bowl Sundae." That album also features the rapping skills of Chali 2na, known for his work with the Jurassic 5. I suggest you get yourself a copy of Ozomatli, let it absorb into your skin, dance to it, and then find out where they are playing near you and go see them LIVE!