Papadosio Announce Departure from Rootwire Festival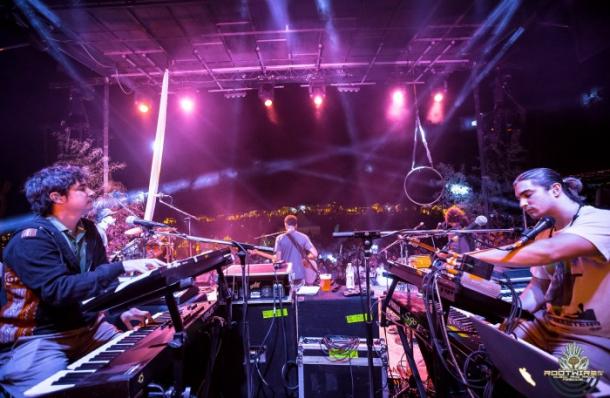 As most of you can imagine, life for a touring band is never easy. From late nights to creative fights, there's a reason why only so many bands withstand the challenges of being on the road whilst maintaining a personal sense of freedom. We, Papadosio, created the Rootwire Music & Arts Festival in an attempt to paint on our own canvas. After years of visiting, working, and performing at other camping festivals, we followed in the footsteps of many before us with hopes to craft our own unique experience that would best embody our vision and values. After 4 years, Rootwire has reached critical acclaim by gathering artists, performers and patrons from across the world to share in our labor of love.
Unlike some major festivals, we never sought out huge corporate sponsorships in order to maintain the high level of artistic purity at the event. Instead, we worked hard to bring in the production, the artists, and the acts who were nothing less than stunning and who left us glowing year after year in anticipation of the next celebration. We sought to push our personal and creative limits while bringing in those who could help fill our personal fountain of inspiration. In the process, we have gained lifelong friends and fans with whom we have shared in a from-the-ground-up celebration of beauty, music, art, and the cultures of this incredible planet we call home.
However, as time pushes forward - the responsibilities of carrying on such a tradition are growing and we are facing a crossroads as an organization. Everything that goes into producing, promoting and practicing the art of festival production requires year round support and while we have such an amazing team, we feel it is time to step back a little bit in order to move forward and refocus on our primary project - Papadosio. While Rootwire is the ultimate canvas for our particular strain of live, experiential art, we have grown as artists and individuals. We hope to bring the magic of Rootwire with us everywhere we go and in order to do this, we now require more time and dedication than ever to hone in our craft.
When conversing with our partner about throwing Rootwire 2014, we asked that we all consider taking the time to reimagine the event with very important, time-sensitive factors such as dates and location. We expressed that if we were truly going to consider such changes, then we may have needed to take a year hiatus to make it happen smoothly and not jeopardize our primary work. Unable to come to an agreement, we find ourselves with no option other than to part ways with Rootwire Music & Arts Festival indefinitely and focus solely on our art as well as future events.
We are taking this very sad news with our eyes towards the horizon and a recognition of the impermanent nature of our universe. There is a whole world out there to explore with wisdom and inspiration cascading forth from every direction. We sincerely hope that these past four Rootwires have left a positive impact on your lives as they have on ours and we thank you from the depths of our hearts for helping us receive the much needed transmissions that Rootwire has broadcasted to all of us these past four years. We trust that this will not conclude your search for the community that supports and inspires you. The friends, family, art, installations, presenters, performers, productions, administration, security, staff, volunteers, vendors, crew and all the dancing and smiles that you have all shared, we now carry with us everywhere we go and cannot express enough how thankful we are to have all of you as supporters and fans.
We also recognize a need to reimagine and repurpose live outdoor music events towards more beneficial and ecologically responsible forms. As the world around us shifts, so does the way we gather to celebrate and connect. We envision mutually beneficial events that uphold and support our flourishing culture, so rest assured, we are not giving up. In fact, we are in the process of dramatically overhauling core concepts of these events into radically imaginative and sustainable models we can truly be proud of.
From the beginning Rootwire was meant to show everyone that they have a gift and that it's just a matter of how you choose to unwrap and present it to the world. Thank you all for taking the time and effort to share your gifts and we wish the best for the future of the festival. As always, you will see us all over the place and we very much look forward to sharing with you the next chapter in the story when the time is right. Stay tuned for very exciting developments in the near future.
Sincerely,
Papadosio's 6-week tour spans from New Orleans, through Texas, Arkansas - 6 nights in Colorado - Arizona up the West Coast, Montana, Utah, Nebraska and back to the Midwest with a 2-night stand at Hoopla in the Hills just down the road from where it all began.
Check out the dates for Papadosio's entire tour at http://papadosio.com/events