Papadosio Announces Future Forest Tour & 2013 Festival Dates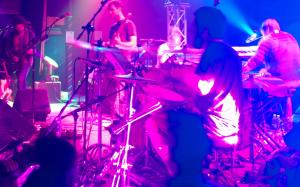 The five-piece electronic rock syndicate, which hails from Asheville, NC, has become nationally renown for their transcendent tracks, visionary lyrics, and mindful melodies that meld to create a special sound that is uniquely
Papadosio
. While captivating their audience with feelings of unity and compassion,
Papadosio
strives to continuously explore the space within their music and takes listeners on a sonic journey, from peaceful melodies to raging dance parties.
With packed theater performances booked back-to-back in the last few years,
Papadosio
has released a select number of performances, available for download from the band's official
website
. Each live show is professionally mixed and mastered to bring the group's full energy and passion on stage straight to your home. Fans can re-live an amazing evening or catch the melodies they missed!
After a successful run along the west coast, Future Forest will bring the group back to the Blind Tiger in Greensboro, NC and will feature dates up and down the East coast before stopping in Lexington, KY, Atlanta, and New Orleans. The final leg of the tour will take the band through the South and Midwest before concluding with three performances in the Rocky Mountains of Colorado.
To round out the year,
Papadosio
is thrilled to announce the dates of their own
Rootwire Music and Arts Festival
, which will be held in Logan, Ohio from August 15-18. Featuring three nights of
Papadosio
, the 4
th
annual
Rootwire
is an inspirational confluence of music, art, science, and spirituality, and the premier music and arts event of the Midwest. Pre-lineup tickets are available on the official
Rootwire
site and many more announcements including artists, events, and performances will be coming soon!
TOUR DATES
| | | | |
| --- | --- | --- | --- |
| Apr 17 2013 | The Blind Tiger | Greensboro | NC |
| Apr 18 2013 | The Norva | Norfolk | VA |
| Apr 19 2013 | 9:30 Club | Washington | DC |
| Apr 20 2013 | The Blockley | Philadelphia | PA |
| Apr 21 2013 | The Jefferson Theatre | Charlottesville | VA |
| Apr 23 2013 | Cosmic Charlie's | Lexington | KY |
| Apr 24 2013 | Terminal West | Atlanta | GA |
| Apr 25 2013 | Howlin Wolf | New Orleans | LA |
| Apr 26 2013 | Trees | Dallas | TX |
| Apr 27 2013 | The Parish | Austin | TX |
| April 28 2013 | Cain's Ballroom | Tulsa | OK |
| May 01 2013 | Granada Theatre | Lawrence | KS |
| May 02 2013 | Aggie Theatre | Ft. Collins | CO |
| May 03 2013 | Bluebird Theatre | Denver | CO |
| May 04 2013 | Bluebird Theatre | Denver | CO |
| May 18 2013 | Joshua Tree Music Festival | Joshua Tree | CA |
| May 23 2013 | Headliners Music Hall | Louisville | KY |
| May 24 2013 | Summer Camp Music Festival | Chilicothe | IL |
| May 25 2013 | Bella Music Festival | Geneva | MN |
| June 1 2013 | Wakarusa Music Festival | Ozark | AR |
| July 14 2013 | Lightning in a Bottle | Temecula | CA |
| July 18 2013 | All Good Music Festival | Thornville | OH |
| July 25 2013 | Gratifly Music & Arts Festival | Westminster | SC |
| July 26 2013 | Gathering of the Vibes | Bridgeport | CT |
| Aug 15-18 2013 | Rootwire Music Festival | Logan | OH |
| Sept 6 2013 | Hyperion Music & Arts Festival | Spencer | IN |