Papadosio Announces New Year's Eve Tour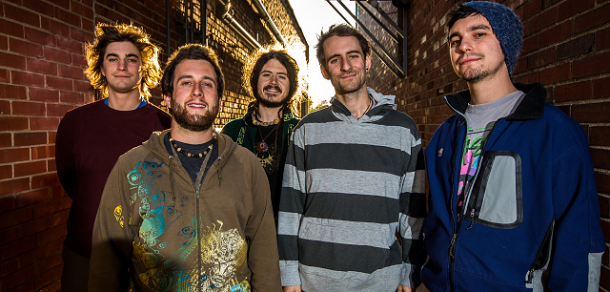 Wrapping up another great year for the band, Papadosio announces today their New Year's run tour culminating with two nights including the NYE show at the Baltimore Soundstage. 2013's final run of shows will also happen in Richmond, Norfolk, and Wilmington, NC before ringing in 2014 in Baltimore on December 30 and 31. Joining Papadosio for these special last shows of 2013 will be Earthcry, Dopapod and Asian Teacher Factory and a special guest for Richmond still to be announced.
This year has seen Papadosio reaching some of their largest audiences yet, both at clubs and festivals, including their own transformational festival in Ohio called Rootwire that drew 5000 fans to a scenic wooded retreat for four days of music, workshops & celebration.
News of the NYE tour comes weeks after the announcement of another special annual event, Earth Night 2k13. This gathering is held December 20 and 21 at the Lifestyle Communities Pavilion in Columbus, Ohio and is a 2-night and 1-day celebration that envelopes the core of the solstice in a ceremonious dance of music, art, and spirit. Joining host band Papadosio who will be playing both nights will be an internationally-acclaimed music lineup of Ott & the All-Seeing I (Live Band), Hundred Waters (OWSLA), Shigeto (Ghostly International), and The Main Squeeze. The Earth Night workshop series lineup and location will be announced soon. Complete Earth Night 2k13 details are available at www.earthnightcelebration.com
Papadosio's remaining dates for 2013 include: 
Thu, Oct 3                     Aggie Theatre [Fort Collins, CO] 
Fri, Oct 4                      Ogden Theatre [Denver, CO] 
Sat, Oct 5                     Belly Up [Aspen, CO] 
Wed, Oct 9                   Miramar Theatre [Milwaukee, WI] 
Thu, Oct 10                   Majestic Live [Madison, WI] 
Fri, Oct 11                     The Loft [Lansing, MI] 
Sat, Oct 12                   Bluebird Nightclub [Bloomington, IN] 
Sun, Oct 13                   Fly Free Festival @ Red River Canoe Campground [Adams, TN] 
Thu, Oct 31                   ECHO Lake Aquarium and Science Center [Burlington, VT] 
Fri, Nov 1                      Toad's Place [New Haven, CT]  
Sat, Nov 2                    The Met [Pawtucket, RI] 
Tue, Nov 5                    Water Street Music Hall [Rochester, NY] 
Wed, Nov 6                   The Westcott Theater [Syracuse, NY] 
Thu, Nov 7                    Highline Ballroom [New York, NY] 
Fri, Nov 8                      The Sinclair [Cambridge, MA] 
Sat, Nov 9                    Trocadero [Philadelphia, PA] 
Tue, Nov 12                  Buster's Billiards and Backroom [Lexington, KY] 
Wed, Nov 13                 Ziggy's [Winston Salem, NC] 
Thu, Nov 14                  The Chop Shop [Charlotte, NC] 
Fri, Nov 15                    The Orange Peel [Asheville, NC] 
Sat, Nov 16                   Music Farm [Charleston, SC] 
Fri, Nov 29                    Bogart's [Cincinnati, OH] 
Sat, Nov 30                   House of Blues [Cleveland, OH] 
Thu, Dec 12                  The State Theatre [Saint Petersburg, FL] 
Fri, Dec 13                    Culture Room [Fort Lauderdale, FL] 
Sat, Dec 14                   Freebird Live [Jacksonville Beach, FL] 
Mon, Dec 16-18             Mayan Holidaze @ Now Sapphire [Puerto Morelos, Mexico] 
Fri & Sat, Dec 20-21      Earth Night 2013 at LC Pavilion [Columbus, OH] 
Fri, Dec 27                    The National [Richmond, VA] (support tbd) 
Sat, Dec 28                   NorVa [Norfolk, VA] (with Earthcy and Dopapod) 
Sun, Dec 29                  Ziggy's by the Sea [Wilmington, DE] (with Earthcry) 
Mon, Dec 30                 Baltimore Soundstage [Baltimore, MD] (with Dopapod)  
Tue, Dec 31                  Baltimore Soundstage [Baltimore, MD] (with Earthcy and Asian Teacher Factory)