Papadosio Announces Rootwire Festival Additions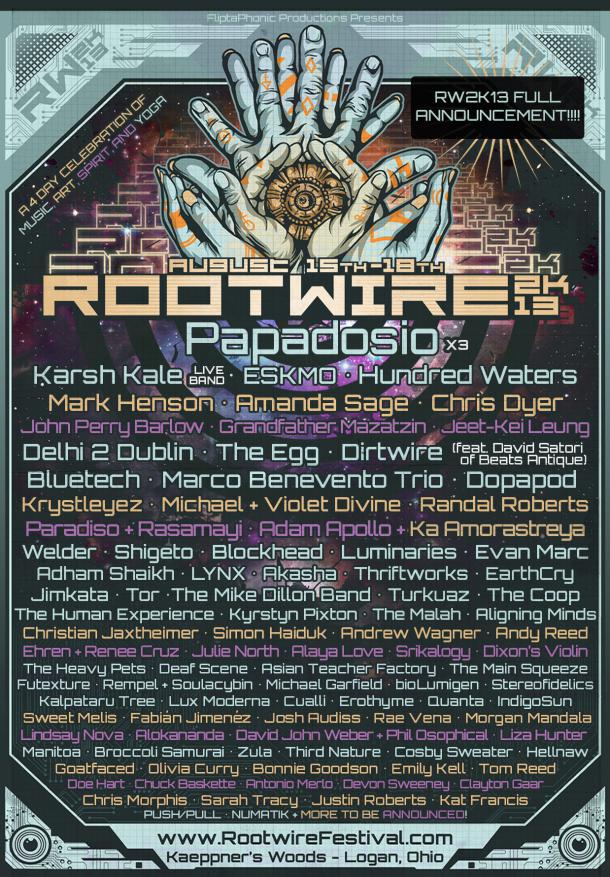 The Rootwire Festival, returning to Kaeppner's Woods in Logan, Ohio August 15-18, announced today a second round of performers, presenters and visual artists for its fourth annual event. More than simply a 'music festival', Rootwire is a multi-day event that envelops those in attendance in a cascading flow of artistic expression from live music to painting, installation to performance art, presentations, workshops, ceremony and more.
Additions to the Rootwire experience include Dirtwire featuring David Satori of Beats Antique, speaker John Perry Barlow (lyricist for the Grateful Dead/String Cheese Incident and founder of the Electronic Frontier Foundation).
The heart and soul of Papadosio's artistic expression, Rootwire is an expedition into light, nature, sound, community and healing awaits all those in attendance. A multi-media representation of the event is well-defined in this online video: http://youtu.be/qfTl6p_I4uc
"Ask anyone who has been to Rootwire and they will tell you it is so much more than another fill in the blank music festival. It has been designed with you and your personal experience and growth in mind," says Anthony Thogmartin, guitarist/vocalist in Papadosio. "We hope that you will come share in our celebration of life; that you will take something with you, so that well after the festival is over and months have passed, what was created together in the humble hills of Ohio will continue to bring you joy and inspiration along your path."
Since its inception in 2010, Rootwire has grown to be one of the premier live music and arts events in the Midwest – and is the on-going creative project of the nationally touring electronic/rock syndicate Papadosio. Well known for their relentless touring schedule, mindful melodies and transcendent tracks, Papadosio has become one of the major acts today seeking to reshape and transform the music festival landscape. Through their own eyes and ears, they have witnessed miracles and mishaps of festival culture alike and threw the first Rootwire as a way to create and practice their model for an ideal gathering. Every year since, the line-up and scope of the festival has grown, culminating in the critically acclaimed RW2K12, easily the most exciting and elegant Rootwire to date.  
New Music Additions
Dirtwire (feat. David Satori of Beats Antique)
Delhi 2 Dublin
The Egg
Adham Shaikh
LYNX
EarthCry 
Thirftworks
The Human Experience
Akasha
The Coop
The Main Squeeze
Asian Teacher Factory
Deaf Scene
The Heavy Pets
Cosby Sweater
Indigo Sun
Zula
Stereofidelics
Broccoli Samurai 
Rempel + Soulacybin
Kalpataru Tree
Erothyme
Lux Moderna
Cualli
Push/Pull
Numatik
Hellnaw
Presenters
John Perry Barlow (Lyricist of the Grateful Dead/String Cheese Incident and founder of the Electronic Frontier Foundation)
Dixon's Violin
David John Weber + Philosophical
Lindsay Nova
Antonio Merlo
Chuck Baskette
Visual Artists
Josh Audiss
Morgan Mandala
Olivia Curry
Goatfaced
Bonnie Goodson
Emily Kell
Tom Reed
Sarah Tracy
Justin Roberts
Kat Francis
Rootwire Festival Full Lineup:
Papadosio x3
Karsh Kale Live Band
Eskmo/Welder
Hundred Waters
Mark Henson (Art)
Amanda Sage (Art)
Chris Dyer (Art)
John Perry Barlow (Presenter)
Grandfather Mazatzin (Presenter)
Jeet-Kei Leung (Presenter)
Bluetech/Evan Marc
Marco Benevento Trio
Dopapod
Dirtwire (feat. David Satori of Beats Antique)
Delhi 2 Dublin
The Egg
Shigeto
LYNX
Blockhead
Adham Shaikh
Luminaries
The Malah
EarthCry
The Human Experience
Jimkata
The Mike Dillon Band
Turkuaz
The Coop
Krystleyez (Art)
Michael + Violet Divine (Art)
Randal Roberts (Art)
Ka Amorastreya (Art)
Paradiso + Rasamayi (Presenter)
Ehren + Reneé Cruz (Presenter)
Adam Apollo  (Presenter)
Akasha
Tor
Thriftworks
Kyrstyn Pixton
Aligning Minds
Deaf Scene
The Main Squeeze
The Heavy Pets
Asian Teacher Factory
Futexture
Rempel +Soulacybin
Michael Garfield
bioLumigen
IndigoSun
Christian Jaxtheimer (Art)
Simon Haiduk (Art)
Josh Audiss (Art)
Andrew Wagner (Art)
Andy Reed (Art)
Julie North (Presenter)
Lindsay Nova (Presenter)
Srikalogy + Bhakti Dojo (Presenter)
Alokananda (Presenter)
Liza Hunter (Presenter)
Doe Hart (Presenter)
Manitoa
Cosby Sweater
Broccoli Samurai
Zula
Third Nature
Hellnaw
Sweet Melis (Art)
Fabián Jiménez (Art)
Chris Morphis (Art)
Rae Vena (Art)
Morgan Mandala (Art)
Olivia Curry (Art)
Emily Kell (Art)
Bonnie Goodson (Art)
Tom Reed (Art)
Sarah Tracy (Art)
Justin Roberts (Art)
Kat Francis (Art)
Antonio Merlo (Presenter)
Chuck Baskette (Presenter)
David John Weber (Presenter)
Philosophical (Presenter)
Tickets for the Fourth Annual Rootwire Music Festival include all 4 days and nights of camping, parking, and all entertainment are available now at http://www.inticketing.com/events/rootwire2013. For complete Rootwire ticketing options and information on presale general admission please visit:
http://www.rootwirefestival.com
http://www.facebook.com/rootwirefestival
http://twitter.com/RootwireFest