"If you wish to forget anything on the spot, make a note that this thing is to be remembered." -Edgar Allan Poe
As Eddie Vedder quickly pointed out, there was something special in the air on this night in Camden, NJ. Most people equate Camden with their recent memories of crime and race riots. On the other hand, many forget that it was a place of art and authorship. Walt Whitman and famous haiku writer Nick Virgilio lived in Camden and wrote beautiful poems about it. Even Poe frequented Camden when he lived in Philadelphia, around the corner from where I live right now. The reason why I mention all of this when I write a concert review about Pearl Jam is because these themes of writing, art, spoken word, darkness, and hope were around all throughout the night.
It started when I was shepherded into the pit for the opening act Ted Leo and the Pharmacists, which left a lot to be desired. Before I went into the pit, I asked my friend to get me a poster. I am an avid concert poster collector, and they had posters that were specifically for this run in Camden. After the first three songs of Ted Leo, I went to see the poster, which sold out really quickly, and it was haunting. It is a Brad Klausen poster with a velvety texture and a picture of a raven, hourglass, and a skull with a rose in its mouth. This was my first image of the Poe like dark aura to the evening. Then, the band opened with a dark lit, smoky "Hard to Imagine."
The band went swiftly into "Corduroy," and the appropriate lyrics of "The waiting drove me mad…you're finally here and I'm a mess," sparked the crowd into the first sing along of the night. The band was as forceful and energetic as the crowd. Guitarist Mike McCready's first elaborate solo of the night ignited an even louder roar. The songs final lyrics, "Everything has chains…absolutely nothing's changed," assured the crowd of the nostalgia that they were all hoping for all night. But not before a nice "Severed Hand" from their latest studio self titled album and a rugged "Do The Evolution." Vedder confirmed the rumor I heard about not having a curfew on this night, and added that he remembers playing at old venues in Philadelphia like the tiny J.C. Dobbs, then finally graduating to the Trocadero.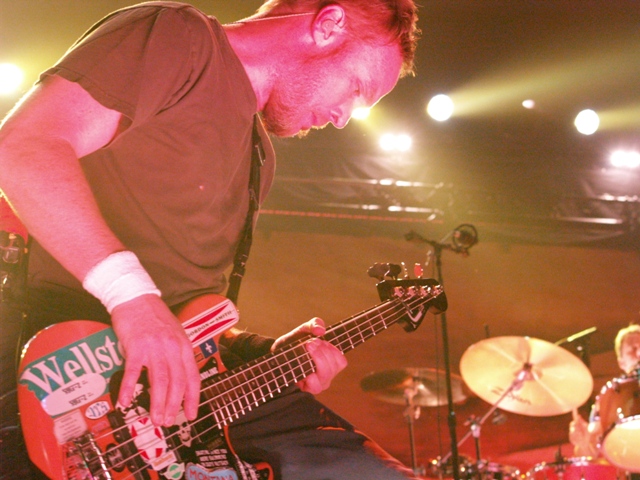 The next song came as a surprise being that it was played live for the first time at the Bonnaroo Music Festival a week before the show. "All Night," which can be found on the Lost Dogs album with other rarities and B-sides, rocked mid set and was followed by another rarity, "In Hiding," which they haven't played since last summer. "Elderly Woman Behind the Counter in a Small Town," "Gone," "Who You Are," "Unemployable," and "Even Flow" kept the crowd pleased, but didn't really surprise anyone too much.
Then came the two songs from Binaural, "Light Years" and "Grievance." This is about the time where I thought I started hearing booing. After trying to wrap my head around why the crowd was booing, I put two and two together. Even though I was in a Philly crowd, a crowd notorious for booing artists and athletes, I thought they couldn't be booing the band. But the intelligent Philly sports crowd was mooing, not booing. Pearl Jam's original band name was Mookie Blaylock, named after the NBA star, but had to change their name after a short time because of potential trademark issues after signing with Epic Records. There were also a surprisingly high number of people wearing Blaylock's jersey. I wondered how many people were getting this throughout the crowd. "Given to Fly" was then initiated by drummer Mike Cameron's easily recognizable introduction, which reminds me of a Larry Mullen Jr. signature beat.
After came my favorite part of the first set. They played two very rare songs followed by a classic. Pearl Jam busted out "U," which hasn't been played in two years and has been played a total of 19 times all together. Then, they played "Rats," where the band's founders Stone Gossard (rhythm guitar) and Jeff Ament (bass) seemed to connect a little extra. They formed Pearl Jam after the 1990 heroin overdose of Andrew Wood, the lead singer of their band Mother Love Bone. The last song of the set was a great big sing-a-long for "Why Go." McCready destroyed the solo, and the happy crowed screamed as the band left the stage for the first time.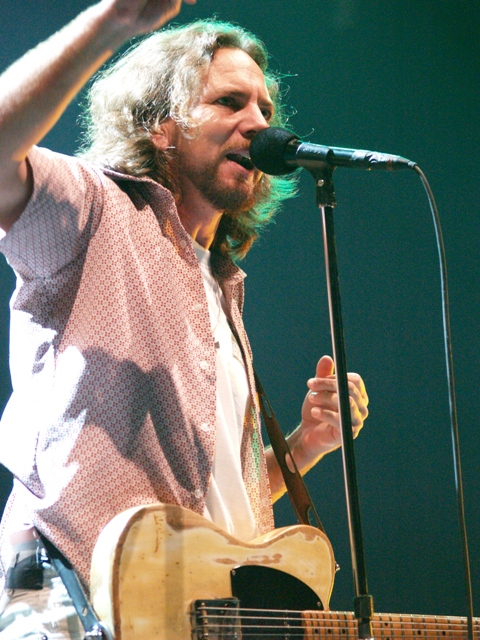 The first long encore started with Eddie Vedder rightfully complaining about the high cost of beers in the venue. He said that he heard that beer prices were rising to ten to twelve dollars. Then he said, "What, George Bush has something to do with beer too! We're running out of beer now?" The crowd laughed and applauded loudly. After some milling around the stage, they played the Who's "Love Reign O'er Me" from their rock opera Quadrophenia. I was very happy to hear this because I missed only my second Bonnaroo in its seven year existence this year, and I had wished that I saw Pearl Jam play it there as my friend text messaged me while they were playing it. It was all that I expected that it would be, but the best part of this show was yet to come. "Better Man," their hit off of the Vitalogy album produced the next sing-a-long of the evening. I don't know why it bugs me when the entire crowd sings all of the favorites, but for some reason it did. I think it happened a little too much. On the other hand, it's very hard to resist doing it yourself. English Beat's "Save it For Later" was attached to "Better Man" to enhance the live feeling of these great songs.
Who can forget the next song that they played? Anyone who was alive in the 90's saw the movie Singles. "State of Love and Trust" was written by Vedder after viewing the movie. He said that it was "a song about being faithful." "State of Love and Trust" debuted in Philadelphia on July 12, 1991 at MTV Singles movie release party. Therefore, it was only appropriate to bring back on this night.
There were two songs that I told my friends that I wanted to hear on this night before the show. They were "Black" and "Yellow Ledbetter." It was now their time to play "Black," and even I sang along. The love theme to the first encore ended with "Leash."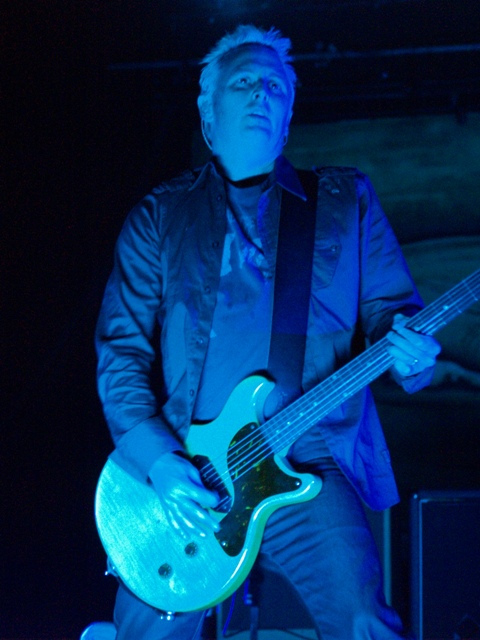 The band went off again and returned for the last group of songs to complete their second encore. The anti-war "No More" started this last set. Activism has always been a part of Pearl Jam. At the beginning of the second encore at Lollapalooza 2007, Vedder brought on stage an Iraq war veteran named Tomas Young to convince people to end the war in Iraq. Young was the subject of a recent documentary called Body of War. Young then introduced Ben Harper to sing an enthusiastic "No More" and "Rockin' in the Free World." Tonight the next song in this epic night was Victoria Williams' "Crazy Mary." The night exploded when they quickly went into the popular rocker "Porch." Another anti-patriotic war song written around the time of the Gulf War which has been a sort of mystery for most fans and one of my favorite Pearl Jam songs concluded the show. "Yellow Ledbetter" was the perfect way to end the show. The Jimi Hendrix type licks on this song is what propelled Mike McCready's place on Guitar World's 100 Greatest Guitar Solos list. This concert was everything that I thought it would be. The nostalgia and the current vitality of this world renowned rock band that has sold over 30 million records in the U.S. and over 60 million worldwide is a testament of a show that's not to be missed.