Pepper Announce 'Here Comes the Law Tour 2008'
Submitted by press on Mon, 10/13/2008 - 20:07
PEPPER had an amazing time with Slightly Stoopid and legends Sly & Robbie on this summer's TAILGATE 2008 summer tour, playing massive sold-out shows throughout the land including Red Rocks in Colorado, Pacific Amphitheatre in Orange County, CA, The Greek Theatre in Berkeley, CA, Bank Of America Pavilion in Boston and Roseland Ballroom in New York City. The musical merriment continues as the Hawaiian-bred, Southern California-based veteran touring band supports the July release of their fifth album Pink Crustaceans And Good Vibrations with the announcement of their own headlining LAW Records "HERE COMES THE LAW TOUR 2008" for this fall plus extended tour dates in the U.K.
The first half of the tour happens October 9–31 and takes Kaleo Wassman (vocals/guitars), Bret Bollinger (bass/vocals) and Yesod Williams (drums) through 18 markets in the south and mid-west.  Next, PEPPER will join Less Than Jake for a tour of the United Kingdom during the month of November.  In January the trio will return to the road to complete the Pacific Northwest portion of the LAW Records tour (dates TBA).
Joining PEPPER on the 'HERE COMES THE LAW TOUR' are LAW Records label mates Passafire from Savannah, Georgia and The Supervillains from West Palm Beach, Florida.  After spending the last two years supporting Grow Yer Own with non-stop touring, the buzz for The Supervillains has been growing for their long awaited follow-up release MASSIVE. Set for release November 25 on Hawaii's own LAW Records, the label owned by longtime tour mates Pepper, MASSIVE aims to be as huge as its title. The record was the result of a six-week stay at Orlando's Fighting Records Studios with producer James Wisner and features guest appearances from Slightly Stoopid's Kyle MacDonald and ex-Inner Circle vocalist Kris Bentley. The most polished and definitive Supervillains' CD to date, it includes re-creations of the most classic Villain anthems, explosive new songs, two dub tracks and a must-hear cover of Billy Joel's "Movin' Out."
Passafire join the tour in support of their 2007 release Submersible which was produced alongside Steve Nall at Long Island Recording Studios in Lexington, Kentucky.   Their first self-titled release routinely receives spins on 99X, WNNX in Atlanta GA, WOCM 98.1FM Irie Radio in Ocean City MD, Sirius Radio Jam On, Roots On Sky.fm and on Reggae Redemption Radio in Wilmington NC. Tracks from their first release were also featured on the 2007 Jeep Hawaii Pro Windsurfing DVD distributed internationally by Sportshows TV Ltd.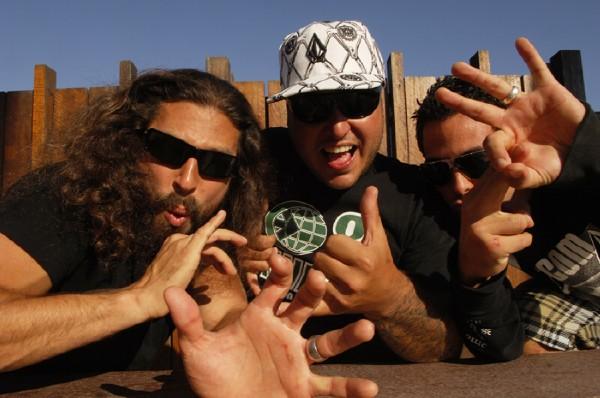 In other PEPPER news, sadly their annual Kona Town Music Festival in Hawaii has been cancelled due to the environment as well as increasing fuel costs.   The very active volcano on the Big Island has been spewing out toxic sulfuric acid, causing respiratory problems for residents and more so for tourists who are not accustomed to it. The band apologizes and is working on getting out to the islands for a tour in the spring on their own.
About PEPPER:
PEPPER has amassed a large and loyal following through their non-stop touring since arriving in the Southern California after leaving Hawaii's Big Island 11 years ago.  The trio has sold over 400,000 records independently; their music has appeared in many movie, television and video game soundtracks; and they've had a couple of singles appear on the Billboard "Hot Modern Rock Tracks" chart. Their fifth studio album PINK CRUSTACEANS AND GOOD VIBRATIONS—released via their self-run label LAW Records, in association with Controlled Substance Sound Labs/MRI distribution—is filled with the band's trademark rock-funk-reggae hybrid grooves.  It was produced by Paul Leary of the Butthole Surfers - who also took to the boards on the band's fourth album No Shame - and engineered by Wyn Davis at Total Access Studio in Redondo Beach.
PEPPER's tour dates are as follows:
DATE                          CITY                                       VENUE
Thu      10/2                 Fresno, CA                         Big Fresno Fair
Sat      10/4                 Las Vegas, NV                      X-Fest
U.S. Tour w/ Passafire and The Supervillains
Wed    10/15                  Corpus Christi, TX                 House of Rock
Thu    10/16                  San Antonio, TX                    White Rabbit 
Fri    10/17                  Dallas, TX                         House of Blues
Sat    10/18                  Austin, TX                         Stubb's
Sun    10/19                  Houston, TX                        House of Blues
Mon    10/20                  St. Petersburg, FL                 Jannus Landing
Wed    10/22                  Orlando, FL                        House of Blues
Thu    10/23                  Myrtle Beach, SC                   House of Blues
Fri    10/24                  Carrboro, NC                       Cat's Cradle
Sat    10/25                  Towson, MD                         Recher Theatre
Sun    10/26                  New York, NY                       Fillmore
Tue    10/28                  Detroit, MI                        St. Andrew's Hall
Wed    10/29                  Columbus, OH                       Newport Music Hall
Thu    10/30                  Covington, KY                      Madison Theater
Fri    10/31                  Chicago, IL                        Metro
United Kingdom Tour w/ Less Than Jake and Beat Union
Sun     11/2                  Norwich                            UEA
Mon     11/3                  Northampton                        Roadmender
Tue     11/4                  Swansea                            Brangwyn Hall
Wed     11/5                  Exeter                             Great Hall
Thu     11/6                  Bristol                            Carling Academy
Sat     11/8                  Nottingham                         Rock City
Sun     11/9                  Birmingham                         Carling Academy
Mon     11/10                 Southampton                        Guildhall
Tue     11/11                 Oxford                             Carling Academy
Wed     11/12                 London                             Astoria
Sat     11/15                 Leeds                              Academy Leeds
Sun     11/16                 Manchester                         Manchester University
Mon     11/17                 Newcastle                          Northumbria University
Tue     11/18                 Aberdeen                           Moshulu
Wed     11/19                 Glasgow                            ABC