Performing Artist Jill King To Release New Album RAIN ON FIRE
Submitted by mike on Tue, 03/09/2010 - 00:35
Songstress Jill King releases on April 6 a new studio album, RAIN ON FIRE (Foundher Records), which the artist describes as life-changing for its renewal of her passion for music and for life and as a gift for listeners who might need a similar lift upward.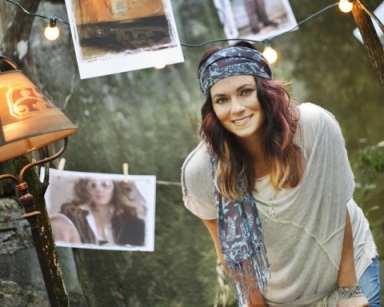 The new CD is a collection of heartfelt and thought-provoking love songs and ballads written and co-written by King that mesh blues, pop, R&B, country and jazz into her solid folk-rock sound, elevated by her stunning vocals and the slide and steel guitar vibe of Australian Michael Flanders, who produced the album with King.
It includes "Beautiful World," "California" and "I'll Keep Loving You" — three songs that reflect King's life journey through joy and sorrow — as well as "Mark on Me," which features a spoken-word intro and outro by Steven Johnson, the grandson of blues legend Robert Johnson, and the sensual "Undertow," which was featured in the February 26 episode of the Web soap "Venice The Series."
King and Flanders were joined in the studio by an array of respected musicians and friends including Congress House Studios' Mark Hallman on bass, drums, loops, percussion, B3 and piano as well as Brady Blade (drums, percussion), Victor Broden (bass), Jason Millhouse (fat guitars), Bruce Holloway (guitar), Phil Madeira (piano, accordion, B3), Savannah Jo Lack (violin, string arrangement & performance), Rob Mackay (strings, tenor ukulele), Denise Locke (keyboards), Alex Torrez and Ben Flanders (percussion), and Thom Flora, Doug Stokes and Nels Andrews (background vocals) and a gospel choir made up of Marsha Hancock, Alana Griffith, Christina Taddonio.
A special-edition version of the CD includes a fascinating book by King that intricately details the impetus behind each of the songs, an essay on the making of the album and documentary photography by Nashville-based artist Whitney Jones.
King will put together a band for extensive touring behind the album that includes shows through August across the Southeast and California and Texas.
Born and raised in deep-South Arab, Ala., King was singing solos in church at 3 and was playing guitar and writing songs by age 10, when she made her first record at a local studio. Being surrounded by heaven-and-hell ideologies and later her brother's death from cancer have influenced her life, her songwriting and her sound: a mix of genres, moods and messages.