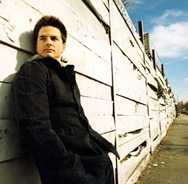 Singer/songwriter Pete Francis is kicking off 2009 with a full slate of late winter and early spring dates throughout the Northeast and Midwest. Blending an energetic and uplifting live experience with sincere and heartfelt songwriting, Francis has showcased his signature style in sold out auditoriums and intimate clubs across the country. For this tour, Francis has joined forces with up-and-coming New England based roots rock outfit Barefoot Truth. With both artists jamming collectively as one band on Pete Francis, Dispatch, and Barefoot Truth material, the shows will offer surprising twists and unique takes on each artist's compositions.
Staying true to his indie roots, the former Dispatch songwriter blends sonic elements of folk, jam, rock and pop with visual elements of art and poetry. Francis pushes the boundaries of creativity, composing inspiring lyrical lines and melodies over layers of strings, brass, keys and rhythms, while the multi-instrumented Barefoot Truth delivers organic, feel-good compositions and feverish live performances. Still in their early twenties, Barefoot Truth has emerged as one of the fastest growing bands on the east coast. They spent the fall touring behind their election-themed single All Good Reasons and were asked to play the Obama campaign official pre-debate rally in New York; it's not often a band of 20-somethings without a label perform on a main stage sandwiched between sets by Bruce Hornsby and Crosby & Nash.
Part singer-songwriter, part foot-stomping backbeat, and part old-time rock and roll, the Pete Francis/Barefoot Truth collaboration is one that has been in the works for quite some time. Francis produced Barefoot Truth's 2006 release The Clubhouse Sessions with longtime Dispatch producer Jack Gauthier, and has joined the band on stage at multiple performances over the last 18 months. Francis, Barefoot Truth and Gauthier will team up again this winter for another EP set for release alongside the tour.
The tour will begin with a show on February 19th at The Station in Portland, ME, followed by a run winding through all parts of the northeast with stops in MA, VT, NH, NY, NJ, PA, MD and VA. The tour will conclude in April with two Illinois shows, including a stop at the famous Beat Kitchen in Chicago.
For more information click here.
TOUR DATES:
2/19 – The Station – Portland, ME (all ages)
2/20 - Cafe 939 - Boston, MA (all ages)
2/21 - Tupelo Music Hall - Londonderry, NH (all ages)
2/26 - Tin Angel - Philly (21+)
2/27 - Canal Room - NYC (all ages)
2/28 - Trackside - Wilton, CT (all ages)
3/11 - 8x10 - Baltimore, MD (all ages)
3/12 - Mohegan Sun Casino - CT (21+)
3/13 - Harry's - Bloomsburg, PA (21+)
3/21 - Bates College - Lewiston, ME (co-bill with Braddigan)
3/25 - Eastern Tennesse State U – Johnson City, TN (Pete Francis solo)
3/29 - Higher Ground - Burlington, VT (all ages)
4/03 - Iron Horse - Northampton, MA – (all ages) (early acoustic show and late full band)
4/08 – Beat Kitchen – Chicago, IL (all ages)
4/09 - Homewood Flossmoor High School - Homewood, IL
Promoted on slideshow
Off