Phil and the Osophers Debut Three New Vids
Phil and the Osophers
unveil three distinctive videos to titillate the senses.  Members of the International Found Footage Society, the band used newsreels from the 1920s-1940s to create the
video
for Propeller Jet, which narrates the thrill of America's burgeoning love with the golden age of aviation.  Avant-garde Czech films were spliced together to create the breathtaking
Well Being video
, the last three minutes being a visual and auditory world unto itself. 
Phil and the Osophers
own travel footage is showcased in the
video
for
Wandering Soul
, where cities and climates and time blur together.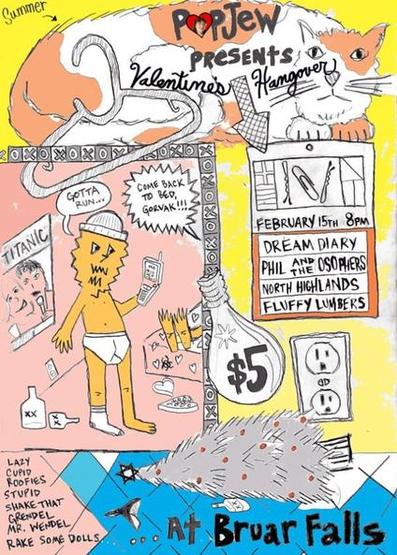 Phil and the Osophers
have added a new member!  C. Lizbeth Marquez, a Spaniard by birth, has been added to play keyboard, percussion and background vocals.  Come see the expanded lineup at Brooklyn's Bruar Falls on February 15, in a show curated by Pop Jew, also known as Worst Cooks In America winner
Rachel Coleman
.  The band will also be doing a short tour in March, more dates are TBA.
Phil and the Osophers
made their sixth full length album,
Parallelo
, available on CD and digitally this summer on Factual Fabrications,
Phil's
own sustainable label.  The album finds the Brooklyn 3 piece developing into a jingly and jangly artistic indie rock while retaining carefully crafted and philosophical lyrics.  The band has a catalog of over 100 songs, and this new album is their most impressive work to date.
THE SONGS
The 11 song cycle of
Parallelo
explores parallels and coincidences in our understanding of meaning. 
Phil
has an interesting explanation for all of these songs- "Uses Of A Man deals with equal rights for all lovers", Creators "is a thesis on God in the time of slavery", Propeller Jet is "about suiting up with Amelia Earhart on her last flight" "Cheap Livin is an tribute to the rich folks who lost it all"  …Tie it together with an avant-garde indie pop sound and you have
Parallelo
.  It is this sort of innovation that makes
Phil and the Osophers
such a one-of-a-kind act.
The Brooklyn 3-piece have been on a tear recently: playing SXSW and the Northside Festival in Brooklyn, as well as playing shows with Art Brut, Passion Pit, Les Savy Fav, Le Loup, the Ruby Suns, and the Dodos.
In addition, all 3 members have written and published books of poetry and non-fiction through their own publishing house called ILOANBooks. Bass player Gus has published NINE books, Drummer Kevin has published two (including a new edition entitled "Winter Doesn't Care What Your Name Is"), and Phil has written his one book of poetry entitled "SHAKE! and other rattlers".  These books are usually free at shows and otherwise available upon request.