Phish Announce Star Lake Amphitheatre 1998 DVD
Submitted by phish.com on Wed, 10/24/2012 - 11:05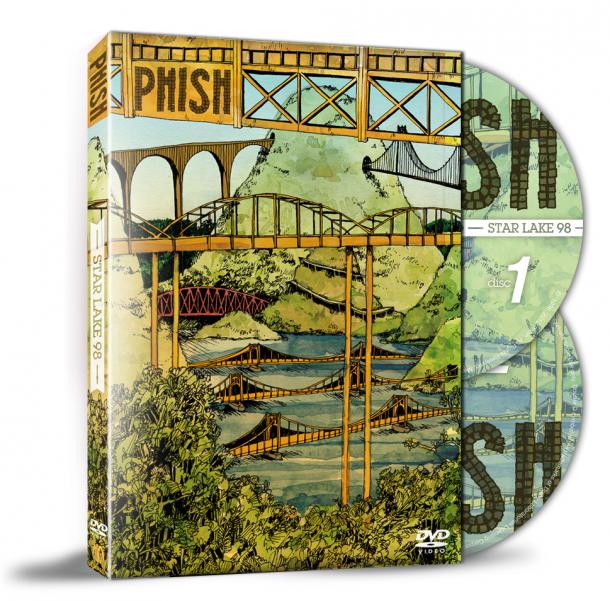 On August 11, 1998 Phish played at Star Lake Amphitheatre in Burgettstown, Pennsylvania.  This was their second visit to Star Lake of seven to-date starting in 1997 and including 2003, 2009 and 2012 shows previously released at LivePhish.com.
The Star Lake 98 show was the 20th of summer to showcase the loose, experimental vibe of a tour that began in Europe and jumped to the United States enroute to the summer's ending Lemonwheel festival.  The introduction of a never-before-played cover each night earned the tour the nickname "summer of covers" from fans and Star Lake's contribution was a Trench Town Rock opener.  Star Lake also saw the return of Time Loves A Hero which was played for the first time in a decade and segued out of a sultry Wolfman's Brother.  Julius, an extended Fee outro (during which hip Pittsburghians clapped along on the 2 and 4) and deep renditions of Maze and Reba set the stage for set II.  The second set featured a super-swinging, ethereal Runaway Jim that foreshadowed 2011's Storage Jam and an unusual pairing of Meat > Limb By Limb.  Local flavor of the Commonwealth was provided by Bittersweet Motel (the title of the Phish documentary recorded during Europe '98 dates) and Wilson, King of Prussia.
Star Lake 98 is the only full show available as video from summer 1998.  The 2-DVD set was created from archival VHS videotapes of the 3-camera lawn screen feed.  The audio was mixed from multi-track masters in stereo PCM and 5.1 surround.  It will be released on DVD and digital audio download December 11 on JEMP Records.