Phish | Hampton/Winston-Salem '97 Boxed Set Coming Soon
Submitted by phish.com on Thu, 10/27/2011 - 13:51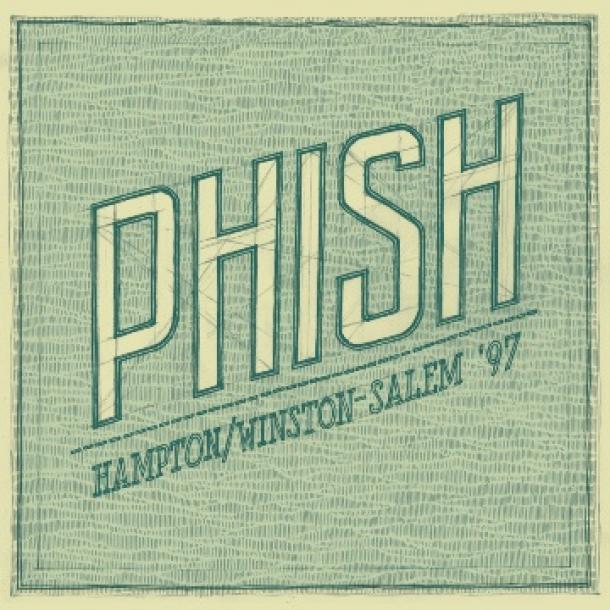 In the midst of their legendary fall 1997 tour, Phish stopped in Dixie for two shows in Virginia and one in North Carolina.  The 1997 Hampton Coliseum shows were the band's first two-night stand at Hampton Coliseum – a venue they have played a total of fifteen times including a two-night stand in 1998 (released as Hampton Comes Alive) and a trio of reunion shows in 2009.  The shape and feel of the venue have earned it the nickname "The Mothership" among fans.  The next show after Hampton 1997 took place at Lawrence Joel Veteran's Memorial Coliseum in Winston-Salem, North Carolina - another familiar venue where Phish also performed in 1994, 1995 and 1998.
These three shows were a memorable triad for the band and fans.  They are among the most requested shows for soundboard release from the Phish Archives and make up a compelling slice of the twenty-two-show tour that stretched from Las Vegas to Albany.  The Hampton/Winston-Salem 97 shows were packed with notable renditions of classics including "Split Open And Melt", "AC/DC Bag", "Slave To The Traffic Light", "Mike's Song", "Halley's Comet", "Tweezer", "Run Like An Antelope", "Stash" and "Bathtub Gin".  The band also showcased a wide variety of newer covers from the debut of the Rolling Stones' "Emotional Rescue" to Del McCoury's "Beauty Of My Dreams", Jimi Hendrix's "Izabella", Clifton Chenier's "My Soul" and even an impromptu take on War's "Low Rider" (sandwiched inside a blazing "Down With Disease").  The Hampton/Winston-Salem 97 shows also showcased newer originals like "Dogs Stole Things", "Ghost", "Piper" and the brand-new-for-fall instrumental "Black-Eyed Katy", which is the only song repeated on the release.  More than what was played, the sheer heights of these performances are what made them special and built their acclaim.
The Hampton/Winston-Salem 97 shows featured Phish at an emotional peak of execution and flow.  The band was hooking up at every turn, taking chances and dropping musical surprises for each other and the audience.  Throughout these shows, Phish seized most every opportunity to lift and expand their repertoire while maintaining a raging dance party at every turn.  The audience magnified this explosive energy, spinning the shows into a ball of psychedelic, funk-infused live Phish for the ages.  Paul Languedoc's stereo "soundboard" mix re-mastered by Fred Kevorkian funnels the energy of these special shows to listeners' ears nearly fifteen years later.  Hampton/Winston-Salem 97 contains all the music played over these three shows for a total of 45 songs - over 8 hours of music - including never-before-heard material from soundchecks at both venues.  The 7-CD boxed set (also available as downloads at livephish.com) slated for release December 6, 2011 is a must-own collection for any Phish fan.