Phish Live @ Auburn Hills To Be Released at LivePhish.com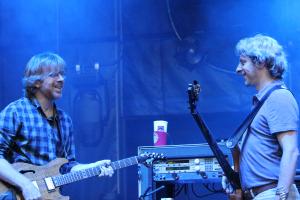 On Tuesday, September 25, Phish will release "December 6, 1997, The Palace of Auburn Hills, Auburn Hills MI" as the next remastered show to join the ongoing LivePhish Archives collection. The show will be available as a download at LivePhish.com and as a 2-CD LivePhish Limited set exclusively from Phish Dry Goods. The release was created from Paul Languedoc's DAT stereo soundboard mix remastered by Fred Kevorkian and contains 16 songs totaling two and a half hours of music.
Phish's third show at The Palace on December 6, 1997 was yet another defining fall '97 gig, with an under-recognized set I and a renowned set II that must be heard in one sitting, preferably loud with headphones. As they rounded the bend into the final week of this storied fall tour, the band had a confident swagger that exploded in The Palace with a flood of combined energy that flows through on the tapes. The Palace is deep in the suburbs but this Saturday night show in the home of The Pistons was a slam dunk that reverberated throughout Detroit Rock City and beyond.
12/6/97 The Palace of Auburn Hills - Auburn Hills, MI Tracklist
Disc One
1. Golgi Apparatus (5:35)
2. Run Like An Antelope (16:30)
3. Train Song > (2:44)
4. Bathtub Gin > (12:36)
5. Foam (10:24)
6. Sample In A Jar (5:04)
7. Fee > (5:36)
8. Maze (15:10)
9. Cavern (4:50)
Disc Two
1. Tweezer > (22:25)
2. Izabella > (9:27)
3. Twist > (7:44)
4. Piper > (14:12)
5. Sleeping Monkey > (6:05)
6. Tweezer Reprise (4:33)
7. Rocky Top (2:53)