Phish New Years Eve Tixs up for Auction!
For the 3rd time in 2010, the Mimi Fishman Foundation and the WaterWheel Foundation have teamed together with an on-line charity auction.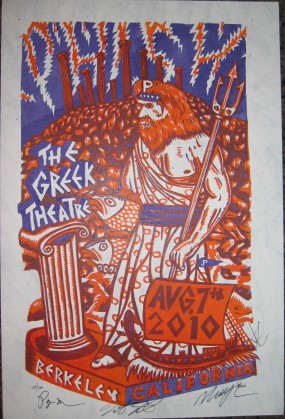 The auction features many Phish items including ticket packages to both stops on its upcoming New Years tour. Signed Phish posters from 2010 Summer/Falls shows are also featured on the auction. In addition, both Yonder Mountain String Band and Umphrey's McGee have donated New Years Ticket/Poster packages to the auction.
These would make great holiday gifts for yourself, or others!!
The on-line auction is currently live with the bidding coming to close on Wednesday, Dec 1.
To view and/or bid on the auction, as well as read about the charities the auction supports, please visit the Mimi Fishman Foundation Auction Page.
********************************************
In addition the Foundation has announced donations recently made.
$750 to Capital City Youth Services
$1,000 to Rainbows for Kids
$1,250 to Burlington's Women Helping Battered Women
$1,250 to Lake Champlain Land Trust
$1,250 to Peopleplace
$2,500 to Lincolnville Central School
$10,000 to The Delta Gamma Center for Children with Visual Impairments
$20,600 to The WaterWheel Foundation (includes donations made directly to WaterWheel from the auction winners)
To date the grand total has now surpassed $422,000  A huge thanks to everyone for their amazing support!!!