Phish share 'Wolfman's Brother - Chalk Dust Torture' from Ventura
Submitted by phish.com on Wed, 06/12/2013 - 13:10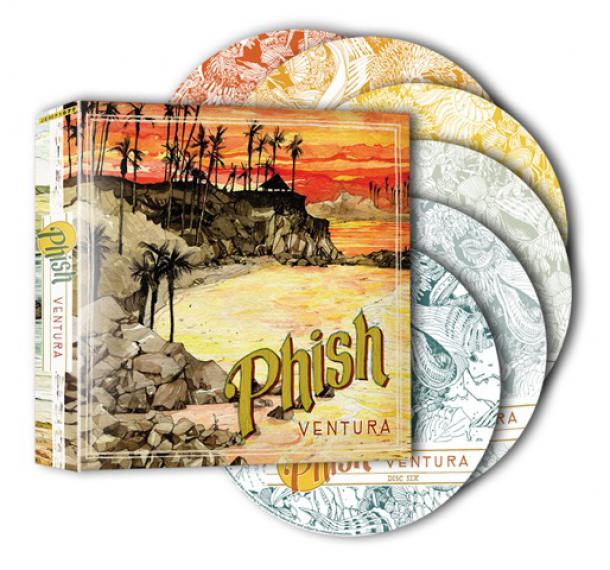 JEMP Records has released a promo track from their newest box-set release, Phish: Ventura. The alll new 6-CD box set features two complete live shows, recorded July 30, 1997 and July 20, 1998 at Ventura County Fairgrounds in Ventura, California.
Everyone who pre-orders "Ventura" from Phish Dry Goods will receive "Buenaventura", a bonus CD featuring ten tracks handpicked from Phish's March 21, 1993 Ventura Theatre show, while supplies last.
Shipping Specials: $4.99 CD Pre-Order | $6.99 Bundle Pre-Order | Free Shipping Over $100
"Ventura" is available for pre-order and will be released on June 18, 2013. Pre-orders will ship on or around June 14, 2013 along with any other merchandise on your order. If you wish to receive other items sooner please place a separate order.
DOWNLOAD Wolfman's Brother > Chalk Dust Torture
Ventura Box Set Setlist:
Disc 1
1. NICU  
2. Wolfman's Brother
3. Chalk Dust Torture
4. Water In The Sky
5. Stash
6. Weigh
7. Piper
8. Cars Trucks Buses
9. Character Zero
Disc 2
1. Punch You In The Eye  
2. Free
3. David Bowie
4. Cities
5. David Bowie
Disc 3
1. Bouncing Around The Room
2. Uncle Pen
3. Prince Caspian
4. Fire
5. My Soul  
6. Ventura '97 Soundcheck Jam
Disc 4
1. Bathtub Gin
2. Dirt
3. Poor Heart    
4. Lawn Boy
5. My Sweet One
6. Birds Of A Feather
7. Theme From The Bottom  
8. Water In The Sky  
9. The Moma Dance  
10. Split Open And Melt
Disc 5
1. Drowned  
2. Makisupa Policeman
3. Maze
4. Sea And Sand      
5. Prince Caspian    
6. Harry Hood    
Disc 6
1. Sexual Healing     
2. Hold Your Head Up         
3. Halley's Comet     
4. Ventura '98 Soundcheck Jam