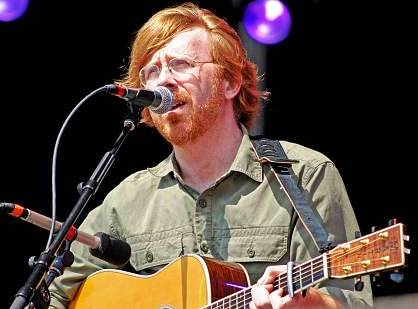 Phish has just announced their 2012 summer tour dates. Phish will start their tour in Worcester, MA on June 17th -- ending up in Saratoga Springs for a 3 night run at SPAC.
Highlights include: Deek Creek, Alpine Valley, Cuyahoga Falls, OH and a 4th of July show at Jones Beach. You will find the entire tour dates, prices, etc.
Another highlight on summer tour will be Phish's 3 night run in Atlantic City. Phish will perform three consecutive shows (June 15, 16 & 17) at Atlantic City's 142-acre Bader Field, which was formerly the site of the first U.S. municipal airport for both seaplanes and land-based planes. Centrally located on the Eastern seaboard, Atlantic City offers a wide range of attractions and amenities, including gaming, fine dining, spas, pristine beaches and the city's historic boardwalk. Three-day tickets, single day tickets and travel packages are available. Fans can walk to Bader Field from all the major downtown Atlantic City hotels and special room rates have been secured for fans.
Phish Summer 2012 Tour Dates:
---
6/7/12 DCU Center, Worcester, MA - $60.00 GA Floor and Reserved Seating Stands

6/8/12 DCU Center, Worcester, MA - $60.00 GA Floor and Reserved Seating Stands

6/15/12 Bader Field, Atlantic City, NJ - $60.00 General Admission

6/16/12 Bader Field, Atlantic City, NJ - $60.00 General Admission

6/17/12 Bader Field, Atlantic City, NJ - $60.00 General Admission

6/19/12 nTelos Pavilion, Portsmouth, VA - $60.00 General Admission

6/20/12 nTelos Pavilion, Portsmouth, VA - $60.00 General Admission

6/22/12 Riverbend Music Center, Cincinnati, OH - $60.00 GA Pit and Reserved $45.00 GA Lawn

6/23/12 First Niagara Pavilion, Burgettstown, PA - $60.00 GA Pit and Reserved $45.00 GA Lawn

6/24/12 Blossom Music Center, Cuyahoga Falls, OH - $60.00 GA Pit and Reserved $45.00 GA Lawn

6/28/12 Klipsch Music Center, Noblesville, IN - $60.00 GA Pit and Reserved $45.00 GA Lawn

6/29/12 Klipsch Music Center, Noblesville, IN - $60.00 GA Pit and Reserved $45.00 GA Lawn

6/30/12 Alpine Valley Music Center, East Troy, WI - $60.00 GA Pit and Reserved $45.00 GA Lawn

7/1/12 Alpine Valley Music Center, East Troy, WI - $60.00 GA Pit and Reserved $45.00 GA Lawn

7/3/12 Nikon at Jones Beach Theatre, Wantagh, NY - $60.00 GA Pit and Reserved Seating

7/4/12 Nikon at Jones Beach Theatre, Wantagh, NY - $60.00 GA Pit and Reserved Seating

7/6/12 Saratoga Performing Arts Center, Saratoga Springs, NY - $60.00 GA Pit and Reserved $45.00 GA Lawn

7/7/12 Saratoga Performing Arts Center, Saratoga Springs, NY - $60.00 GA Pit and Reserved $45.00 GA Lawn

7/8/12 Saratoga Performing Arts Center, Saratoga Springs, NY - $60.00 GA Pit and Reserved $45.00 GA Lawn