Phish's Junta 3-LP Vinyl Available for Pre-Order Now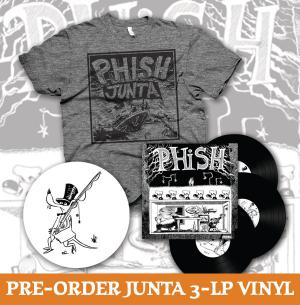 Second Pressing. Each LP is pressed onto 180g audiophile grade vinyl created from the original stereo master reels with lacquers cut by Chris Bellman at Bernie Grundman Mastering. Includes a free MP3 download of the entire album (transferred from the new vinyl master). First pressing originally released on Record Store Day. This second pressing IS NOT foil stamped.
Junta was recorded at Euphoria Sound Studios in Revere, Massachusetts in 1987 and 1988 on 16-track 2" tape and was mixed to 1/4" stereo reels. In addition to writing and performing all the music, the band produced the album themselves. The album was originally self-released on cassette tape in May 1989 with packaging created by the band (included in the new vinyl package). The album was remastered and rereleased as a double CD (and cassette) in October 1992. Junta was certified Gold.
Pre-order HERE