Phish's WaterWheel Foundation/Mimi Fishman Foundation Auction
Submitted by press on Sat, 05/15/2010 - 22:33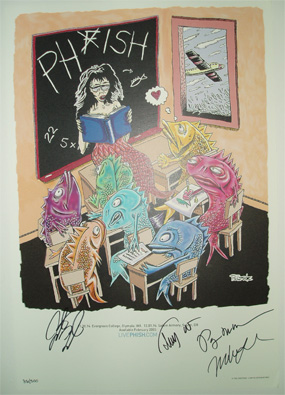 For the second time in as many years, the WaterWheel Foundation and the Mimi Fishman Foundation have teamed together to create a very exciting on-line charity auction. All proceeds from the auction will mutually benefit the Foundations, both of which have strong ties to the band Phish. The WaterWheel Foundation was created by Phish in 1997 to oversee the band's various charitable activities.
The Mimi Fishman Foundation was established in1999 by Miriam "Mimi" Fishman (the late mother of Phish drummer Jon Fishman) and David Shulman, as a vehicle to raise funds for various charities important to Mimi.
The on-line auction is currently live with the bidding coming to close on Tuesday, May 25. The auction consists of 13 ticket/memorabilia packages, each representing a tour stop on the 1st leg of the Phish 2010 Summer Tour.
In addition to a pair of reserved tickets per show, the additional items include band signed posters by Phish famed poster artist Jim Pollock, rare David Welker posters, Jon Fishman signed drumsticks, and more.