Phoebe Hunt To Release 'Live at the Cactus Cafe' on June 18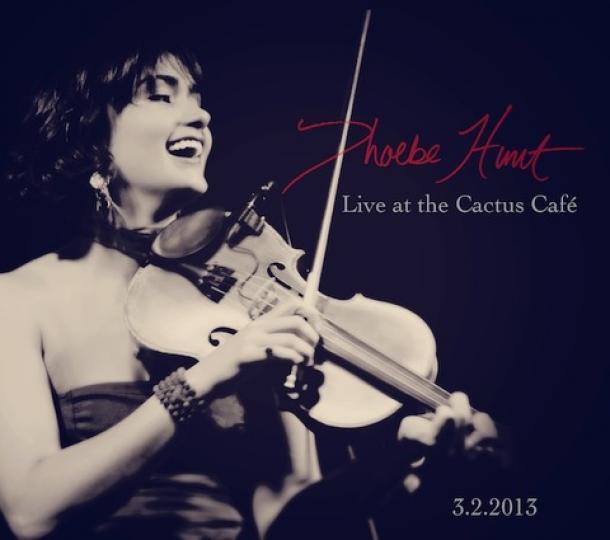 Singer-songwriter-instrumentalist Phoebe Hunt recently relocated from Nashville to the Big Apple, but before she did, the Americana-pop artist returned to her hometown of Austin to record her first full-length album, LIVE AT THE CACTUS CAFÉ. Releasing June 18, the album follows her self-titled 2012 EP, her solo debut.
Hunt celebrates the new release with an afternoon show at 12:45 p.m. Sunday, June 23, at Gruene Hall, 1281 Gruene Road, New Braunfels, and a return to the Cactus Cafe, 2247 Guadalupe St., Austin, at 8:30 p.m. Friday, June 28. A copy of the new CD will be included with each Cactus ticket ($15 in advance; $18 at the door). For Cactus tickets and info, call 512.475.6515 or click cactuscafe.org. For Gruene Hall info, call 830.629.5077 or click gruenehall.com.
The latest in a long line of artists to record at the iconic University of Texas listening room, Hunt showcases her world-class fiddling, rhythm guitar-playing and sultry voice — the main elements of her award-winning folk-pop sound — on 16 original songs performed with her band before an enthusiastic audience. From classic country tones to provocative jazz riffs, Hunt artfully navigates through many musical landscapes, landing at the heart of Americana. She can shift moods from playfully demure to seductive and intimate in the blink of a beat, but the quality that shines through most is her honesty.
Well-known for her work with the Belleville Outfit, Hunt also toured with folk trio The Hudsons while still attending the University of Texas at Austin. She stayed in her Austin hometown after graduation, and in 2012, headed to Nashville to polish her songwriting skills in-between touring with artists including world renowned cellist Ben Sollee singer-songwriter-keyboardist Connor Forsyth (the Belleville Outfit, Ghosts Along the Brazos) and folk-rocker Reed Turner.