Portugal. The Man | Boulder Theater | 10/18/13 | Review & Photos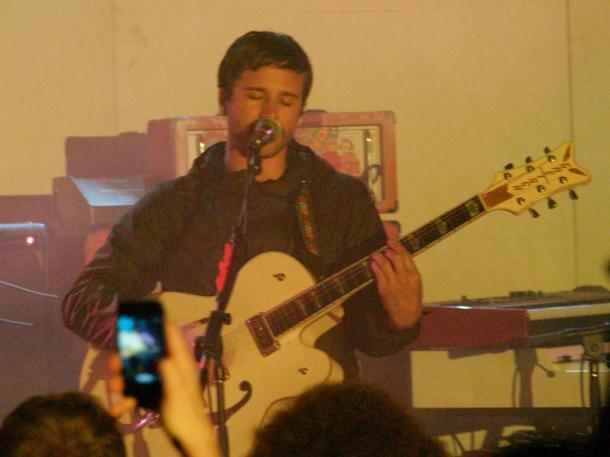 This sold out show was one of much anticipation. There was a crowd assembled outside of the venue early for the band that has a large fan base in these parts. Tonight Portugal. The Man was back in Colorado playing alongside Crystal Castles, the experimental electronic duo from Toronto, Canada. Portugal. The Man has just finished up their successful fall tour in Las Vegas, but not before stopping at their favorite state to play in, Colorado. The band played two nights here, one in Boulder and one in Denver. Their popularity seems like it is doubling every time they stop here. The little band that originally came from a small town in Alaska called Wasilla and moved to Portland, OR to record and make a name for themselves, sure has a head of steam pumping toward their mission. After eight studio albums and three EPs, they have even caught the attention of producer Danger Mouse, who collaborated with them on their last album, Evil Friends.
I went to George's next door to the beautiful Boulder Theater with my writer friend Mike Beddia on a crisp October Saturday night to enjoy some pre show bourbons with some of my newlywed friends. As the place became fuller, we sensed it was time to enter, and appropriately an original recording of "Unchained Melody" played in its entirety, and the band came on stage right during end and climax of the song. After a few songs, in which the band was embraced with a lot of passion, one of the band members expressed his love for playing in Colorado. This is why I love living in Colorado. Nearly every band that comes through sings their praises for this vibrant land. The crowd exploded when the band played "The Sun" from an early record, The Satanic Satanist. The psychedelic pop band knew how to work the crowd as they chose a wise setlist, which was met by a lot of high pitched, Beatles type, college girl shrills. "Sea of Air's" opening guitar riffs started next, and the other crowd favorite, which they played acoustic at Coachella began a sing along. Then, another song off of Evil Friends, "Modern Jesus" actually got everyone grooving and swaying, while I took in the fun lyrics and synth. The Beatles sandwich came next, and one knows how audiences everywhere appreciate that. "When the War Ends" from American Ghetto began the medley that featured, the Beatles cover "Don't Let Me Down" in it for about thirty seconds before they slid it into "Waves," "Holy Roller," and "Someday Believers." The run of new songs was capped off by Pink Floyd's classic "Another Brick in the Wall." Then, right back into the end of Evil Friends with "Purple Yellow Red and Green," which closed the band's set.

When the band came on for the extended encore, they once again said, "For some reason, we have more friends in Colorado then anywhere else in the world." "Thanks for the warm welcome even since the beginning." After they said that they have a couple more songs left, one of the guitar players said that he blacked out in the middle of one of the songs and woke up in the middle of it. The band must have done a nice job picking him up musically because no one seemed to even notice. Finally, the encore blasted into the Beatles "Helter Skelter" and the song about dying, "Sleep Forever" from In the Mountains in the Cloud. The medley and show ended with Paul McCartney's two songs, "Live and Let Die" and "Hey Jude."