Pretty Lights Delivers Third EP of 2010
Submitted by mike on Tue, 10/26/2010 - 23:40
Pretty Lights has never been one to disappoint- and he's not about to start now. The enigmatic super-producer has stayed true to his promise of releasing three EP's in 2010…and deliver, he has! Glowing In The Darkest Night, the third installment of his trilogy of 2010's EPs, was made available this past Friday, October 22nd via his website.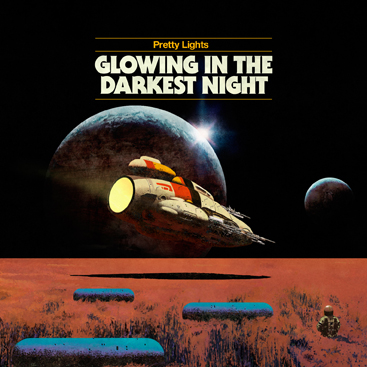 2010 has been quite an exciting year for Pretty Lights. Besides releasing his trilogy of EP's, Derek Vincent Smith (accompanied by live drummer Adam Deitch) has been busy touring the U.S. and Europe, including many festival appearances on both sides of the Atlantic. He recently surpassed one million album downloads through his website- not bad for an artist who has only been releasing music since 2008. He even surprised his one millionth downloader with a VIP trip to catch him later this month in Las Vegas!
Pretty Lights is touring extensively to support Glowing In The Darkest Night, with the North American tour kicking off Wednesday in Tulsa, and continuing through early December. There's a New Year's Eve run of shows taking place at The Congress Theater in Chicago on December 30th and 31st! Supporting the shows will be Major Lazer on the 30th, and Holy Fuck on the 31st.
Download the EP FREE from PrettyLightsMusic

Upcoming Pretty Lights Tour Dates:
October 27 – Cain's Ballroom – Tulsa, OK
October 28 – Lyric Theatre – Oxford, MS
October 29 – Tabernacle – Atlanta, GA
October 30 – Patriot's Point – Charleston, SC
October 31 – MoogFest 2010 – Asheville, NC
November 2 – Bourbon Street Ballroom – Baltimore, MD
November 3 – Electric Factory – Philadelphia, PA
November 4 – The National – Richmond, VA
November 5 – House of Blues – Boston, MA – SOLD OUT
November 6 – Washington Avenue Armory – Albany, NY
November 7 – Higher Ground – Burlington, VT – SOLD OUT
November 8 – Higher Ground – Burlington, VT – SOLD OUT
November 10 – Madison Theatre – Covington, KY
November 11 – Boma – Columbus, OH
November 12 – Fillmore – Detroit, MI
November 13 – The Rave – Milwaukee, WI
November 14 – First Avenue – Minneapolis, MN
November 15 – Sokol Auditorium – Omaha, NE
November 17 – The Complex – Salt Lake City, UT
November 19 – Showbox SoDo – Seattle, WA
November 20 – McDonald Theatre – Eugene, OR
November 21 – Arcata Community Center – Arcata, CA
November 23 – Knitting Factory – Reno, NV
November 26 – The Wiltern – Los Angeles, CA
November 27 – House of Blues – Las Vegas, NV
November 28 – House of Blues – San Diego, CA
November 30 – Rialto Theatre – Tucson, AZ
December 1 – The Marquee – Tempe, AZ
December 2 – Sunshine Theatre – Albuquerque, NM
December 3 – Telluride Conference Center – Telluride, CO – SOLD OUT
December 4 – Telluride Conference Center – Telluride, CO – SOLD OUT
December 5 – Belly Up – Aspen, CO – SOLD OUT
December 30 – The Congress Theater – Chicago, IL (w/ Major Lazer)
December 31 – The Congress Theater – Chicago, IL (w/ Holy Fuck)