Pretty Lights Pen Red Rocks Show with STS9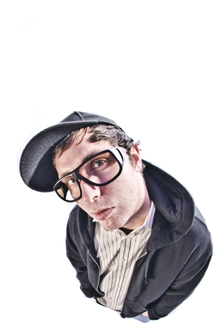 Pretty Lights will join STS9 on Saturday, July 25th at Red Rocks in a triumphant return to Denver, after blowing out box offices across the country for the first few months of 2009. Three sellout shows in Fort Collins, Boulder, and Denver in February sent the innovative electronic act off onto the road for a headlining tour through the Southeastern U.S. with huge momentum. They sold out every show on the tour including the famous Georgia Theatre in Athens, before the doors even opened. With at least 13 more scheduled shows between now and their return to Colorado, Pretty Lights will be pumping out of speakers from coast to coast, wrecking the standard of electronic music.
Pretty Lights is the musical vision of the ultra-versatile Colorado based producer, Derek Vincent Smith, accompanied in the live setting by drummer, Cory Eberhard. Together these two achieve a raw energy rarely reached in the realm of electronic music. At a time when music lovers from almost all subcultures and genres are finding common ground in the basic form of bangin' beats, Pretty Lights is giving the people what they want: electro organic, cutting-edge party rocking beats that fill venues with energy and emotion and send dance floors into frenzies. What makes Pretty Lights truly different though, is that the beats carry serious soul.
As momentum for Pretty Lights builds, so does the anticipation for the act's return to its Colorado roots, where many fans were left outside the door wishing they had bought tickets sooner for their last three-night Colorado run. Fans across all genres are coming together to fuel the Pretty Lights movement. One only need to download Filling up the City Skies, the free double disc that was released for download only a few short months ago at www.prettylightsmusic.com, to see what the hype is about.
Filling Up The City Skies is a two disc, 26 track journey through past, present, and future. Smith juxtaposes collages of beautiful vintage samples against backdrops of futuristic synthesis and dirty broken beats, creating a sound that can snap your neck while simultaneously shedding your tears. The album has been downloaded over 50,000 times from the Pretty Lights website in the short 4 months since its release, proving that the PL sound is not only getting around, it's spreading like a virus.
What makes the next Denver show all the more intriguing is that, somehow, amidst the relentless touring, Smith is nearing completion of the next Pretty Lights album. Scores of unheard new material is sure to be dropped at Red Rocks on July 25th, considering a quote direct from Smith's own blog, "Maintaining productivity, and striving to constantly create fresh new music is the only way to keep this adventure exciting for myself…I couldn't bear to tour an the same record for more than a few months…"
Pretty Lights will be continuing to make its name on the festival circuit this summer which will include appearances at Bonnaroo, 10k Lakes, Rothbury, High Sierra, Wakarusa, and Camp Bisco.