Prez Fest 2009 | Celebrating Billy Strayhorn | March 14 & 15
Submitted by Eigo on Mon, 01/19/2009 - 10:16
Saint Peter's Church, known worldwide as the "Jazz Church," will present "Prez Fest 2009 — Celebrating Billy Strayhorn."  The festival begins with a listening session of Billy Strayhorn recordings on Saturday, March 14 at 3:00 PM and continues on Sunday with a lecture on Billy Strayhorn at 4:00 PM, Jazz Vespers at 5:00 PM and a Concert at 7:00 PM.  A variety of groups will perform the music of Billy Strayhorn.  Billy Strayhorn's piano was gifted to the church years ago and its refurbishing will be celebrated.
Billy Strayhorn (1915–1967), composer, arranger and pianist, was born in Dayton, Ohio, and raised in Hillsborough, N.C. and Pittsburgh, Pa. where he received his musical training.  He first met Duke Ellington in 1938 and worked in close collaboration with him for three decades.  Some of the world's great compositions were written by Billy Strayhorn:  Take the A Train, Lush Life, Chelsea Bridge, Something to Live For, Day Dream, Rain Check, Passion Flower, Midriff, Rain Check and Johnny Come Lately. In collaboration with Duke Ellington, he produced many concert works including: Perfume Suite, Such Sweet Thunder and A Drum is a Woman.
"Billy Strayhorn… the biggest human being who ever lived, a man with the greatest courage, the most majestic stature, a highly skilled musician whose impeccable taste commanded the respect of all musicians and the admiration of all listeners."  —Duke Ellington
David Hajdu, scholar and author of Lush Life: A Biography of Billy Strayhorn, will speak about Billy Strayhorn on Sunday at 4:00 PM with recorded music.  Junior Mance and Hide Tanako (piano/bass duo) will lead the music at Jazz Vespers at 5:00 PM.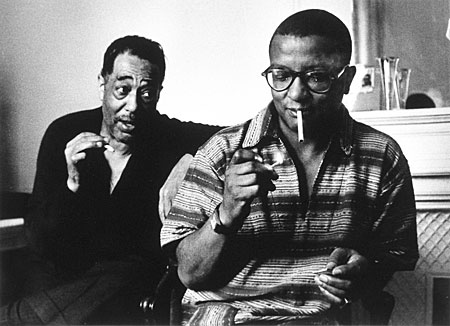 Musicians who are already confirmed to perform at the Sunday evening concert include Randy Weston, Jimmy Heath, Billy Taylor, Jeb Patton, David Wong, Valerie Capers, John Robinson, Earl Williams, Aaron Diehl, Gene Bertoncini, Sara Caswell, Kenny Davis, Mike Howell, and The Ellington Legacy Band with Edward Ellington, Norman Simmons, Virginia Mayhew, Nancy Reed, Jami Dauber, Paul Wells, Tom DiCarlo, Noah Bless, and the Jazz Band Classic (18-pieces), and others.  Jimmy Owens will be the emcee and will also perform.
 
"Prez Fest" is a jazz festival created to celebrate the talents of jazz legends who are no longer with us and about whom people should learn more.  Last year Billie Holiday was honored.  In the future, the plan is to honor a different jazz legend each year.  The name "Prez Fest" has blossomed out of the "To Prez with Love," a tribute to Lester Young which had been held at Saint Peter's for over 30 years.  By using Prez in the name of the festival we continue to honor Lester Young and his music.

The Jazz Ministry of Saint Peter's Church is "a home for diverse individuals and communities which celebrates the dignity and vitality of Jazz, provides vibrant liturgy and pastoral care, and through intersecting partnerships, offers jazz programs, education and services."  An outreach program of Saint Peter's Lutheran Church in New York City, The Jazz Ministry was founded in 1965 by the late Reverend John Garcia Gensel who created Jazz Vespers, a worship service featuring a wide range of jazz musicians that is held each Sunday at 5:00 PM.  Our pastors include Amandus Derr, Jared Stahler, Bill Eschen and Héctor Ribone.  The Jazz Ministry thrives today with many events and programs such as All Nite Soul, Prez Fest, Jazz on the Plaza, Women in Jazz Festival, Seminars for Musicians, Midtown Jazz at Midday, memorials, tributes, concerts, and others yet to be developed, to serve the jazz community.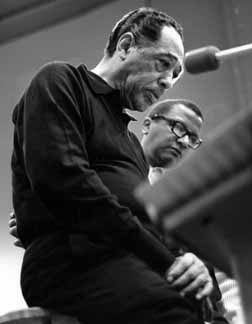 The Duke Ellington Society (TDES, Inc.) is an organization dedicated to celebrating the life, music and legacy of Duke Ellington and Billy Strayhorn.  TDES, Inc. was incorporated in 1992 as a tax-exempt, nonprofit organization in the state of New York.  Founded during Duke's lifetime in 1959, it will observe its 50th anniversary in 2009 and it has grown to over 450 members representing 25 countries.  Members meet once a month, usually on the third Wednesday, at Saint Peter's Church for a variety of listening sessions, concerts, lectures and parties.  Meetings begin at 7:30 PM and all are welcome.
"Prez Fest 2009—Celebrating Billy Strayhorn" takes place on March 14 and 15, 2009 at Saint Peter's Church, 619 Lexington Avenue (at 54th Street).
Saturday, March 14: 3:00 PM  Two-hour listening session of well-known and rare Billy Strayhorn recordings. Free  
Sunday, March 15: 4:00 PM  Presentation by David Hajdu, author of Lush Life.  Free
5;00 PM: Jazz Vespers with Junior Mance / Hide Tanako Duo Free Will Offering
7:00 PM: Concert — $20 Suggested Donation — Tickets available at the door.
212 935 2200 ● "E" train to Lexington Avenue or "#6" to 51st Street