Prez Fest 2010 March 14, 2010 Celebrating Art Blakey and the Jazz Messengers
Submitted by press on Wed, 03/03/2010 - 00:39
During his life time, the legendary drummer Art Blakey performed at Saint Peter's Church, 'The Jazz Church," many times. He was well known for his Jazz Messengers "school of jazz" which produced many legendary jazz musicians of today, including Wayne Shorter, Cedar Walton, Terrence Blanchard, Billy Harper, Brian Lynch, Donald Harrison, Reggie Workman, Bobby Watson and many others. All told there were 150 musicians who passed through his "school" over several decades.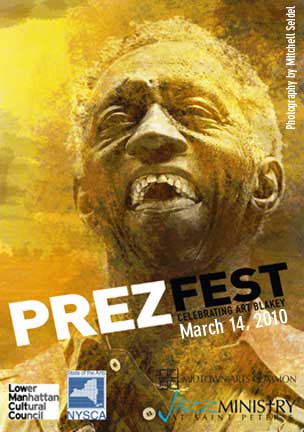 For this festival, we are partnering with the National Jazz Museum in Harlem, 104 East 126th Street # 2C, New York City which is offering a series of events celebrating the legacy of Art Blakey including Jazz for Curious Listeners on Tuesdays in March from 7 to 8 PM and on Saturday, March 13 from Noon to 4 PM "An In-Depth Look and Listen to Art Blakey" panel.
Prez Fest 2010 Celebrating Art Blakey and the Jazz Messengers – March 14, 2010 at Saint Peter's Church, 619 Lexington Avenue at 54th Street, NY, NY.  Program begins at 3 PM and includes panel discussion, drum technique demonstration, jazz vespers and a concert.  $20 suggested ticket donation and $10 students donation with student ID.  http://www.saintpeters.org/ 212 935 2200. Take the "E" train to Lexington Avenue or the "6" to 51st Street. Press contacts: Ike Sturm, 212 935 2200 or Lynne Mueller 917 207 4953.
The Jazz Committee at Saint Peter's Church / Midtown Arts Commons presents:
Prez Fest 2010 – March 14, 2010
Celebrating Art Blakey and the Jazz Messengers
Saint Peter's Church "The Jazz Church"
619 Lexington Avenue at 54th Street, New York City
Tickets Here