Programme Gent Jazz 2010
Submitted by press on Tue, 05/18/2010 - 03:12
The programme for the Gent Jazz Festival (July7-July18, Gent, Belgium) is now complete with names such as Madness, Gil Scott-Heron, Soil & "Pimp" Sessions, Vive Le Jazz (the new jazz project by Vive La Fête), Cibelle, Odean Pope and his All Star "Odean's List", Julian Lage Group, radioKUKAorkest and Root. Earlier the festival had already announced names such as Norah Jones, Daniel Lanois' Black Dub, Ornette Coleman, Kruder & Dorfmeister and Gilberto Gil.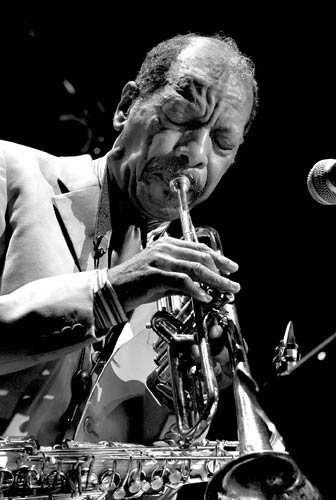 The first part of the festival welcomes the young guitar talent Julian Lage July 10. The same day Toots Thielemans headlines the day with a 'Special Project' with pianist Kenny Werner and guitar player Oscar Castro-Neves. The ensemble radioKUKAorkest and an all star band with saxophone player Odean Pope, Odean Pope and his All Star "Odean's List" complete the remaining open spots July 11.
In the second part of the festival the young and eccentric Brazilian Cibelle opens July 15 before the earlier announced Mariza and Gilberto Gil. Friday July 16 we can find the premiere of Vive le Jazz, the new project by the electro-pop band Vive La Fête, on the programme. They open the day before The Cinematic Orchestra and Kruder & Dorfmeister. Root, the Belgian trio with keyboard player Dominique Vantomme, is the first band of the day July 17 followed by Gil Scott-Heron and the infectious sound of the British band Madness. On the last day of the festival the Japanese "death jazz" of Soil & "Pimp" Sessions is added to the line-up before Joe Bonamassa and Daniel Lanois.
Info & tickets:www.gentjazz.com

Tickets cost 29 euros per evening (excl. booking costs), except for those of July 7 (concert day with Norah Jones) which cost 42 euros (excl. booking costs). A Three-Day Pass costs 73 euros (excl. booking costs). Tickets are available as of today. Tickets can be booked via www.gentjazz.com, or at FNAC. Just as last year, the last festival weekend coincides with the opening weekend of the Ghent Festivities.