Punch Brothers @ The Boulder Theatre | 2/11/11
Submitted by mike on Fri, 02/11/2011 - 18:23
"Antifogmatic" is a bit of bygone slang that mandolinist Chris Thile and his bandmates stumbled across, an old term, explains the Punch Brothers founder, for a bracing beverage, rum or whiskey, that one would have in the morning before going out to work in rough weather, to stave off any ill effects." It's an apt title for the Punch Brothers' second Nonesuch disc. This ten-song set of collectively written material takes a clear-eyed view of those things less tangible than booze that can make us woozy: the pleasures and pitfalls of romance, the seemingly limitless possibilities and multifarious temptations of life in the big city.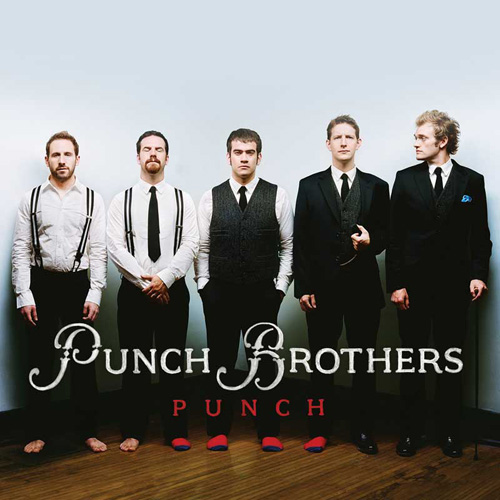 The arrangements on Antifogmatic range from intimate to boisterous and back; genre-wise, the band once again ventures where no string band has ever gone before. The spare opening track "You Are" contrasts percussive guitar riffs with lyrical string parts that dance around Thile's sweet upper register as he spins a tale of romantic emancipation; occasionally, the other instruments give way to reveal the throb of the bass. The band also engages in some unexpectedly beautiful harmony singing, smoothing out the compelling melodic twists and turns of Welcome Home." "Me and Us" and "Woman and the Bell" both have a dream-like quality; the former, in fact, was inspired by those jumbled, thought-filled moments before sleep sets in, and the instrumentation keeps pace with the ever-shifting imagery. In contrast, "Don't Need No" and "Rye Whiskey" are foot-stomping barroom boasts and "Next to the Trash" is the closest the band gets to traditional bluegrass, even as the lyrics tug the piece in a more surreal direction.
"Our new record is a very pure collaboration," Thile emphasizes. "I would often come to the boys with a start, a little nugget, and we would collectively fashion it into something. None of these songs would have been like themselves if I had been left to my own devices. Several of them were starts that other guys had, and we would build from there. It's fun how liquid the writing process was on this."
The stories the Punch Brothers tell in Antifogmatic-partly autobiographical, partly imagine-were shaped by after-hours camaraderie as much as musical collaboration; they're ultimately about drinking everything in as well as drinking what's in front of them up, though there was plenty of that too. Concludes Thile, "The boys and I would work all day in one of our apartments and then we'd want to go out and have a drink. That's what you do in New York City, because everyone's apartment is too small to hang out comfortably in. We're a group of five guys. If friends start attaching themselves to the fray after that, you forsake the one-bedroom apartment and you go into the incredibly vibrant bar scene that isn't merely an encouragement for intoxication and spending obscene amounts of money per drink. It's really a wonderful way to get to know your fellow man, with your top button unbuttoned and your tie loosened a little bit."