Putumayo Acoustic America - 20th Anniversary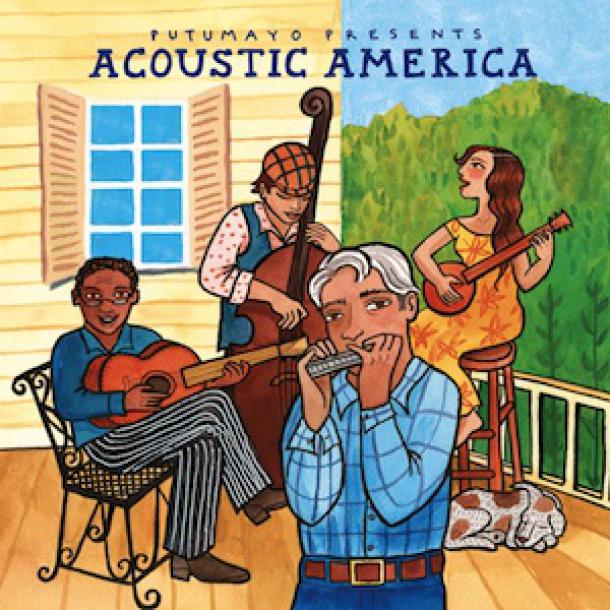 Putumayo is pleased to announce the release of Acoustic America and companion children's album American Playground on June 18th, 2013. In time for fireflies, the 4th of July and summer road trips, these two latest albums from the label's American roots music series offer an acoustic taste of our country's rich musical heritage. This year, Putumayo celebrates their two-decades of presenting music from around the world. Over the past 20 years, Putumayo has remained a trusted curator and presenter of music that spans the globe.
At the heart of Acoustic America are songs steeped in folk, blues, jazz, country and bluegrass traditions performed by both well-known and up-and-coming artists. From Grammy winning American roots legend Doc Watson to newcomer songstress Eden Brent, each artist featured on Acoustic America honors the traditions of America's musical tapestry.
Other artists featured on Acoustic America include: The Jim Kweskin Band, celebrating their 50th anniversary this year and contributing a track infused with classic 1920's ragtime jazz influences; blues duo Sonny Terry and Brownie McGhee providing a Piedmont-blues style track and showcasing their signature sound of harmonica and guitar; Red Horse (featuring independent folk singer-songwriters Eliza Gilkyson, John Gorka and Lucy Kaplansky) supplying their take on the historic spiritual "Wayfaring Stranger;" Nashville newcomer Clay Cumbie with Putumayo's first country music offering; plus many more artists who round out this 12-track release featuring music from the birthplace of  the blues, jazz, bluegrass, country and other musical styles. Also are included are extensive liner notes written about the artists, songs and American musical traditions by longtime music journalist, Jim Bessman.
Putumayo World Music, founded by Dan Storper, has been curating some of the world's most loved compilations since 1993. What started as soundtracks for the Putumayo international clothing and handicraft stores has blossomed into a trusted brand introducing people to popular and niche music from around the world. Putumayo compilations take listeners on extraordinary musical journeys and their booklets feature extensive liner notes, photography, and recipes by renowned regional chefs and more. The colorful folk art covers by British illustrator Nicola Heindl are easily recognizable in shops internationally. The brand has enjoyed being a part of the pop-culture landscape and even made a starring appearance in a Seinfeld episode.
 
Since Storper moved to New Orleans in 2004, he's been researching the regional music of the South and West and incorporated the music he's discovered into a successful American roots music series that includes Bluegrass, American Blues, Jazz, New Orleans, Mississippi Blues and many more.
 
For more information on Putumayo, visit: www.putumayo.com