Rachel Kate @ SXSW | Review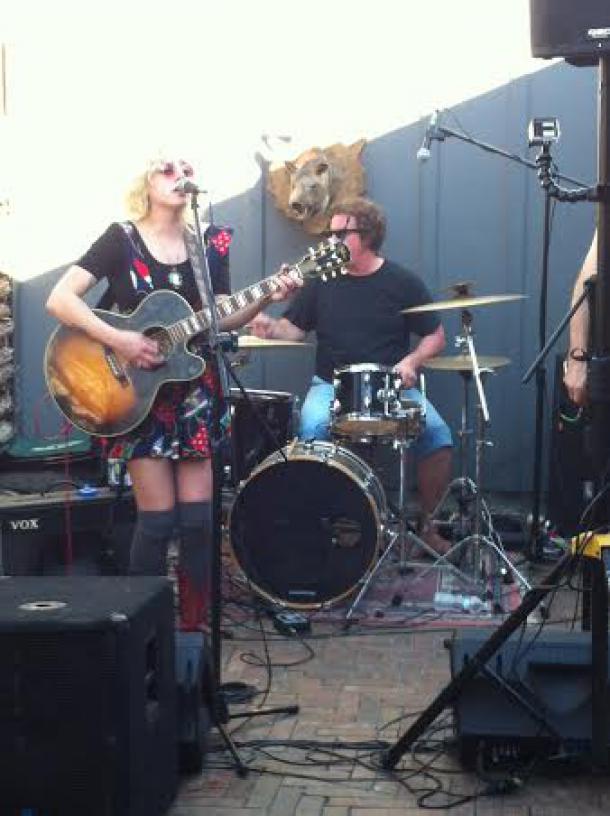 It's late afternoon at Javelina and I'm starting to sweat.  The unpredictable Austin weather is up to its old tricks, and I'm drowning in layers.  I just finished my beer and am about to go do some more aimless wandering, following the sounds of good music or loud cheers, when the guy next to me at the bar strikes up conversation.  He's from California, a pediatrician, an obvious Austin enthusiast, and had a friend who knows a guy that knows the girl who's about to play next.  She's supposed to be really good, he says.  That line gets me every time.
Ten minutes into her set, I'm so glad I stayed.  Her name is Rachel Kate, she and her band mate Diego Villena are based out of Charleston.  She characterizes her music as Fiesty Power Folk and I'm inclined to agree.  She's pint-sized with white-blond curly Lauryn Hill styled hair and as we all do, subconsciously, I formed an idea about her based on her appearance and expected when she opened her mouth it'd be breathy, sweet, folksy.  It wasn't. The girl can howl.  After she finished grating her vocal chords and jamming hard through the first song she explained, "This is what happens when a white girl gets the blues.
The biggest appeal, for me, was that she was interesting.  Nothing about her style, the music, or the set was striving towards perfection.  Everything was raw, all of it was real.  Her voice is unpolished, ragged, beautiful, pure.  She seemed equal parts sweet and evil, and when she sang the first love song she told the crowd: "Here's a love song for ya, because I like love as much as I love hate."
As I listened to her, I realized she had the same anger that made it impossible for Janis and Alanis impossible to ignore.  I was so interested in her that after the show, I checked out her facebook page.  Here's what she wrote in the About Me section:  "She is a rainbow circus ninja dream catcher soul kite flying smiling river flower and a lover of all things people, music, and arts. Rachel Kate creates creations from the soul. Interested in harmony and eeri-ness-sunshine and daydreams. Rachel Kate is a way of life. Step into her world."  My advice is to listen to her.