Randy Newman @ the Boulder Theatre | 3/9/11
Submitted by mike on Tue, 03/01/2011 - 05:07
Randy Newman has long been one of the most musically and lyrically ambitious singer-songwriters ever to be at play in the fields of popular music.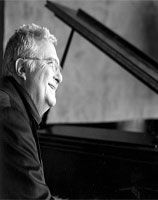 Born on November 28, 1943 to a renowned musical family, by seventeen Newman was a working songwriter. In 1968 he debuted with Randy Newman, and before long an unusually wide range of artists were recording his songs.
Critics lauded the musical depth, edge and literary quality of his lyrics as the 70's brought 12 Songs, Live, the classic Sail Away and brilliant and controversial Good Old Boys. Little Criminal caught the public's ear with the hit "Short People". Born Again followed.
In the Eighties, Newman's foray into film composing earned him his first two of sixteen Oscar nominations. Trouble In Paradise and the Grammy-winning score for The Natural followed. Next, Land of Dreams was considered another breakthrough work.
In the Nineties, Newman earned an Emmy and several more Grammys for work on films like Toy Story, James and the Giant Peach, Bug's Life and Toy Story 2. Newman also tickled his adult audience with his darkly hilarious take on Faust. The four-CD compilation: Guilty: 30 Years of Randy Newman and Bad Love followed, and in 2002, Newman won his first Oscar for Best Original Song for Monsters Inc. He has also earned 5 Grammy awards and 2 Emmy awards throughout his career.
The Randy Newman Songbook, Vol. I (2003), his first effort for Nonesuch, introduces powerful new solo versions of early classics and recent gems alike. The eighteen songs are an intimate and powerful reminder of the enduring work that Newman has established. In 2008 he released Harps and Angels; for Nonesuch records. His first collection of new songs since 2009's Bad Love.
Most recently, Newman wrote the songs and score for Disney's The Princess and the Frog as well as Toy Story 3. He has earned two more Academy Award nominations(19 total) in the Best Original Song category for Almost There and Down In New Orleans.
On June 2nd 2010 Newman received a star on the Hollywood Walk of Fame.