Real Gone Music Announces July 30, 2013 Releases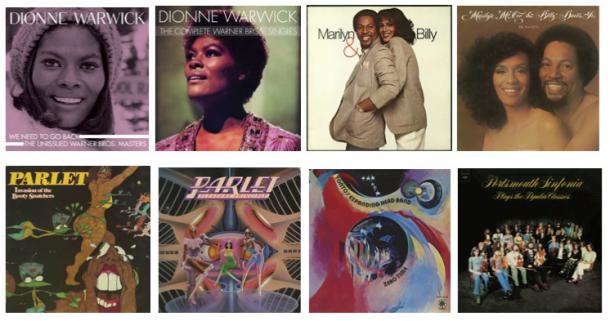 Real Gone Music continues its puckish pursuit of all varieties of pop music with a July 30 release schedule that ranges from the foremost exponents of pop-soul to the high priestesses of intergalactic funk, with the world's largest synthesizer and the most infamous "anti-classical" album of all time in between. The long-overlooked Warner Bros. period of legendary singer Dionne Warwick receives a fresh re-examination with two collections featuring her complete singles for the label and 19 unreleased tracks including newly unearthed work with Burt Bacharach. One of soul's most celebrated couples, Marilyn McCoo and Billy Davis, Jr., enjoys a long-overdue reissue of The Two of Us and Marilyn & Billy, the second and third albums they made after departing from the Fifth Dimension, complete with bonus tracks. And Real Gone contacts George Clinton's P-Funk Mothership for the first two albums he produced for Parlet, the girl group composed of background singers for Parliament/Funkadelic.
Then, the label leaves the outer reaches of R&B behind and sets its sights on two seminal albums that straddle avant-garde, pop, electronic and classical music. Tonto's Expanding Head Band's debut album Zero Time introduced T.O.N.T.O., or The Original New Timbral Orchestra, still the largest multitimbral polyphonic analog synthesizer in the world and one that caught the ear of everyone from Stevie Wonder to Stephen Stills. And the 1974 album Portsmouth Sinfonia: Plays the Popular Classics captures the sound, as conceived by avant-garde composer Gavin Bryars and produced by Brian Eno, of untrained musicians attempting to play classical warhorses.
When Dionne Warwick signed to the Warner Bros. label in 1971 (bringing her legendary songwriting and production team of Burt Bacharach and Hal David with her), success seemed preordained for probably the greatest pop-soul singer of all time. However, like so many other '60s superstars, Dionne fell prey to the changing tastes of the '70s marketplace and exited the label five years later sans her production team or any major chart hits. Now, with two separate collections of Warwick's complete Warner Bros. singles and the unreleased tracks recorded for the label, Real Gone Music is at last shining a light on a body of work that, despite its lack of commercial prowess, ranks as some of the finest this pop-soul diva's nonpareil career has to offer. Dionne Warwick: "The Complete Warner Bros. Singles" brings together for the first time ever the "A" and "B" sides of all 21 of Warwick's original Warner Brothers stereo singles, many of which have never appeared on CD -- including such tracks that hit Billboard's Hot 100, R&B and Easy Listening charts as "Once You Hit The Road" and "If We Only Have Love." The tracks not only feature a reteaming with Burt Bacharach and Hal David but also a host of other top-drawer collaborators, including former Motown kingpins Holland-Dozier-Holland, Philly soul king Thom Bell, R&B legend Jerry Ragovoy, West Coast pop-rock pioneer Steve Barri with multiple Grammy-winner Michael Omartian, and ace Gladys Knight & The Pips producer Joe Porter. Many of those same legendary producers surface on Dionne Warwick: "We Need to Go Back -- The Unissued Warner Bros. Masters", which collects 19 unreleased tracks whose rumored existence has tantalized collectors for decades. Among the recordings finally seeing the light of day on this collection are two songs recorded with Ashford & Simpson, three recorded with pop composer Randy Edelman and engineer Brooks Arthur, and -- perhaps most enticingly -- three unreleased Burt Bacharach creations penned with Neil Simon and Bobby Russell and engineered by Phil Ramone. Paul Howes supplies the notes featuring fresh quotes from Dionne herself inside both photo-festooned packages.
When Marilyn McCoo and Billy Davis, Jr. left the Fifth Dimension in 1975 to pursue their own recording careers, success was not long in coming; in fact, each of the succeeding years saw a charting album released from the duo -- plus a Grammy Award for Best R&B Vocal (Duo) and their own CBS-TV series. However, while their first album, 1976's I Hope We Get to Love in Time, has been reissued two different times on compact disc, the next two albums, 1977's "The Two of Us" and 1978's "Marilyn & Billy", have never been reissued anywhere in the world. Now, Real Gone Music is releasing both of these pop-soul classics in expanded editions sporting liner notes by Mike Ragogna, photos, bonus tracks and remastering at Battery Studios in NYC. Bonus tracks include, on "The Two of Us", the non-LP singles "I'm So Glad I Found You" and "There's Got to Be a Happy Ending," and the Billy Davis, Jr. solo sides "Light a Candle" and "Three Steps from True Love," and on "Marilyn & Billy", the eztended 12" single mix of "Shine On Silver Moon." Long requested releases from one of the most celebrated couples in pop music.
Of George Clinton's two girl groups, The Brides of Funkenstein commanded the lioness' share of attention, but Parlet was the funkier of the two; in Clinton put it, "sexual satisfaction guaranteed, that's what this group is all about!" Parlet's roots actually went way back in the Parliament/Funkadelic cosmology; singers Jeanette Washington and Debbie Wright were the first female members of the band, and the third member of the trio featured on their debut album "Pleasure Principle", Mallia Franklin, introduced Uncle Jam to Bootsy Collins. Franklin and Wright were gone by the time Parlet's second album, "Invasion of the Booty Snatchers", was recorded, replaced by Shirley Hayden and Janice Evans, so calling Parlet a "group" is a little bit of a misnomer. Instead, these records are production vehicles for Clinton (and, on the second album, former Invictus writer/producer Ron Dunbar) and his rotating cast of characters, including Collins, Glenn Goins, Bernie Worrell, Fred Wesley, Gary Shider and other members of the Mothership. Briefly out on CD 20 years ago and only in Japan, "Pleasure Principle" and "Invasion of the Booty Snatchers" now see their definitive reissue, with liner notes from Parliament/Funkadelic's own former Minister of Information, Tom Vickers, plus memorabilia from his archive, a fresh remastering job by Maria Triana at Battery Studios and, on Booty, a new illustration from Ronald "Stozo" Edwards, who penned the original album art.
Who is Tonto? Sure, he's the Lone Ranger's sidekick...but for electronic music fans, Tonto is T.O.N.T.O., or The Original New Timbral Orchestra, still the largest multitimbral polyphonic analog synthesizer in the world. "Multitimbral" means the instrument can play simultaneous notes with different tone quality, and in the hands of synthesizer designer Malcolm Cecil and producer Robert Margouleff and their group Tonto's Expanding Head Band, Tonto was featured by Stevie Wonder on such classic '70s albums as Music of My Mind, Talking Book and Innervisions as well as on albums by Weather Report, Stephen Stills, Quincy Jones, Steve Hillage and many other artists. But the Tonto legend got started right here, on "Zero Time", the 1971 debut release from Tonto's Expanding Head Band on the Embryo label, and despite its huge influence on popular and electronic music, this reissue -- featuring Malcolm Cecil's own remastering from the original analog tapes -- marks its first domestic release on CD (a foreign release came and went in a heart beep, er, beat). Richie Unterberger's notes explore the Tonto phenomenon and legend with exclusive quotes from Cecil and photos from his private archive.
Portsmouth Sinfonia was founded by British composer Gavin Bryars while he was lecturing at the Portsmouth College of Art in 1970. Bryars wanted to liberate classical music from the pomposity of the academic tradition and the concert hall audience by bringing classical music to the masses in a radical new way. His solution? To form an orchestra composed of non-musicians, or of musicians playing a totally unfamiliar instrument, and to set said orchestra loose on well-known classical warhorses that could be played by ear, as most of the "musicians" could not sight read. The result was, ironically, hailed by some in the classical establishment as a profound exploration of the nature of music, as the trained musicians kept the orchestra more or less hewing close to the melody, while the untrained players' earnest attempts to perform the compositions, and the resulting missed notes, formed atonal "clouds of sound" with a bare suggestion of the piece. Even more improbably, Portsmouth Sinfonia became a popular sensation, selling out the Royal Albert Hall and landing a recording contract. The "chance" nature of their work even attracted the attention of Brian Eno, who produced Portsmouth Sinfonia: "Plays the Popular Classics", their 1974 debut album, and -- true to the spirit of the project -- played clarinet in the orchestra! Our Real Gone release of marks the first-ever reissue of ANY of this one-of-a-kind ensemble's recordings, complete with liner notes by Tom Pickles (in addition to the original liner notes by Eno and conductor John Farley). Whether approached for laughs or as a conceptual work of art, Portsmouth Sinfonia: Plays the Popular Classics demands to be heard.
July 30, 2013 Releases from Real Gone Music
Dionne Warwick: The Complete Warner Bros. Singles
Dionne Warwick: We Need to Go Back -- The Unissued Warner Bros. Masters
Marilyn McCoo & Billy Davis, Jr.: The Two of Us (Expanded Edition)
Marilyn McCoo & Billy Davis, Jr.: Marilyn & Billy (Expanded Edition)
Parlet: Pleasure Principle
Parlet: Invasion of the Booty Snatchers
Tonto's Expanding Head Band: Zero Time
Portsmouth Sinfonia: Plays the Popular Classics