Real Gone Music Spring '13 Releases: Chet Atkins & Les Paul, Grateful Dead & More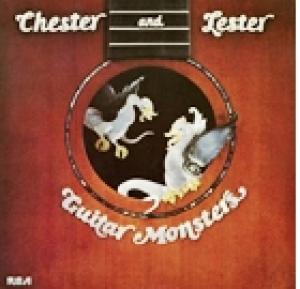 Real Gone Music's first releases of Spring 2013, due out on the 2nd of April, will tickle the funny bones of all manner of collector, as the label has taken its customary eclecticism to new heights, with releases from a vocal pop legend, two guitar icons, the most popular crossover classical artist of all time and a long sought-after soundtrack in addition to a strong slate of rock-oriented releases. Perhaps the most unusual release is the first appearance on legitimate CD of Alfred Newman's life-affirming score to the George Stevens' 1959 film The Diary of Anne Frank, released in time to coincide with Passover; of particular interest to vocal pop fans are Margaret Whiting's complete London recordings, released in two volumes and licensed directly from the estate. And the Country Gentleman, Chet Atkins, makes an appearance on two releases this month; first, on his second riotous collaboration with Les Paul, Guitar Monsters, and, second, as part of a twofer featuring a pair of '60s albums from Arthur Fiedler and the Boston Pops Orchestra.
For rock and soul fans, Real Gone has lined up the CD debut of the 1971 solo album by Memphis music legend Don Nix, featuring the Muscle Shoals rhythm section and a host of other luminaries, plus, also making its CD debut and also from 1971, the way-ahead-of-its-time soul/funk/rock/folk album from Barbara Massey and Ernie Calabria, Prelude to.... Also on tap are two albums from underappreciated singer-songwriter Tom Jans, Take Heart and Tom Jans, the former featuring Mimi Farina and the latter making its worldwide CD debut. And the label continues its long strange trip through the Grateful Dead's Dick's Picks series with its release of Dick's Picks Vol. 24 -- Cow Palace Daly City, CA 3/23/74, a 2-CD set featuring the first-ever appearance of the band's famed Wall of Sound concert PA system.

Winner of nine Academy Awards (second only to Walt Disney) and nominated for 45 (second among composers only to John Williams), Alfred Newman ranks as one of the greatest screen composers of all time. But his score to the 1959 George Stevens film adaptation of "The Diary of Anne Frank" (which was nominated for an Academy Award), occupies a special place in the hearts of Newman fans, and not just because the story on screen that it accompanies is so heart-rending and enduring. Contrary to what one might expect of a movie set in The Holocaust, the music to the film is lyrical, even on occasion lighthearted; as Newman put it, "...the music would be motivated by high ideals, the tenderness and spiritual qualities inherent in their family life and their special badge of courage." Real Gone Music proudly presents the original stereo film soundtrack album for the first time on legitimate CD with the original album artwork and new liner notes by Frank DeWald.
Together with Peggy Lee, Margaret Whiting was the only female vocalist to have hits in the '40s, '50s and even in the late '60s, when the rock and roll sound sidetracked the career of most of her peers. But unlike Peggy, Margaret's '60s recordings -- made with producer Arnold Goland and released on the London label -- have remained unissued in the digital era. Now, Real Gone Music, in conjunction with the Whiting estate, is reissuing Margaret's COMPLETE London recordings in two 25-track volumes, with notes by highly esteemed music critic Will Friedwald and pictures from the Whiting family's private archive. "The Wheel of Hurt (Deluxe Edition)" features her 1966 chart-making album plus 13 rare single sides, while "Maggie Isn't Margaret Anymore / Pop Country" adds four unreleased tracks to a pair of London albums. The pop vocal find of the year.

After their 1976 smash Chester and Lester guitar duet album, Chet Atkins and Les Paul reunited in 1978 for another round of pickin' and grinnin' on "Guitar Monsters." The front cover illustration shows a couple of dragons dueling, and it's appropriate; for all the often-hilarious byplay between the two, there's no question that these two legends were friends and rivals, as each trade-off between solos just sets the bar higher. A must for guitar lovers, guitarists and/or gearheads (those are Hascal Haile, Del Vecchio and of course Gibson Les Paul and Gretsch Country Gentleman guitars they're playing), Guitar Monsters appears here for the first time on stand-alone CD with added notes by Chris Morris and a fresh remastering by Mark Wilder at Battery Studios in NYC. Then, Chet Atkins teams with Arthur Fiedler & the Boston Pops for the first of the albums on our Real Gone twofer presenting a pair of '60s releases from the crossover classical phenomenon; recorded in the mid-'60s, at the height of the Nashville Sound, "The Pops Goes Country" (which hit #62 on the 1966 charts) put the architect of that sound and his twangy Gretsch guitar in front of the Pops for a rousing set of mostly traditional country tunes. And 1968's "The Pops Goes West" took its inspiration from the ever-popular Western-themed films and TV shows of the '50s and '60s for its collection of classic Western tunes, Both albums make their CD debut here, with new liner notes by Ed Osborne and remastering by Vic Anesini at Battery Studios in NYC...a double barreled orchestral blast!
It's only a slight stretch to say that without Don Nix, there might not have been a Stax Records or a Memphis Sound. Nix started out as a saxophonist in the Mar-Keys, and, then stepped into a producer/executive role at Stax while continuing to play as a sideman on numerous sessions. Later, he befriended Leon Russell and recorded for Russell's Shelter label while continuing to produce artists like Delaney & Bonnie, Joe Cocker, Tracy Nelson, Albert King, Freddie King and others for Stax, Shelter and Memphis' Ardent Studios. This album, released in 1971, featured the Muscle Shoals rhythm section, plus Duck Dunn (a high school classmate of Nix's), and the "Shelter People" Nix brought with him from his time at the Shelter label, including Don Preston, Jeanie & Marlin Greene,

Claudia Lennear and Kathi McDonald (and, to top it off, bluesman Furry Lewis as narrator)! With a line-up like that, it will come as no surprise to learn that "Living by the Days" is soul and gospel-dipped Americana (Nix's Civil War garb on the front cover is another tip-off), and springboard for the legendary Alabama State Troupers road show Nix put together with Lonnie Mack and Lewis. Our Real Gone reissue features the original gatefold artwork and new notes by Colin Escott.
Totally obscure, utterly beguiling and shockingly relevant to today's music scene, 1971's Barbara & Ernie: Prelude To..., which paired guitarist Ernie Calabria and soul singer Barbara Massey, is a good example of why reissue labels exist. Prior to this recording, Calabria had played on sessions for Harry Belafonte, Nina Simone and Anita Carter, while Massey had sung backup for Jimi Hendrix, Quincy Jones, Herbie Hancock and Cat Stevens among others. With those influences, the duo made exactly the kind of album you might expect -- a funky, folky, psychedelic soul gem graced with a stellar list of sidemen (e.g. Joe Beck and Keith Jarrett) that vanished without a trace in the more stratified world of early '70s music retail. Nowadays, of course, the record's mix-and-match blend of styles sounds amazingly current -- thanks in part to disco pioneer Eumir Deodato's orchestrations -- and its oft-sampled sound has won devotees from the jazz, soul, psych and funk factions of crate diggers worldwide. Nevertheless, this Real Gone release marks its first legitimate release on CD, with added liner notes by Pat Thomas.
With nary a single reissue of his album catalog in this country, these days Tom Jans is perhaps most famous for having had a song ("Whistle Down the Wind") dedicated to him on Tom Waits' album Bone Machine, but the body of work by this '70s folk singer-songwriter remains one well worth revisiting; this twofer presents Tom Jans' first two albums, both recorded for A&M Records. The first, 1971's "Take Heart," marked the return of Joan Baez's younger sister Mimi Farina to recording after the death of Richard Farina and the collapse of her second marriage; Jans met her in 1970 and the duo toured extensively (most notably appearing at the Big Sur Folk Festival) before recording this cult

classic. The second, 1974's self-titled "Tom Jans," appears on CD here for the first time ever, and features Jans's own version of his classic "Loving Arms" (which was recorded by Elvis among many others) as well as a crack band featuring guitarist Lonnie Mack and keyboardist David Briggs. This Real Gone reissue features the original album art from both albums along with added photos and liner notes by Richie Unterberger and remastering by Vic Anesini at Battery Studios.
Boasting the first-ever appearance of the Grateful Dead's famous (or infamous, depending on which Deadhead you ask) Wall of Sound concert PA, "Dick's Picks Vol. 24 -- Cow Palace Daly City, CA 3/23/74" already ranks as one of the most historic entries in the series; add to that it also captures the first-ever performance of two songs, "Cassidy" and "Scarlet Begonias," that were to become concert staples and one would have to say it is also one of the series' most essential. A peak show from a pivotal period in the band's development, first time available at retail in years.
April 2 Releases from Real Gone Music:
The Diary of Anne Frank: Original Film Soundtrack
Margaret Whiting: The Wheel of Hurt (Deluxe Edition)
Margaret Whiting: Maggie Isn't Margaret Anymore / Pop Country
Chet Atkins & Les Paul: Guitar Monsters
Arthur Fiedler / Boston Pops / Chet Atkins: The Pops Goes Country / The Pops Goes West
Don Nix: Living by the Days
Barbara & Ernie: Prelude To...
Tom Jans & Mimi Farina: Take Heart / Tom Jans
Grateful Dead: Dick's Picks Vol. 24 -- Cow Palace Daly City, CA 3/23/74