Review: Foxygen's We Are The 21st Century Ambassadors Of Peace & Magic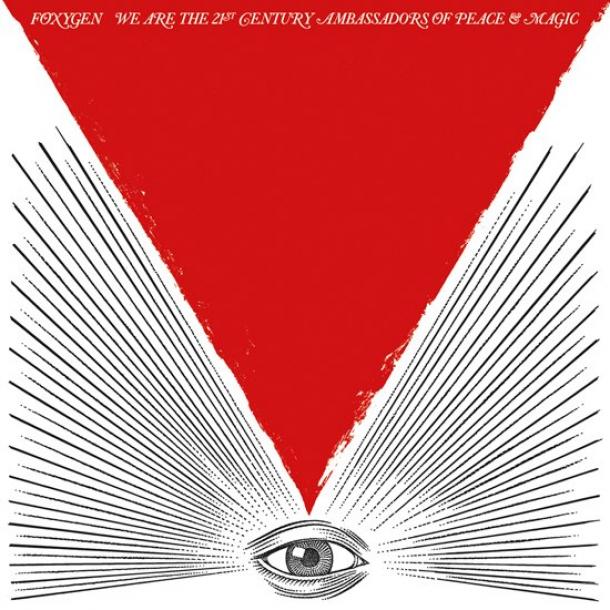 2013 is alive with the sounds of Foxygen. As the new year began, I found myself hearing the band name everywhere and became eager for their first full length album to be released January 22. Although the LA-born duo have released a handful of songs since their formation in 2005, the Richard Swift-produced We Are The 21st Century Ambassadors Of Peace & Magic is making a much deeper impression.
I was raised on the best music of my parents' generation—the greats of classic rock—and even if I don't listen to that kind of music every day, I carry it with me in my head, attempting to work it into my life however possible (I sleep directly beneath a six foot Jim Morrison poster, guaranteeing sweet dreams). A few short minutes into Foxygen's new album and it's clear that they, too, live and breathe true, classic rock. Many bands have tried to recreate the carefree vibe of the artists who opened the door for rock music last century, but none compare to the captivating, swooning sounds of Foxygen. Harmonica, healthy doses of keyboard, gritty drums, and frantic vocals evoke echoes of the raw musical movement of the sixties.
Smooth guitar doubled with singer Sam France's soothing voice take you back to a time you didn't realize you missed. France subtly demonstrates his vocal range within each song. At the beginning of "No Destruction," he adopts a nonchalant, lofty tone. Halfway through the song, France sounds almost bored until suddenly his voice overtakes the soft guitar in a Dylanesque whine, brutally honest, before quieting down without warning, and seemingly without effort. That same element of surprise is threaded throughout the entire album, both vocally and instrumentally (Jonathan Rado completes the duo, playing guitar and keyboards). "On Blue Mountain" mimics the highs and lows of a drug trip. Its sleepy intro is complemented with an irresistible chorus, which is later contrasted by a slow jam and psychedelic chanting. "Shuggie," the first single, delivers another pleasantly scattered tempo, easy to tap your toes to and hard to turn off.
If you're convinced halfway through the album that you know how this one ends, hang in there—the title track will surprise you. "We Are The 21st Century Ambassadors Of Peace and Magic" breaks in with some echoed, incoherent words against surf-rock guitar until France screams the title, elongating and emphasizing whatever he fucking feels like. It's hard to listen to this song and not hear Jim Morrison's gruffness, Mick Jagger's wail, Sid Vicious' scream, and even Bowie's delicate delivery. Somehow, France has managed to capture and relay the vocal essence of multiple great rock frontmen before him in a single song, all while keeping his own stamp on it.
Their retro sound and blasé lyrics all but guarantee that Foxygen will fall into dangerous hipster love-em-or-hate-em territory (they seem to be encouraging this, as they've been known to retweet negative feedback), but if you can't tell by their band name or their album title, they don't take themselves too seriously. Their track "San Francisco" sounds exactly how you'd expect--softer, dreamy and ironic--and their video is rich with vintage clothing, comfortingly awkward dance moves and stereoscope slides. They even have a song titled "Bowling Trophies."
This band brings a charm that is impossible to ignore. Foxygen has produced the ultimate baby-making music, pulling the grooviest elements out of the '60s and mashing them with the abstract anomaly that music is today. Classic rock has always been relevant to today's music, but for a modern day band to return the favor gives new meaning to the word timeless.
Foxygen is about to hit the road with Unknown Mortal Orchestra and Wampire. Check out the dates here.